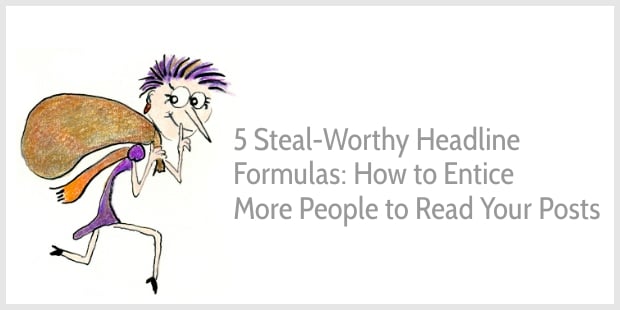 Does writing headlines give you a headache?
It's infuriating, isn't it?
You've slaved over your blog post. You've shared your best tips. You want to help your readers.
But now you're stuck.
After 3 days of trying different versions, you STILL haven't found a headline that sounds good enough.
Should you give up on this post?
Or publish it with a lousy headline?
Why headlines matter
You might have heard that 8 out of 10 people read a headline, and the other 2 people read the remainder of a text. These figures are often quoted to prove the importance of headlines.
But these figures are wildly optimistic because they originate from the era of print advertising. That's before the internet amplified distractions and shortened our attention spans.
The average click through rate on Twitter, for instance, is only 1.64% (source, 2012), so 98 out of 100 people may read only your headline, and fewer than 2 of them click through.
Competition for reader attention is tough
Millions of blog posts are published each day. So your headline must stand out. Grab attention. Make people curious.
But how?
For today's post, I used BuzzSumo to analyze the most shared posts on popular blogs.
I read through hundreds of headlines, and distilled 5 formulas that are proven to work.
For each formula, I collected a series of headline examples. Each example:
Want to know which headlines work?
Let's get started …
Headline Formula #1:
The Burning Question
Examples:
The formula:
Ask the most burning question in your niche
Why this formula works:
Questions arouse our curiosity.
We all grapple with tricky questions. We debate hot topics in our industries. We enter our questions in Google to see whether we can find answers. Who doesn't want to know the answer on a burning question?
The Burning Question formula is probably the most underused formula on the list. But its attraction is undeniable. We know from research that questions get more clicks on Twitter than statements, and that subject lines with question marks get 44% more opens than those with exclamation marks (source).
How to apply this headline formula:
Which burning questions do your readers struggle to get answered? Which hot debates are going on in your industry? Use the question as your headline and provide an in-depth answer in your post.
Headline Formula #2:
The How-To Case Study
Examples:
The formula:
How [I/We/CompanyX] [Achieved Something Specific] in [Time Frame]
Why this formula works:
This is a variation of a classic How-To headline. The headline arouses curiosity by sharing a story about a specific person or company. Of course, as readers, we hope to learn something from this case study.
Note how the headline examples are all ultra-specific. How to Build an E-Commerce Business would have been generic and bland; it doesn't arouse curiosity. In contrast, the case study variation makes the headline far more interesting: How I Built an Online T-Shirt Business and Made $1,248.90 in 3 Weeks—this was the most shared post on Shopify in 2015, generating 9.6k social shares.
How to apply this headline formula:
Can you share a client case study? Can you interview someone for a case study? Or would your readers be interested in a story about your business? Remember to add specific results for credibility and interest.
Headline Formula #3:
The Classic List Post
Examples:
The formula:
[n] [Adjective] Ways to [Achieve Something Specific]
Why this formula works:
Getting tired of list posts?
Think again.
List posts continue to be amazingly popular. The post "32 Legitimate Ways to Make Money at Home", for instance, generated an unbelievable 1.8 million social shares, making it the most popular post on The Penny Hoarder.
How to apply this headline formula:
Which tips can help your readers? Which quick wins can solve your readers' problems?
Don't write a superficial post. Instead, include specific tips that readers can implement straightaway. For added interest, include interesting or emotional words in the blog title like legitimate, sneaky, kindness, love, or truth.
Headline Formula #4:
The Why
Examples:
The formula:
Why [Surprising Fact]
Why this formula works:
When I started learning how to write headlines, I was told that people were interested in how-to's, not in why's. But this formula shows this isn't true. We want to understand why things are the way they are. It's always been that way. As children we already asked questions like Why is grass green? Why do people get sick? Why is water wet?
The posts that use this formula received tons of social shares: Why SEO is Actually All About Content Marketing got 22.4k shares; Why Good Unique Content Needs to Die gained 9.4k shares; and Why Having to Start Over – AGAIN – Is Great gained 6k shares.
How to apply this headline formula:
This formula only works when you prove a surprising standpoint in your post. For instance: Nobody wants to start over again, so why do you argue it's great? Everyone thinks we need to write unique content, so why do you say it needs to die?
Headline Formula #5:
The Twins
Examples:
The formula:
How to [Achieve This]: [n] Steps or Tips
Why this formula works:
Combine the two most popular headline formulas—the how-to and the classic list—and you get the Twins. How could it not work?
This formula also works well, because it's frontloaded—within the first few words readers know what they'll learn.
How to apply this headline formula:
Start with writing a super-short how-to headline for the first part of this formula—highlight the key problem your readers are struggling with. Then summarize how many tips or steps you'll share in the second part of the formula.
The art of writing headlines
Composing irresistible headlines doesn't start with applying a nifty formula.
Instead, start with getting to know your readers.
Understand which issues keep them tossing and turning at night. Find out why they can't make up their minds. Ask them what they're struggling with. Answer their most burning questions. Know which quick tips can solve their problems. Help them deal with niggling irritations.
When your headline uses a proven formula and addresses reader problems, you'll see your social shares grow and your traffic soar. That's how you become a popular blogger and an authority in your field.
Always serve your readers first.
P.S.
If you've enjoyed this, you'll love the Enchanting Headline Writing course. Here's what others say about this course …
Enchanting Headline Writing
Learn how to write click-worthy headlines so you can get more blog readers. Plus, get oodles of inspiration.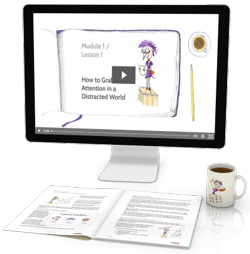 "I was looking for a course to help our internal agency writers add more life to our headlines and more clicks on our content. So far, everyone is really enjoying the course. I'm already seeing much improved headlines!"
~ S. Simeck

"I used one of the headline ideas from this course for a Facebook advert. It generated the best response I've ever gotten."
~ Joan Warren

"I now have a system that makes creating a great headline, an email subject or a section subhead so easy."
~ Gill Andrews

"I came away with a huge list of new blog post ideas."
~ Dyan Robson

"I've written blog posts before but never realised how weak my headlines were until now. I love Henneke's structural approach and all the extra materials (the treasure trove is worth the cost of the course alone!) but also very grateful for how Henneke has made it so much FUN!!"
~ Sally Cowan