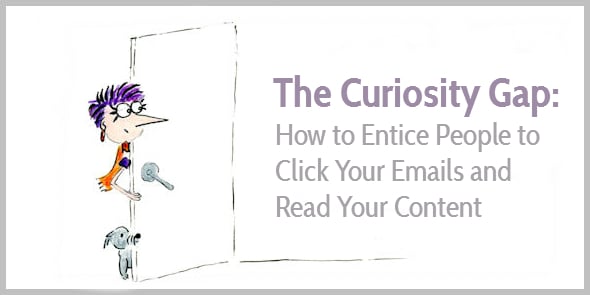 Have you been disappointed about click-through rates for your emails?
It happened to me recently.
I had written my blog post and carefully crafted an email. I hit publish with a sigh of relief. Done.
But when I looked at my email stats the next day, the results were disappointing. The opens were fine. So my subject line had been good. But the clickthroughs? Rather depressing.
What was the problem?
I had forgotten to open up the curiosity gap in my email. Sure, avid readers still clicked to read, but others? I had not given them a strong enough incentive to click through.
Want to learn how to avoid this silly mistake? Want to get more people to open and read your emails?
Let me explain …
Curiosity has a bad name
We often associate curiosity with nosiness and clickbait titles, such as:
These titles make us click by opening up a curiosity gap.
How?
First they share a piece of information, then they highlight something we don't know yet so we itch to click and find out more.
A piece of information:
A homeless man was tried for stealing $4.50 worth of food
The gap in knowledge making us itch to find out more:
Here's what the judges said
A piece of information:
The biggest circus lion rescue of its kind just happened
The gap in knowledge making us itch to find out more:
And it was epic
The gap in knowledge makes us impatient to learn more.
In his book Curious: The Desire to Know and Why Your Future Depends on It, Ian Leslie calls this diversive curiosity: "the restless desire for the new and the next." This type of curiosity is quite superficial as the search for information is aimless and impulsive.
The second type of curiosity is different
Leslie calls it epistemic curiosity: "a quest for knowledge and understanding." This type of curiosity requires more effort, a deeper dive into a topic. Instead of making us impatient, it nourishes our soul.
If you want to nourish your readers by sharing insights, you have to appeal to this second type of curiosity. Instead of feeding a restless search for new things, nurture a quest for deeper knowledge. For instance:
A Pain-Free Copywriting Process: 5 Key Questions You Must Answer
The first part of the headline refers to a desire many writers have: making the copywriting process pain-free. The second part of the subject line creates curiosity: Which are those 5 key questions you must answer?
Here's another example of an email subject line:
Do You Know This #1 Fiction Writing Trick For Compelling Business Content?
This subject line appeals to people's desire for creating compelling business content; and it arouses curiosity by referring to the #1 fiction writing trick. (What's the trick?)
The email makes the curiosity itch a little stronger:
Subject line:
Do You Know This #1 Fiction Writing Trick For Compelling Business Content?
Nope, this trick isn't storytelling.
It's a more basic and simpler writing trick.
All fiction workshops cover this trick; and you can use it to add pizzazz to any business content.
Even more importantly … this trick makes your content more credible, too.
Want to know which fiction trick every business writer should use?
Check out today's trick for writing more compelling business content.
Cheers,
Henneke
PS This article includes examples from sales copy, business blogging, and one of my favorite fiction books.
The email aims to increase desire to read more by referring to three benefits: a trick for writing compelling content, making your content more credible, and adding pizzazz to any business content.
Also, the email arouses more curiosity: the email suggests the writing trick is not storytelling (what could it be then?); the email poses the question whether you want to know what this #1 trick is; and it refers to one of my favorite fiction books (which could that be?).
We live in a world of instant answers
Want to know how to repair a puncture? How to create a formula in Excel? How to create an image using Canva?
We google a question and instantly find an answer.
Are we losing our ability to dive deep into a topic?
A few years ago, I had temporarily lost the ability to read a difficult book. It's embarrassing to admit it. But I was tired. I was restless. And overwhelmed.
By managing distractions and my energy level, I slowly regained the ability to concentrate. To read rather than skim books.
My curiosity was rekindled, and life became more fascinating, more colorful again.
As bloggers, we are mentors for our readers
Instant answers are useful to help readers get unstuck.
But it's the deepening of knowledge and sharing of our skills where the magic happens.
I like to think each of your blog posts can cause a teeny-tiny ripple. A tip that makes life a bit better. A dash of inspiration. A feeling of connection.
Let's not chase clicks.
Let's tickle curiosity to share knowledge with our readers.
[A] society that believes in progress, innovation and creativity will cultivate [curiosity], recognising that the enquiring minds of its people constitute its most valuable asset.
~ Ian Leslie