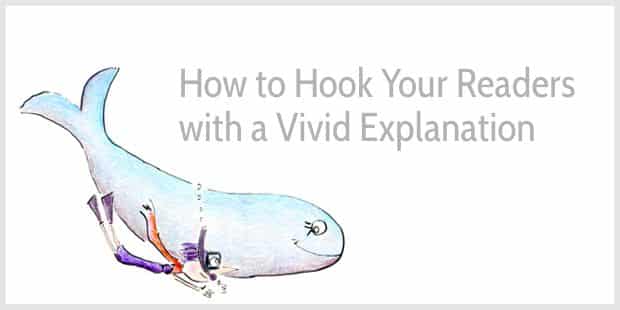 Do you ever read something and think … wow!
And then, do you wonder … why is this writing so good?
It happened to me recently.
I was reading a book about fish.
And it was unputdownable.
Yes, really. I didn't want to go to bed because I wanted to keep reading and learn more about fish.
Shall I explain?
How to keep readers hooked
In his book The Eloquence of the Sardine, Bill François uses vivid imagery to show us what it's like to be a fish.
For instance, in the second chapter of the book, François lets us listen to the sounds of the sea. Rock lobsters "play the violin with their antennae", shellfish play percussion, and the seahorse plays the xylophone "by scratching its neck with the bony ridges on the back of its head."
The descriptions are so vivid that I imagine myself swimming amid the lobsters, listening to the shellfish, and spotting the seahorse playing music. A true symphonic orchestra … under water.
I had no idea that fish could be so fascinating.
But there's more …
A brilliant explanation
François explains how whales communicate with each other over a long distance.
Here's how that explanation starts:
Although whale songs are seldom clearly distinguishable to the naked ear, they account for a substantial portion of the sea's underwater ambient noise, and can be heard through the entire ocean. That's because whales, eager to talk to each other across the vast expanse of the sea, know how to make themselves heard from very far away. They've developed their own underwater long-distance telephone network.
I used to think that an explanation means talking through or writing down how something works, and doing so step by step. But that's underestimating the art of explaining.
First, you have to hook your reader. In the paragraph above, François makes us curious by describing the problem first: Whales want to communicate across the oceans. But how? The metaphor of a long-distance telephone network adds a dollop of intrigue. I was curious to read on.
The telephone network can't be explained in one or two sentences. So, François first explains how it relies on pressure and temperature:
The whales' telephone package-deal simply works by means of pressure and temperature.
Next, François explains how the change in temperature creates the thermocline:
There are two layers of water in the sea: surface waters heated by the sun, and deeper, colder waters. At the thermocline, the interface between these two zones, the temperature drops abruptly. You may have unknowingly noticed this when your foot dipped into one of these 'cold currents', near the seabed, while you were out for a swim. In the high seas the phenomenon is even more pronounced. Water temperature suddenly drops by almost forty degrees in a few dozen fathoms of depth.
As a reader, at this stage, you may have an inkling that the telephone network isn't simple. But François explains the thermocline in simple language and relates it to a common experience of coming across a cold current in the sea. Even if you've never experienced that, it's easy to imagine.
We now understand that the whales' telephone network is related to the thermocline—the area in the seas where the temperature drops quickly between the warm surface water and the deep, cold water.
Next, it's time to explain how sound travels along this thermocline:
This boundary between hot and cold water traps sound. Sound rising towards the surface will ricochet off the warmer waters, where the elevated temperature accelerates its propagation and bends its trajectory back into the depths. As it descends, sound rebounds off the deeper waters, which are at a much higher pressure, and is further accelerated and sent back up towards the surface. Sound is thus imprisoned between masses of water along the thermocline.
The physics of the thermocline may be complicated but François explains it vividly. I can visualize the sounds bouncing up and down in this corridor and traveling into the distance.
Now, it's finally time to turn back to the whales:
When whales sing directly into this sound canal at the boundary between cold and warm waters, their voices ricochet along the thermocline and therefore travel outwards in a straight line, without straying or fading, for thousands of miles, in exactly the same way that light travels when trapped inside a fibre-optic cable.
Lastly, the explanation ends with a clincher sentence, returning to the metaphor of a telephone network:
The fin whales of the Mediterranean use this telephone network, known as the SOFAR or deep sound channel, to serenade each other and arrange meetings from distances of more than 1,200 miles.
Do you imagine for a second being a whale, too, and phoning up a friend? Isn't that wonderful?
How to explain clearly
The explanation of the telephone network follows a simple, common story arc:
Whales have a problem: How can they communicate long distance with each other? It's this problem that hooks readers and make them interested in learning more.
The solution to the problem is the telephone network, which is explained step by step:
The telephone network relies on the difference in pressure between the cold and warm water (the thermocline).
Sound travels along the thermocline by bouncing up and down.
Whales communicate by singing into the thermocline.
The whales are happy with their telephone network because they can serenade each other and arrange meetings from distances of more than 1,200 miles.
This story arc is common in business writing. A blog post explains a problem, and then shows how to solve it. A sales page explains a problem, and then tells us how a product or service will help solve that problem.
When readers implement the tips in a blog post or buy a product, they end up happy like those whales phoning up their friends to plan dinner parties.
It's a happy story arc where problems are solved.
But there is more …
A good explanation isn't just about hooking a reader, following a story arc, and explaining step by step.
François dives into the world of fish to gain such a deep understanding that he can explain it to us simply and vividly.
It's clear that he loves discovering and sharing stories about fish. His passion shines through his words.
And there's also the joy of language.
François might be writing non-fiction but he writes like a poet—a poet who loves words and takes care to sketch vivid imagery to engage his readers. His writing is like an impressionist painting.
How to captivate your audience
To write a good explanation, you require more than a few writing skills.
Teachers who captivate attention combine a passion for their subject, a love of language, and a sense of generosity—an eagerness to share knowledge, skills, and stories.
There's a joy in sharing what you love and what fascinates you.
So, follow your curiosity, dig deeper, and write from the heart.
Happy writing!
PS
Thank you to copywriter Phil LeMaster for the excellent book recommendation.