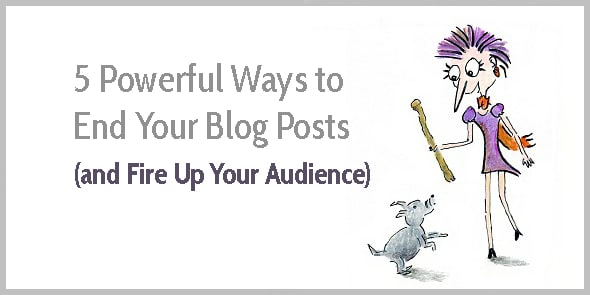 For once, Howard Fields feels happy with his writing.
The opening of his blog post flows nicely. The tips are solid, and he's finally got to grips with tightening his own content.
Even the rhythm sounds good. Is he finding his voice?
Now just a few final lines …
Howard's mind wanders back to last night's dinner at Ning. The sweet spiciness of the soft-shell crabs still lingers in his mouth. He licks his lips, remembering the tingling feeling and the aromatic mix of exotic spices. Lemongrass. Ginger. Chillies. And what else?
Suddenly, Howard realizes what's missing from his post … an ending so good that it sings around in his readers' minds. A lingering reminder to implement his advice.
But how can he write such an ending?
What makes closing paragraphs inspirational?
Many bloggers don't write a final paragraph. They share their tips, and that's it. Their content peters out.
But as bloggers, our task is not simply to share tips, but to encourage our readers, to make them feel good, to spark action … to be a good mentor.
How does a mentor inspire?
Start with imagining your favorite reader. What's stopping him from implementing your advice? Does he feel overwhelmed? Does he think he can't do it? Does he feel it's too much effort for too little gain?
When you understand what's holding your favorite reader back, you can help him with specific advice. Give a pep talk or remind him of the benefits of implementing your advice.
Once you've defined the aim of your final paragraph, write a draft, and edit it for power and inspiration:
Try the imperative to instigate action (Not: You should take action; but: Take action)
Shorten your sentences for an energetic rhythm
Use power words to make an emotional connection
Shall I show you how?
Option 1. Repeat the essence
Imagine a long list post with 18 writing tips.
Would readers feel overwhelmed? Would they remember anything?
A simple way to write your final lines is to repeat the essence of your message—the one thing you want your readers to remember.
In the following paragraph, for instance, the reader is reminded that good blogging is a conversation with your readers:
Option 2: Circle back
A circle is a simple closed shape; it's balanced.
So circling back to your introduction gives your writing a finished and balanced feel.
How?
Communicate a powerful image in your opening paragraph, and go back to this image in your closing lines.
For Copyblogger, I wrote a post about vivid writing, and the opening paragraph talks about your message standing out like a red poppy in a sea of grey content.
In the closing paragraph, I repeat this image:
Option 3: Remind readers why they should care
You and I both know that change is hard.
How can we encourage our readers to roll up their sleeves and implement our tips?
Tell them why they should care. How will their efforts pay off? How will they feel better?
The paragraph below, for instance, is the closing of a post with 6 tips for conversational writing. To encourage readers to do the hard work of editing, they're reminded why a conversational style is powerful:
Option 4: Give a pep talk
Sometimes, we ask the nearly impossible from our readers.
Because a big obstacle sabotages their efforts to implement our advice. Obstacles like self-doubt, feeling overwhelmed, or being totally stressed out.
The paragraph below is the closing of a case study about setting up an online business, and it gives readers a pep talk to overcome their self doubt:
Option 5: Connect with and comfort your readers
As a blogger, you position yourself as a voice of authority.
But the problem with authority is that it creates a distance between you and your readers. Readers might think … she can do it, she's an authority. But I can't. I'm not good enough.
This is when you can offer comfort and a sense of connection … tell readers they're not alone and that you've had the same doubts:
Invigorate your readers
A good blogger understands the beauty of language, and how to use words for maximum impact.
But choosing the right words is a superficial form of beauty.
The real beauty comes from within … a willingness to help, to be honest and generous. A spirited drive to share your ideas. A real sense of human connection.
The real beauty of writing comes from a deep understanding of your readers, and a desire to spark change, no matter how tiny.
Empower your readers.