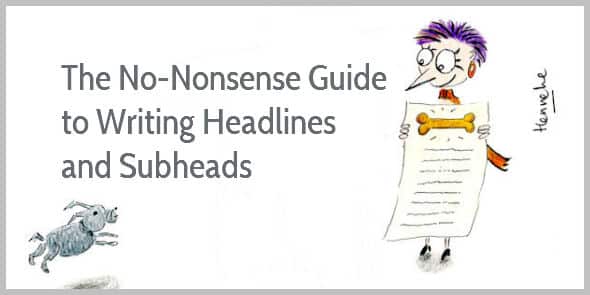 Does writing headlines feel like a black art?
Are you umming and ahhing about what to write?
Of course, headlines are important—they're the first sentences web visitors read. To many writers, headlines feel like the make-or-break line.
Get your headline right, and you engage your reader. Get your headline wrong, and people bounce off your page—they may be lost forever.
Thinking about the importance of headlines is enough to get the most experienced writers stuck.
Does the idea of writing headlines make you pull out your hair, too?
Writing headlines isn't as difficult as you may think.
To write a good headline, you must know its aim first. And this is not always the same …
The must-know difference between web copy and blog posts
Web copy is content for landing pages, Product pages, Home and About pages.
Your web copy has to persuade people to take a specific action like join a newsletter, buy a product, or contact you.
When a web visitor arrives on a web page, she has a specific task in mind—she might be looking for a new saddle or a marketing coach. And the objective of your headline to quickly confirm she's in the right place. Looking for a marketing coach? Here's a marketing coach who helps you get unstuck. Looking for a new saddle to avoid a sore butt? Here's the Selle Italia women's gel flow saddle.
The aim of a blog headline, however, is completely different. A blog title needs to stand out in social media streams. It has to capture attention and arouse curiosity so readers click through.
Headlines on web pages tend to be straightforward, because they simply confirm where you've arrived. But blog post titles need a dash of seductive power to attract attention.
Let's have a look at headlines for web pages first.
How to write headlines and subheads for web pages
On a home page, a headline often works in tandem with a subhead.
The headline and subhead together convey the most important information about you or your company. They encourage your web visitor to read further to learn more about you.
The 3 most common options for writing headlines are:
State what you offer
Mention the key benefit of working with or buying from you
Tell which problem or hassle you help avoid
To write your headline, consider what's the most important thing you want to tell your web visitor. What is he looking for?
If you are a local web developer in London, for instance, you may simply state in your headline:
Website Design and Development in London
You may think that headline is too simple, but there's absolutely nothing wrong with it. It's clear, concise, and credible. If someone's interested in hiring a web developer from London, that headline urges them to learn more and they'll continue reading your web page.
Here's a potential headline for a web writer:
Persuasive Web Copy That Converts Web Visitors to Customers
This headline indicates the benefit of working with you: winning customers.
And here's a potential headline for an accountant:
Avoid Stress and Reduce Your Tax Bill with Our Small Business Accounting Services
The headline above includes a problem you help avoid (stress), a benefit (reduce your tax bill), plus a statement of what you offer (accounting services) for whom (small businesses). This is a lot of information for one headline. Try splitting this statement into a headline and a subheading.
Headline: Accounting Services for Small Businesses
Subheading: Avoid stress and reduce your tax bill
To write a headline plus a subheading, sneak into your reader's mind. What's he looking for? Mention the product or service he's looking for in your headline, and list the benefit (or the problem he'll avoid) in your subhead. Or do it the other way around.
Remember, headlines and subheads for web pages are simple and to-the-point. Confirm to your reader he's found the right place to get what he wants.
How to write a good headline for your blog
Are your blog headlines so delicious, they attract attention in social media streams?
A title on a blog is like an item on a restaurant menu—it has to stand out to be chosen. Imagine a menu like this:
Grilled sandwich with ham and cheese
Tuna and cheese sandwich with lettuce
Home-cooked Wiltshire ham on a freshly baked granary sandwich with juicy tomato slices
Roast turkey sandwich made with leftovers from yesterday
Which sandwich attracts most attention? Which makes your mouth water more?
Research has proven that dishes sell better when they have sensory, rather than ordinary, descriptions. When people read a sensory word, their brain processes this word as if they can feel, hear, smell, or taste something. Sensory and emotional words in your headlines also grab attention and tempt your readers to click through.
If you'd like more readers for your blog posts, then you need to grab attention by carefully selecting your words. Here's how I write headlines:
Think about your reader and decide how your post is going to benefit him or her. Start by writing a simple how-to headline. For instance:
Use your simple how-to headline as a working headline and write your post first. Then write 10 to 20 headline variations trying different words. Choose the headline that stands out most and that conveys the benefit of reading your post well:
The Easy-Peasy Method for Finding Your Writing Voice
11 Ways to Sabotage Your Happiness (and What to Do Instead)
8 Juicy Ideas to Nurture a Luscious Blog (and Grow Your Business in 2015)
Note how each headline uses powerful or fascinating words (highlighted in bold), and how each headline promises you a benefit of reading the post—find your voice, stop sabotaging your happiness, and grow your blog and business. That's how you tempt people to click through to read your posts.
How to write subheads for your blog post
You've attracted readers to your blog post.
But will they read it?
Many readers first glance at your posts. They're trying to gauge whether reading the post will be worth their time. Your subheads have to reassure them—they won't waste their time. The two most common ways reassure your readers is to either arouse curiosity or promise a benefit.
Let's have a look at some examples.
Below are the subheads from my guest post A Rabble-Rouser's Rules for Writing Kick-Ass Closing Paragraphs (Copyblogger):
It's time to channel your inner rabble-rouser
Rabble-rouser rule #1: Address your reader
Rabble-rouser rule #2: Shrink the change
Rabble-rouser rule #3: Take away the biggest obstacle
Rabble-rouser rule #4: Touch your reader's heart
Rabble-rouser rule #5: Nail your last line
The last two subheads may touch on specific benefits, but these subheads mainly arouse curiosity. What's this rabble-rouser stuff about? What does it have to do with final paragraphs? And what the heck does shrink the change mean?
Let's look at subheads that promise a benefit. The examples below are from my guest post 35 Blogging Tips to Woo Readers and Win Business (Copyblogger):
How to streamline your content creation
How to woo readers with your content
How to create a must-read blog
How to keep your readers hooked week after week
How to spread your ideas
The truth about business blogging
The last series of subheads are like mini-headlines. They promise a specific benefit, but they're relatively light on power words. They're a little toned-down. When your readers scan these headlines, they evaluate and hopefully decide yep, this sounds good—I wanna read this.
Avoid writer's block when writing headlines
Yep, headlines are important.
There's no doubt about that.
But don't let that get you stuck. Get over your performance anxiety by thinking about your reader and start playing.
When you're writing a headline for a web page, it's easy—repeat the conversation that's going on in your reader's mind. Play around with a few options, and then settle for your favorite choice.
When you're writing a blog post title, you can play even more. Try title templates. Play with different words. Plunder the thesaurus.
Write a draft headline.
And then start to play. Have fun.