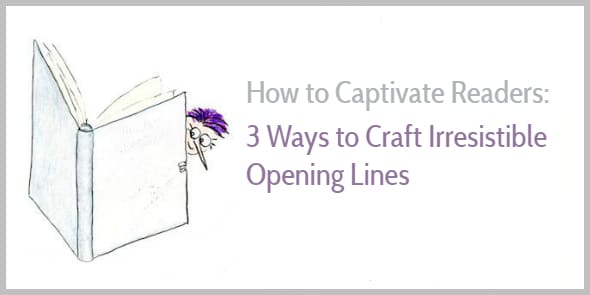 "Oh no!" thinks Henry Green.
"I'm screwing this up."
Henry has written his most in-depth post ever about starting a coaching business.
His blog post includes his very best tips—almost too good to give away for free. He's also showcased other coaches, included quotes and drawn cartoons. Some might even call the post epic.
But doubt has crept up.
What if nobody wants to read my post, because my opening lines are crap?
Henry has read opening paragraphs that truly captivated him, and made him eager to read on. But now he has to be honest with himself … his own opening is not that good.
How can he change it? How can he avoid people clicking away? How can he entice people to read his precious tips?
What makes an opening paragraph irresistible?
Everyone is flitting around the web, skimming a few headlines here and peeking at a few opening lines there.
Your task as a blogger is to capture the attention of these restless eyes and engage readers so they stop scanning and start reading your content … with their full attention.
How?
Show your reader you understand them and you'll help them.
Option 1: The you-focused opening
This type of opening paragraph addresses the reader directly, and it often (but not always) starts with a question.
This is the easiest type of opening paragraph to write; I've used it often.
Here's an example:
The example opening lines above contrast the excitement of finishing a first draft with the disappointment when reading it again the next day; it then entices readers to check out the tips in the article by promising 4 ways to make a drab first draft dazzle and dance.
To write a you-focused opening, picture your ideal reader in a scene. What's bothering them? What's going wrong? Describe this scene in your opening lines, and address the reader directly by using the word "you."
Option 2: The story approach
My favorite story approach mimics the you-focused opening.
Instead of addressing the reader directly, describe a scene in the 3rd person and conjure up a feeling your reader recognizes.
For instance:
Do you recognize the despair of having to write a blog post when you feel everything has been written already?
Note how the example paragraph above uses specific details to sketch the scene; we can picture Helen switching on her PC, we hear her deep sigh, and we can sense her resistance to writing her article; we empathize with her procrastination.
The danger of the story approach is that we get too focused on telling the story. We start rambling, including too many details. When editing your opening, try to cut the number of words. For a 1,000-word post, for instance, limit your story to 150 words at most, then transition quickly to your tips.
Option 3: The "me" opening paragraph
When I started blogging, I was nervous about using I and me in my writing.
Wouldn't it sound like I'm being a sissy, a silly blogger sharing her doubts? Or even worse, could it sound like I'm bragging?
To make the me-focus work, consider it as a variation on the story approach. Instead of writing about a 3rd person, share your own story of a problem. Make sure your readers recognize your feelings. For instance:
Blogging is not about writing monologues.
To engage your readers, write like you're having a conversation with them.
And just like in face-to-face conversations, it's okay to use the words I and me.
The art of writing irresistible opening lines
You might think you're a blogger, sharing valuable tips. You're educating your readers.
But to write irresistible opening lines, you need to become a psychologist.
Sneak into the minds of your readers. Know exactly what they're struggling with. Understand their feelings of frustration, worry, and despair.
Writing a good opening means persuading readers that your post is for them—you understand them, and you'll share your best advice to help, guide, and comfort them.
So, empathize with your readers.
And promise to be generous with your advice.
That's how you write seductive opening lines.

The Enchanting Blog Writing course (rated 4.9 out of 5.0) teaches you how to captivate, educate, and inspire your readers.

"Henneke's teaching is simple, yet detailed, and I love the huge number of examples in this course. I had not realized how powerful examples are. The examples help teach what Henneke calls X-ray reading so I can now see how others write their blog posts, and I'm starting to create my own blogging voice."
~ Dylan Ball