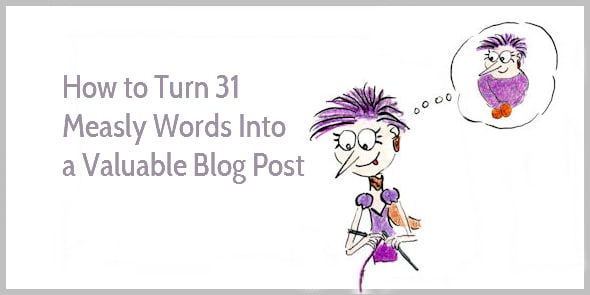 Need to write another post?
*sigh*
Sometimes, the thought of writing induces a thumping headache.
You want to curl up in bed and forget about your blog. Forget about your readers. Forget about running your business.
But …
You've promised yourself to write every week.
So, you leaf through your notebook with ideas.
And there you spot a teeny-tiny idea, and you wonder …
Can you turn this tiny idea into a solid blog post? A post that's fun and valuable?
Let me show you …
Step 1. Vet your idea
Before you start writing, ask yourself: Is this topic useful for my readers? Am I helping them solve a problem?
Last week, for instance, I was in a rebellious mood. And I wanted to write about breaking rules.
But would a blog post about breaking rules be useful for my readers?
I decided it could be a valuable post because I didn't think I was the only one fed up with following rules.
Moreover, I could boost anyone's writing confidence by explaining:
Why rules are important (because they improve the reading experience).
When rules can be ignored (when they damage the reading experience).
I never publish a post just because I need to publish something. I always aim to provide value to my readers.
Step 2. Add substance
Last week, I started with 3 writing rules (31 words in total)—these are the rules I like to ignore:
Don't start your sentence with But, Or, Because, or And.
Don't use broken sentences.
Each paragraph must contain three to five sentences.
How could I create a valuable article out of these paltry sentences? In a few more sentences, I could explain the rules and why you can break them. But that would still be superficial and dull.
To beef up my post and bring the rules to life, I added before and after examples. How do sentences look when you adhere to these rules? And how do they sound when you break them?
Examples are your secret weapon in blog writing. They add substance and meaning. They make your post practical. They even show off your expertise because you prove you can apply the theory in real life.
Step 3. Sprinkle a dash of fun
To set the context for my post about breaking the rules for writing, I had to explain why grammar rules matter.
I don't like to sound like a boring grammar teacher, and the topic of grammar rules is rather abstract. A metaphor would add a dash of fun. Plus it would make the topic more concrete.
To dream up a metaphor about writing rules, I thought about other rules we like to break. When I got stuck, I tried thinking about an illustration, and I imagined purple-haired Henrietta jumping a red traffic light on her bike. I used this metaphor to explain why grammar rules are valuable:
Traffic rules help us drive (or cycle or walk) both safer and faster. We can anticipate what others will do. We know when it's our turn to cross safely. We avoid chaos on the road.

Writing rules are similar. They exist to avoid confusion, so readers can grasp your ideas without stumbling around.
Metaphors add shine to a dull topic, and make abstracts ideas concrete. They help explain your idea, and can make readers smile.
Step 4. Entice people to read your post
The aim of your opening paragraph is to get people to read your post.
And the best way to do that?
Explain the problem your post solves, and promise your reader a solution.
In the opening for my post about writing rules, I promised your writing life would become a little easier:
Today, we talk about rules you can ignore, so your writing life becomes a little easier, and perhaps your writing even gets better, too. Okay?
When you highlight a problem that strongly resonates with readers, they get eager to read your post.
My most shared posts have an opening highlighting issues readers are keen to solve. Like writing faster, coping with a crazy workload, and making bland content more interesting.
Sometimes, I struggle with writing an opening paragraph; and that's almost always because I haven't vetted my idea well enough—I've not decided which problem the post solves.
To avoid the time suck of rewriting your posts, always think about your reader first. Vet your ideas.
Step 5. Don't let your post fizzle out
Want your post to be seriously valuable?
Inspire your readers to act on your advice. Give them a pep talk or take away an obstacle blocking their desire to implement your advice.
In my blog post about writing rules, I reminded readers of what matters and why they're writing:
Let your ideas shine. And inspire your readers.
Your job as a blogger is not to write blog posts. Your job is not to share tips and facts and advice. A useful tip that's not put into action is like a riveting book that's never opened.
Be a mentor for your readers, and fire them up to implement your advice.
It's easy to fall into the trap …
Choose an idea.
Add words, and sentences, and paragraphs.
Until you hit a certain word count.
But remember that scarf a friend knitted for you?
The length of the scarf in itself doesn't matter. What matters is how the scarf makes you feel. Whether it keeps you warm. How it brings back happy memories of that long walk, years ago, in a wintry forest.
Your readers don't care about word count. They want to be entertained. They want to be inspired. They want to learn.
So, stop worrying about word count.
Be valuable.

The Enchanting Blog Writing course (rated 4.9 out of 5.0) teaches you how to captivate, educate, and inspire your readers.

"Even though I'm a published writer, I found the course super helpful and my blog posts contain more meat and substance than ever before."
~ Stacy S. Cohen