W riting with substance means communicating the essence of your idea with clarity while keeping your readers captivated.

How to write with substance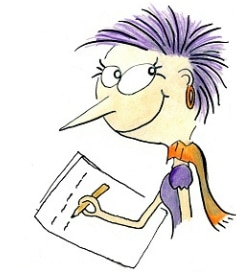 I bet it has happened to you.
You read a headline, and full of anticipation you click through.
But the article is disappointing. Superficial. Without substance.
As a writer, it's a scary thought. Could it be that our precious words disappoint our readers, too?
It's hard to know. Because we don't see readers yawning. We don't see them clicking away. We don't hear their deep sighs of disappointment because they feel they've wasted their time.
I've written a lot about polishing your writing.
But let's be frank.
All that editing is a waste of time if content lacks substance. You can't transform flaky content into enchanting articles, just like a master diamond cutter can't transform an ordinary piece of rock into a sparkling diamond.
When does content lack substance?
Substance is not about writing longer articles or sharing more ideas. Often long articles are impoverished—with too many superficial ideas, and lacking direction.
Substance is about the depth of your arguments. It's about the insight you offer your readers. Even an email of 100 words can have substance. A nugget of wisdom. A super-practical tip. A spark of inspiration.
Substance is about adding value, exceeding your readers' expectations, going beyond the echo chamber of online content.
If you're not adding value, you're taking up space. The more space you take up, the more difficult it becomes to continuously earn your spot, and the more likely you are to become ignored and irrelevant.
~ Sally Hogshead
Substance is the foundation of great business writing
Last year, I heard Sally Hogshead speak at the Authority Rainmaker conference in Denver. Sally is an expert in fascination, and I was curious to find out which presentation tricks she used to fascinate her audience.
When I compared her presentation to others, I noticed one key difference. Sally's presentation was multi-layered—she used different types of information to fascinate her audience.
She told stories about her life and career. She shared stats and graphs, but also colorful pictures. She put theory into practice with real life examples. She made bold statements, shared tweetable soundbites, and gave us practical advice.
Sally's presentation stood out because she weaved all these tools into one coherent presentation—to communicate her message of becoming fascinating by being ourselves. Each information tool added depth and insight.
I realized I could improve my writing by using the same multi-layered approach. By inserting different types of information into my articles, I could make my content more substantial and more fascinating.
Want to learn how?
1. Arouse curiosity
Step-by-step instructions are often the cornerstone of valuable content.
But explaining how something should be done is not enough to hook your readers and keep them reading on.
First you need to explain why people should care about your instructions. What will they win from following your advice?
Promise readers a solution to their problem, and they'll be curious to learn more. Reveal your secret strategy. Allow them to master your fool-proof method. Share your tips, tricks, and techniques to make their life easier, better, or happier.
Be careful, though: Don't over-promise. Because that's a sure-fire way to disappoint your readers.
2. Add numbers
Statistics are not my favorite type of content. I find numbers boring.
But it's been a mistake to ignore numbers in writing. They add substance to an argument. They show you know your field. They instantly make your content more factual. They boost credibility and appeal to rational thinkers.
Good journalists often use stories to hook readers, and then include stats to back up their argument.
3. Borrow authority
Can't find any statistics to back up your argument?
Try using a quote from a well-known expert instead. A quote demonstrates you know your field, and others agree with your views.
Keep an eye on expert content and create a file of valuable and fascinating quotes. If you use Evernote, tag your quotes, so you can quickly locate suitable quotes for an article.
4. Tell personal stories
Perhaps you're intensely private and don't like sharing personal stories online. Or maybe you feel personal stories don't belong in business blogs.
But that's wrong. In this world of content overload, it's the personal stories that connect and engage—they humanize your content. They help you bond with your readers.
Don't share a personal story for the sake of being personal. Use a personal experience to add value for your readers.
5. Clarify with examples
Examples instantly add substance to your content because you translate theory to practice. Examples breathe life into your content by making abstract concepts concrete. Readers can visualize your ideas.
Use one example to illustrate your point—like a case study. In my post about Apple's copy, for instance, I analyze in detail why Apple's copy is so seductive.
Alternatively, use a series of examples, and comment on each of them to give your readers insight in what works and what doesn't. My recent article with 47 headline examples, for instance, helps you understand what makes headlines seductive.
Don't wait with collecting examples until you have to write your post. Start collecting examples of topics you find interesting because it'll speed up your article writing later.
6. Surprise yourself
Have you been writing on automatic pilot? Feeling bored with your content? Rest assured, you're boring your readers, too.
So, challenge yourself. Find a new angle. Dig deeper. Experiment with a new tool.
Content becomes more fascinating when writers are excited about sharing their own new insights. Don't write purely for your readers. Write to deepen your own understanding, too.
7. Share common mistakes
Who's not afraid to make mistakes?
Mentioning mistakes and explaining how to avoid them boosts readers' confidence to implement your tips.
8. Inspire action
You've written your step-by-step instructions. You're proud of the details you've provided. You added a quote, a couple of examples, and a personal story.
You're sure. This post is good.
But wait. Hang on.
Do readers really know what to do next? Can you nudge readers to take the next step?
How to write with substance
When I started writing, I knew how to be practical, how to arouse curiosity, and share common mistakes. The challenge for me was to include personal stories. I also have to make a conscious effort to add a quote or a few statistics.
Once I started sprinkling a few stats, and quotes, and personal stories over my content, my articles became stronger. The comments and shares seemed to increase. And I became more pleased with my content, too.
Which tool do you use most? Which tool do you use least? Which one can you add to your next article?
In writing, substance and style are like yin and yang
Substance and style interact, strengthening each other.
Your writing style charms readers with beautiful words and the rhythm of your sentences. But without substance, the most beautiful words remain empty advice.
Substance is the real insight you offer.
Substance helps improve your readers' lives.
PS This article was inspired by Sally Hogshead's work on fascination. The idea for writing this post was sparked by a comment from Louisa Chan. Thank you.