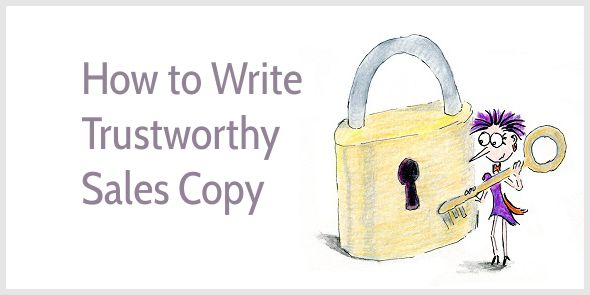 Harvey Green thinks his sales copy is finally ready.
His research has been more in-depth than usual; and he's weaved a variety of true benefits into his copy. He has checked his spelling, and replaced gobbledygook with meaningful phrases.
So that must be it. Phew.
Harvey smiles and imagines his writing teacher praising his efforts. He pours himself a glass of Rioja to celebrate, and takes the remainder of the evening off.
The next day, Harvey does a final check before publishing his copy. He imagines stepping into the shoes of a web visitor, and reads his copy aloud.
Harvey scratches his head.
He realizes he has assumed web visitors already know who he is and that they already trust his advice. But now he realizes … his copy lacks credibility. And, of course, if people don't trust his words, they won't buy from him.
What can he do?
Boosting your trustworthiness requires two specific copywriting actions. Shall I explain?
1. Boost your credibility with specificity
Generic statements sound like marketing blurb. In contrast, a specific statement sounds more believable.
(…) concrete details don't just lend credibility to the authorities who provide them; they lend credibility to the idea itself. ~ Chip and Dan Heath
Here's how Apple builds trust by using specific details:
The 9.7-inch iPad Pro display uses the same color space as the digital cinema industry. This wider color gamut gives iPad Pro up to 25 percent greater color saturation than previous iPad models. So colors are more vivid, true to life, and engaging.
Why this copy sounds trustworthy and persuasive:
The feature is specific: 25% greater color saturation
The feature is explained in layman's terms: the same color space as the digital cinema industry
The feature is translated into logical benefits: the colors are more vivid, true to life, and engaging
For services, you can do the same. Describe your process in detail and explain what you deliver.
Case Study Buddy, for instance, explains their process for writing case studies in detail:
We set up a quick interview (30 minutes or less) with your client and send them a list of questions so they can prepare.

Our team knows exactly what to ask to get those juicy details and powerful quotes marketing teams dream about while treating your clients with professionalism and respect.

You will know…

The challenges that led them to your solution
Why they chose you over any other option
The real reasons they love working with you
The results they've seen because of you,

And…

What you can do next to make them even happier!
Why this copy sounds trustworthy and persuasive:
The copy includes specific facts: the interview takes 30 minutes or less; and a list of questions is sent beforehand.
The copy specifies what will be delivered: details and quotes explaining why a client loves working with you, the results they have seen, and what you can do to make clients even happier
The benefits are aspirational: juicy details and powerful quotes marketing teams dream about
Sales copy is often too short and too superficial, and that's why it fails to instill trust. So, dig deeper to describe your process and demonstrate your expertise. Include specific details to instill trust.
2. Back up your claims with external proof
Specificity is a form of internal trust building because you give specific details of your product, your service, your process.
External trust elements, however, provide credibility from outsiders, such as test results, testimonials and other forms of social proof. Together, internal and external proof jack up your trustworthiness.
For service pages, we often rely on testimonials for external proof. They're part of a 3-step persuasion process:
Describe a specific feature—a stage of your process or what you deliver
Explain the benefit—why your reader should care
Provide proof with a detailed testimonial
In my copywriting course, for example, I teach the premeditated method to writing emails (this is a feature), so you can get more clicks and responses (that's a benefit). And I include a testimonial as proof:
[T]he first enewsletter I wrote using the course material was our most successful ever. Our open rate increased marginally, but our click rate jumped from 5.82% to 41.23%—concrete evidence that the course works. Sales were also good with people coming in, calling and emailing.
Don't place your testimonials on a separate web page or at the end of sales copy.
The most powerful testimonials are an integral part of your sales copy.
Be consistent
"Trust personalities speak the language of stability."
~ Sally Hogshead
When writing sales copy, it's easy to get distracted by persuasive sales techniques. By subject line tricks that increase conversions. By power words. By sales letter formulas.
But does the copy still sound like you?
Consistency is the basis of trust.
So, don't use words that make you sound sleazy. Don't follow writing advice if it doesn't align with your values. Don't feel you need to brag.
Trust your own gut instinct. Be honest. And be yourself.