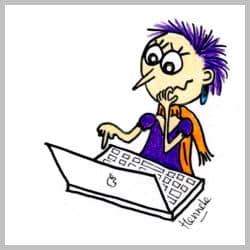 Let's be honest.
I'm no shrinking violet.
I'm no gutless chicken.
But since starting Enchanting Marketing in November 2012, I've often been nervous. Frightened enough to wake up in a pool of sweat on a cold winter night.
Am I a blogging wimp?
As a business blogger it's easy to play it safe
Don't share your strongest opinions.
Don't step on any toes.
Write on auto-pilot.
It might sound like a solid blogging strategy, but could it be a wimp's way of marketing yourself online?
Below follow 5 warning signs you're losing business opportunities because you're a spineless blogger.
1. You worry about unsubscribers
I had to get over this angst quickly.
From the outside it looked like I had a great blog launch in November 2012. My first post generated 88 social shares and 34 comments (or 17 if you don't count my replies).
But the truth is that my launch was a string of problems and mistakes. For instance: My first guest post on Copyblogger became a damp squib, because I didn't have a website live – not even a single web page telling visitors that Enchanting Marketing would be launched soon. While I had spent many, many days writing that post, I hardly benefited from it.
For my next guest posts I had a landing page live so people could leave their email address if they wanted to know about my launch. But I let my email list go cold, as I didn't have a clue what to write.
When I finally picked up the courage to send my first email on 4 September 2012, most email receivers didn't remember subscribing. Within one month 17% of my list unsubscribed.
I could almost cry about my stupidity.
But the truth is: I wasn't losing any readers or fans, because these people didn't even know who I was. I was looking at meaningless numbers.
Not all subscribers are readers; and not all readers are your fans.
Subscriber numbers are less important than reader engagement, enthusiasm, and love for your blog. You can't build a blog based on subscriber numbers. You can only build your blog and your business when people feel connected to you, when they want to listen to you, when they become your fans so they spread the word for you.
Stop worrying about unsubscribers. Instead: build stronger ties with your real fans.
2. You don't experiment
Writing in the same format week in week out is easy. Churn out a blog post in under one hour. Find a stockphoto. Hit publish and share via social media.
It's safe. It works. And sometimes it's all we can do as our to-do list overflows with more important and urgent issues.
But if you never experiment, you never learn whether you could do better – gain more comments, win more shares, reach more (or nicer!) clients.
And if you never try something new, blogging becomes a chore. Your posts become drab when you lack enthusiasm. You're slaughtering your voice and boring the boots off your readers.
To keep your blog fresh and exciting, try something new. A long, epic post or a super-short provocative post. A new writing style. A guest writer. A podcast or video. Or a new source of illustrations.
Don't allow boredom to kill your voice. Because your passion is contagious and your enthusiasm gains you new clients. Experiment and have fun.
3. You're intensely private
Business is business.
Right?
Not quite.
To promote your business you need to craft meaningful connections with people. That means showing your face and telling at least part of your story. Your dreams. Your mistakes. Your writing fears.
When you give readers a glimpse of your personality, they can get to know you, and like you, and trust you. You don't have to bare all. You don't have to go naked. Set your own boundaries, but don't hide yourself completely.
4. You crave being perfect
Of course we all like to receive compliments about our blog. We love tweets, and likes, and plusses. We love hearing how talented we are. They're signs of approval, aren't they?
I was recently called a liar by a commenter.
I was slightly taken aback.
But then I realized that I can't please everyone. I can't be liked by everyone. I don't need to be perfect.
Perfectionism is not self-improvement. Perfectionism is, at its core, about trying to earn approval and acceptance. ~ Brené Brown
Our job as business bloggers is to appeal to the clients who are right for our company. We don't need to worry about people who don't like us or who don't fit our business.
We don't need to please the crowds. We don't need to know everything. We don't need to be perfect. We only need to engage our ideal clients and turn them into raving fans.
Fans forgive us our mistakes. They ignore a glaring error in a subject line. They privately point out a silly typo. They laugh about a crazy post.
Fans know we're human. They like us because of who we are. That's why they want to do business with us. Warts and all.
5. You're afraid to share a strong point of view
Popular bloggers are not afraid to take a stand. They are opinionated. They may have extreme views. They go against the grain. But that's what makes them fascinating.
Nobody is looking for bloggers who tone down their views, who share their opinion with a string of buts, ifs, and maybes.
Stop trying to keep everyone happy. Share what you truly believe in. Be bold.
The truth about blogging wimps
As bloggers we put our reputation on the line each time we hit publish.
It's easy to be nervous about getting it wrong, upsetting a few people, or undermining our professional image. But blogging is about making meaningful connections and you don't build relationships with your readers on auto-pilot.
If you've never been anxious about hitting publish, can you honestly say you've given it your all?
Feeling a little frightened is normal. You're pushing your boundaries. You're discovering new opportunities. You're experimenting and growing.
You're not a wimp. Keep going. Be crazy and have fun.
PS For days I've been umming and ahing about publishing my first hand-drawn blog illustration. I'd love your honest opinion: Does it look too amateurish or should I illustrate my next blog post again?