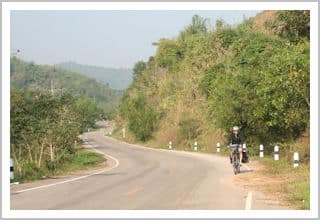 How do you keep your readers captivated?
How do you keep them reading each and every word you write?
The difference between a so-so and an enthralling post is often the amount of ballast.
You know what I mean with ballast, don't you?
Ever been on a backpacking holiday?
Packing can be a challenge.
But packing pannier bags for a cycling trip is an even bigger challenge.
You find yourself looking at the want-to-take stuff spread out on your bed.
First you throw out the non-essentials, like hairspray, an SLR camera, and your favorite skirt. Then you cut down on essentials: reduce the number of cycling shirts from three to two, and the number of trousers from two to one pair.
Every piece of luggage slows you down on a cycling trip. Each extra ounce drags you down when cycling uphill.
With blog posts it's exactly the same.
Just one or two redundant phrases can cause your readers to abandon your post. Half way. Or earlier.
An abundance of words is demoralizing. It makes reading feel like an uphill battle.
That's why you need to become a word weenie
Ever heard of a weight weenie?
It's a road cyclist who's obsessed with the weight of his bike. He'll replace a component that weighs 70 grams with one that weighs 68 grams even if it costs 100 or 200 dollars more.
A weight weenie can't sleep at night, considering the possibilities of shaving another 2 or 3 grams of the weight of his bike. He is relentless in his pursuit of finding the lightest frame, the lightest seat post, and even the lightest holder for his water bottle. A weight weenie complains in dedicated weight weenie forums about the false claims manufacturers make about the weight of parts.
With my hybrid bike, I definitely can't play in the league of weight weenies. But I do obsess about the weight of words and sentences.
If you want to engage your readers and captivate their attention until the last sentence of your blog post, you need to become a word weenie, too.
6 ideas for shaving the weight of your blog posts:
1. Remove obvious information
Surprise people with new tips or a refreshing look on old information.
2. Eliminate long scenery descriptions
Keep your writing to the point. It's simple: Don't write anything your reader doesn't want to read.
3. Discard self-indulgent look-at-me stuff
This may seem tricky because you can build a passionate following only if you show your readers your personality and a few tidbits of your life. This is how to do it: Use your personal stories as metaphors or examples to teach, help, and inspire. Keep your focus on your reader rather than on yourself.
4. Avoid duplicate information
When writing a first draft it's easy to repeat the same information in different words. Re-read your draft to check whether each sentence has a meaning that builds on the sentence before.
For instance: While editing, I crossed out the following text in my first draft:
This may seem tricky because most readers like to get to know a blogger. You can build a passionate following only if you show your readers your personality, and at least a few tidbits of your life.
First drafts are full of duplicate information and threads of thoughts that don't contribute to your message. Be rigorous when editing.
5. Strike out adverbs
These are the words that modify verbs or adjectives. Adverbs present additional information, for instance, on the manner in which an action is undertaken. This additional information is almost always redundant. My first draft said: It's relatively easy to solve.
6. Cut adjectives
No adjectives at all can make your blog posts bland, but too many adjectives overwhelm your readers. These are the rules I try to observe:
Before a noun, have a maximum of one adjective:
First you throw out the non-essentials, like a can of hairspray, a bulky SLR camera, and your favorite, blue, linen skirt.
Only follow the rule of three when using adjectives at the end of a sentence. End with the most powerful adjective: Removing ballast will make your blog posts more engaging, compelling, and enchanting.
Replace wishy-washy adjectives with unusual or sensory words. Instead of wishy-washy I could have used bad, imperfect, or poor, but these words are all booooring. Good options are bland, stale, ho hum, etc. Bland adjectives wear your reader down. Flavorsome adjectives add meaning, emotion, and texture.
The truth about keeping your readers spellbound
Removing ballast isn't enough to keep your readers engrossed.
The best cycling trips go over undulating roads: not-too-steep climbs, leisurely descents, and surprising views after a bend or on top of a hill.
Manage the pace of your story like an undulating road. Slow down with a few long sentences and long-ish paragraphs. Then present an easy read with quick bullet points, a few ultra-short sentences, or even a one-word paragraph.
Be relentless when you edit. Long sentences are fine, but unnecessary long sentences are the kiss of death.
Cycling uphill should be rewarded with a beautiful view, an exhilarating downhill journey, and the wonderful feeling of achievement that you made it. Your readers should be rewarded with inspiration, entertainment, fresh ideas, a feeling of satisfaction or a sense of happiness.
Never take your readers for granted. Always value their time. Become a word weenie!