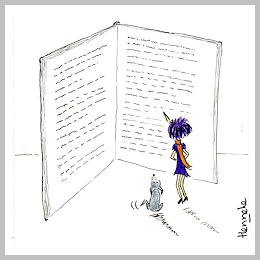 Yeah, yeah.
We know that stories engage.
We know that stories entertain.
But including stories in our blog posts seems a difficult task.
Storytelling has definitely vexed me for a long time.
How do you avoid sounding like a girl who keeps blabbing on about her life story, her travels, her boyfriend? How do you avoid boring everyone to tears with uninteresting details?
You're either a born storyteller or you can't tell stories. Right?
Wrong.
Storytelling can be learned.
I'm not talking about writing novels. Including tiny or miniature stories in your blog posts is much easier. And once you know the tricks, your blog posts become more personal. You make your readers smile. And keep them reading on.
Sound good?
Use tiny stories in tutorials
Do you write how-to posts?
And do you use examples in your tutorials?
You can easily turn your examples into interesting stories.
Let's say you're writing a blog post about email marketing. You'd like to point out that when you send a sales pitch in your email you need to explain what's in it for the customer.
You could give a simple example about a web developer offering a special deal on blog set-ups in his email. You recommend that the web developer describes the offer, and tells his email readers how their business can benefit from a blog, such as more search engine traffic, an opportunity to start a conversation and build a relationship with prospects, etc.
With a little effort you could turn this example into a short story:
Imagine you're a web developer.
You have a good client base, but most of your customers have static websites only. No one seems to blog.
You don't have many leads in the pipeline, so you want to sell a few blog packages to your existing clients. After all, it's easier to sell something to existing clients than to look for new prospects, isn't it?
You write your next e-newsletter about blogging. You highlight the number of blogs in the world. You show a few examples of popular business blogs.
You keep it short as nobody has time to read these days. You add a call-to-action with a 20% discount for blog packages purchased before the end of the month.
You push send and wait for the phone to ring.
You check your stats, and sure, your email gets opened, but why is no one interested? Why is the phone not ringing?
You presented the facts about blogging, but you forgot to connect it to your client's business. How can a blog help them grow their business?

* * *
Have you noticed how little I told you about the web developer in the example above? And how in just two sentences I describe the idea of selling a few blog packages?
A tiny story sets the scene quickly.
After describing the context in a couple of sentences, a tiny story becomes active. It explains what the protagonist does rather than what he thinks.
To add drama, you give the reader the feeling that something will go wrong. The question After all, it's easier to sell something to existing clients than to look for new prospects, isn't it? makes you wonder whether this web developer is overconfident about selling to existing clients. Is it more difficult than he thinks? As a reader, you're waiting for a problem to arise.
The most common mistake when including stories in your blog posts is to make them too long. Remember to focus on your key message only, and ask yourself for each detail: Is this relevant? Can I delete it?
Write a first draft, and aim to reduce your story length by 50% when you're editing.
Use tiny personal stories as metaphors
You're not just blogging to tell stories are you?
You want to build your authority, develop relationships with readers, and win clients. You want people to get to know you, like you, and trust you.
Tiny personal stories help readers to learn more about you. Here's an example from a post about welcoming first time readers on your blog:
The village seemed deserted.
The only shop was closed.
It was Thursday afternoon, half past four. Exhausted from cycling in the heat, we were longing for a shower, a snack, and a cold beer.
We knocked on the door of the village hotel.
Nobody answered.
The door was locked.
Was the hotel closed?
We tried the back door and found it was open. We sneaked in and discovered a key and a piece of paper with Mrs Henneke – room 10 written on it.
We showered and hand washed our clothes; and then waited for somebody to turn up. We had nothing to eat, just tap water to drink, and the wifi wasn't working.
Not a welcome you'd like give your visitors, huh?
But that's exactly what happens on your website, my website, and everyone else's website. We are not around to personally greet each web visitor and guide them in the right direction.
* * *
As a blogger, you might like to build a relationship with your readers. But your readers aren't coming to read about you. Readers come to be inspired, entertained, or educated.
The trick with personal stories is to make the story about your reader rather than about you. Here's an example outline:
Don't start with your story, but pull your reader into your blog post by empathizing with his struggles and promising a solution.
After you've pulled your reader into your blog post, tell him your story; keep it short.
Include your tips, tricks, or formulas in the main body of the post.
Inspire your reader with your closing paragraph; get him to take action.
How to write your own tiny stories
Don't feel you need to become the next Gabriel Garcia Marquez, Haruki Murakami, or Elizabeth Gilbert.
Tiny stories aren't hard to tell.
A story is simply a journey.
Let your readers witness your journey, live your story. Transfer them away from their desk and cellphones.
Decide on your message. Imagine talking to your ideal reader. And captivate her with your words.