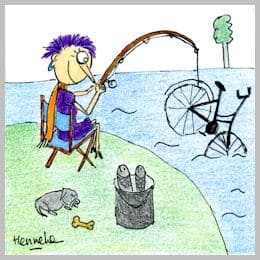 Why are you writing a business blog?
Your answer might be to build authority, to grow web traffic, to raise your fees, and to win more customers.
And sure, these are all valid reasons.
They've always been my answers, too.
But since I've been writing here for over a year, I've found a few surprisingly alluring benefits of business blogging.
Which other benefits have you discovered?
1. Gain creative discipline
I'm not a super-disciplined person.
I don't exercise enough in winter. When I'm busy, I'm almost glued to my desk. I don't always sleep enough. I sometimes wear myself down, and always come to regret it.
But as I have promised you to be back each week with a fresh blog post, I had to be disciplined. I had to knock out writer's block and start typing each week.
And you know what? Once writing becomes a habit, it gets easier.
Don't wait for your muse to arrive, start writing.
2. Deepen your knowledge
A year ago I wondered how the hell I could find a new topic to write about each week.
But your questions spurred me to look for answers. I read blog posts and books. I studied and analyzed writing techniques. I had to deepen my knowledge.
Writing is a wonderful opportunity to gain clarity of thought, to sharpen your ideas, and to learn how to communicate.
3. Become a better communicator
In our hurried and distracted world, we dash off a quick email rather than sit down to write a good letter.
When did you last write a letter?
By taking the time to share your knowledge with your readers, you learn what resonates. You learn how to tell stories, and how to stop rambling on. You learn how to influence and inspire people.
These communication skills are transferable. You'll find it easier to persuade a new client to award you a contract or to tell your child to stop talking with a full mouth.
Your ability to communicate your ideas and influence people is one of your most precious talents. Don't waste it.
4. Gain customer understanding
You treat blogging as a conversation rather than a monologue, don't you?
Each comment and each question can help understand who your readers are, what they're dreaming of, and what they're struggling with.
Knowing your audience is the start of building a great business.
5. Write a book
Who would have ever thought I'd write a book, let alone two books?
I never did.
But by writing weekly blog posts, I gained enough confidence to start writing a book.
Your blog posts can form the basis of your book, too.
6. Nurture a stronger personal brand
Your blog is the heart of your personal brand. It's where you develop your voice.
When readers "hear" the passion in your voice, they start looking out for your emails. They become keen to work with you because your enthusiasm is contagious.
Your blog is your brand. It tells potential clients why they should work with you because of who you are.
7. Enjoy the pleasure of sharing your knowledge
Some people think I'm crazy.
They're probably right.
But not because I share so much in-depth knowledge on this blog.
Sharing knowledge is a joy. Giving valuable stuff away feels good.
Helping others makes you feel happier
Don't consider your blog as another item on your to-do list. Because it makes blogging a chore.
Take your time to write a post that truly helps your readers and inspire them.
Give your stuff away, and you'll win more business, develop new connections, and make new friends.
Make others happy, and you'll become happier, too.