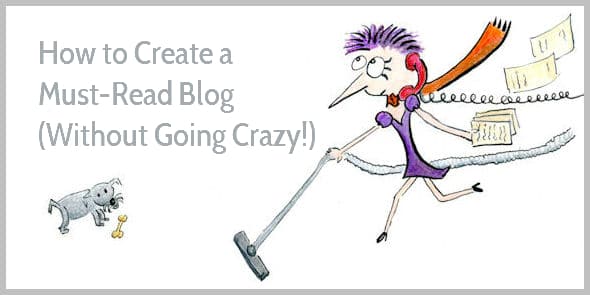 *sigh*
Do you ever wonder what happened to your week?
More and more you're running around, unsatisfied with your achievements.
Why is your blog not working harder for your business?
Why do you feel you're missing out on valuable opportunities?
You open another social media account, join another blogging course, add a few more books to your must-read list, commit to start a podcast, and note down your action points for search engine optimization.
But how on earth can you get all of those absolutely-must-do tasks done?
Below follows the 5-step plan I used to build my blog and my business. I can't tell you it's been a leisurely walk in the park. But I haven't quite lost my sanity.
Want to turn your blog into a go-to resource for your target audience? Use the tips below to guide your blogging efforts without going crazy …
1. Don't let your blog catch pneumonia
How many blog readers would you like to have? One hundred? One thousand? Ten thousand?
Imagine yourself on a soap box at a busy street corner, preaching at passersby … that's how your writing sounds when you write for a crowd of blog readers.
As Kurt Vonnegut suggests:
Write to please just one person. If you open a window and make love to the world, so to speak, your story will get pneumonia.
So pick your favorite reader. When you write for him only, your blog instantly becomes more engaging. You make each reader feel like you're writing specifically for him.
If you're unsure who your favorite reader is, try visualizing your ideal client.
Sanity tip for busy business bloggers:
Don't get nervous about picking your favorite reader. You can always change your mind. My favorite reader changed from a marketing manager at a small company to a marketing coach running her own business within one year of starting my blog (and most of my readers aren't marketing coaches!).
2. Don't focus on your business aims
You might write a blog to generate more traffic to your website, raise your profile, boost your authority, gain more clients, get closer to existing clients, or ask higher fees. Those are all legit reasons for blogging.
But what's in it for your favorite reader? Why would he read your blog?
Your blog reader isn't interested in your business objectives or personal aims. He doesn't want to hear your promotional messages and sales pitches.
He wants to know what's in it for him. How can you take away his problems? How can you make him happier?
When you write to educate and inspire your favorite reader, to solve his problems, to make him more successful and happier, that's when your blog can become a must-read.
Sanity tip for busy business bloggers:
Don't be afraid to give away your secrets. The more you share, the more people want to buy from you. As Chris Garrett, Chief Digital Officer at Rainmaker Digital, has said: "I have yet to find someone who has given away too much [free information]."
3. Promote your blog without going crazy
Have you read books or blog posts about content promotion?
And… how did it make you feel?
Overwhelmed?
Promoting content can feel like an endless list of must-dos. 73 ways to promote your blog on Facebook, 53 ways to promote your blog on Twitter, 59 ways to generate more traffic from Google. All those options may be great for corporate marketing teams, but how does a soloist stay sane?
Let's add some sanity to your content promotion:
Guest blogging helps boost your credibility, gain valuable links, and increase email subscribers. Consider reducing your publishing schedule so you can find time for writing guest posts.
Focus on two or three social media platforms. Be active on the platforms where your fans hang out and where you enjoy hanging out. I'm only really active on Twitter, with some token activity on Google Plus and LinkedIn, and the occasional SlideShare presentation.
Driving SEO traffic to a completely new site isn't easy. If your blog is new, and you don't know much about SEO yet, focus on other traffic-generating activities (like guest blogging and social media) first.
Sanity tip for busy business bloggers:
Find your balance between blog writing and promotion. I like to write weekly, and spend as little time as possible on blog promotion. Others write only once a month, and dedicate 80% of their blogging time to promotion and 20% to writing. Both systems can work.
Don't feel obliged to publish weekly. What suits you and your audience?
4. Turn casual readers into loyal fans
Who's more valuable … Twitter follower or an email subscriber? A Facebook friend or an email subscriber? A LinkedIn connection or an email subscriber?
Your email subscribers are most likely your biggest fans.
Once people have allowed you into their inbox, you get a chance to prove your content is worth their time, and turn casual readers into loyal fans:
Invite web visitors to join your email list with an ethical "bribe" (like my snackable course!)
Include opt-in forms on your Home page, About page, and sidebar; consider using a plugin like PlugMatter to show a sign-up form at the top of each blog post and archive page (this works far better for me than the form in the sidebar).
Always give people a reward for opening your emails. Share a useful tip. Make them feel better. Inspire them.
Sanity tip for busy business bloggers:
Don't get too distracted by subscriber numbers. How many readers do you need to make blogging worthwhile? What do you need to achieve?
Only if you want to make a living from low value products (such as ebooks), you need a large audience (think 10,000 plus). To make a living from a premium service (such as coaching or web design), a small list is fine (think 1,000 or 2,000 or even less if your guest posts generate inquiries).
5. Make your plan doable
If you're as bad at planning as me, then you always overestimate how much you can do.
Here's is how I deal with that problem:
Divide up the action plan in must-do's and nice-to-do's
Block time in your calendar for next week's must-do's
Be generous with slack time in your diary
Measure how long it takes to do each of your tasks
Adjust your plan when you really know how long tasks take you
Sanity tips for busy business bloggers:
If you spend a lot of time planning and struggle to take action, give yourself a deadline (tomorrow!) and write down your first priority. Block time in your schedule to your priority done. Doing a useful task gives you more momentum than endlessly deliberating about which action is most useful.
If you feel overwhelmed by writing blog posts, cut the writing process up in doable chunks.
If you feel like you're running around, try measuring what you're spending your time on each day, and learn how to prioritize your tasks. Take a little more time to plan, and a little less time to run.
Put your blinkers on
Blinkers are those black eye patches that horses wear so they don't get distracted by traffic. Because of those blinkers, the horses are focused on moving ahead.
As a blogger and solo-biz owner, you need to get a pair of blinkers, too. To help stay on course. To avoid being distracted by shiny new social media platforms. To stop trying to find the perfect blueprint.
Put your blinkers on. Get your work done. And be proud of your efforts.