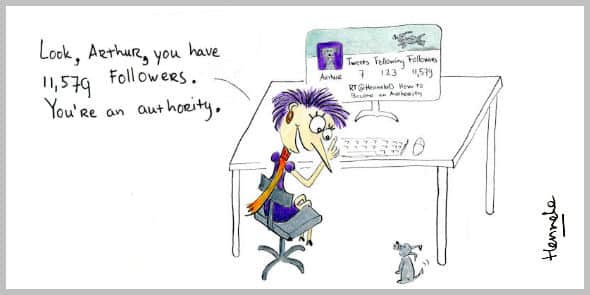 Does the thought ever creep up?
The nagging doubt you're not good enough?
That you don't have enough clout to make a living online?
Becoming an authority would make your life so much easier, wouldn't it? Clients come knocking on your door. You can choose who you want to work with. You can increase your fees.
Sounds good, doesn't it?
But how can you achieve it?
Many people think I've always been a copywriter
But in my corporate career, I worked in sales and marketing. I wrote occasionally. But I spent most of my time in meetings.
I wasn't a copywriter. I didn't see myself as a writer. And I certainly didn't think anyone would ever hire me to write copy for their website.
Almost exactly two years ago, on 28 September 2012, I left my job to start my new life, a life that would be free from corporate stress and boredom.
I thought about becoming a content marketing consultant, and I wanted to build an online audience so I could sell information products.
But then I got frightened.
Content marketing was too big a topic. I didn't know much about Pinterest or Google Plus. My LinkedIn account was dormant. I wasn't even on Facebook or Instagram.
Learning about all these content marketing tools felt daunting. I didn't know where to start, and I felt a strong resistance.
Step 1: Narrow your focus
I was too scared.
So I decided to narrow down my focus to writing for the web–a topic I was curious about.
When you look at authorities in your field, it's easy to be impressed by their in-depth and wide-ranging knowledge.
Do you feel tempted to emulate their authority and try to learn about everything?
The problem is that flimsy posts about wide-ranging topics are a surefire way to kill your authority.
Instead, start with a narrow focus for your business and write in-depth posts for your blog. As a social media expert, you might want to focus on Google Plus only. As an interior designer, you could start writing and learning everything about color schemes or textures only. As a content marketing expert, you can focus on strategy and work with others to implement social media campaigns.
Gaining in-depth knowledge is easier when you focus on a narrow topic. Becoming known as an authority is easier when you focus, too. And even Google will send you more traffic when your site is focused.
You don't have to stay with a narrow topic forever. You can slowly expand your scope when either you or your audience gets bored.
Step 2: Stop reading blog posts
You can't become an authority by following blogs.
Sure, blog posts help you stay up to date, and you can learn a few useful tips. But reading blog posts alone won't build authority.
Real authority requires in-depth knowledge–knowledge you'll gain by reading serious books, listening to real experts, or gaining hands on experience.
No quick wins exist.
Real authority requires you to do the work. To dig deep. To relentlessly focus on improving your knowledge.
And then to share your knowledge online.
Step 3: Write authoritative articles
You know your stuff.
But how do you show that to others?
A few tricks exist to boost your authority:
Answer specific questions. Avoid short list posts. Write longer posts that solve specific problems.

Pay attention to the questions posted in forums or on blogs, and collect questions from clients or email subscribers. Each relevant question can be the beginning of a new blog post. (A question from Carole at Rustic Artistry triggered this blog post – thank you, Carole!)

Quote other authorities in your industry. Ask well-known bloggers or authors for specific quotes, or simply use existing quotes from blogs or books. Show you know what others are talking about.
Don't be afraid to take a contrarian view. Authorities have clear opinions. They're known for their ideas. And they don't moderate their views with ifs, buts, and maybes. They tell you how it is without an almost apologetic in my opinion.

If you're concerned about showing a strong view, consider providing an overview of different views and explain why you disagree. Or use quotes of different experts to back up your arguments.

Use stats and detailed case studies to write with substance. If you're a cycling coach, you could use real life examples of how a specific training regime improved performance. Or you can use stats about calories burnt per mile.

Details boost credibility and trust.

Repeat your ideas. Re-phrase them slightly, use a new metaphor, or different examples. Repetition makes your messages sticky.

You don't think that everyone remembers everything you've written, do you? So, repeat your message from time to time.
Step 4: Build an audience
Building an audience is hard work.
My favorite method is guest posting. Piggy-backing on a big blog's audience immediately boosts your authority.
But guest posting means you're building your authority on borrowed land. And you'd like to build an email list with people who read your own blog posts on a regular basis, don't you?
In Enchanting Marketing's first year, almost all email subscribers came from guest posts. But this is the split for the last three months (July – September 2014):
Please note that the percentage of subscribers from social media is unusually high due to the success of my SlideShare presentation
17 Copywriting Do's and Don'ts
(
more about this here
). The number of email subscribers from guest posts was relatively low as I've published fewer guest posts.
Step 5: Build a fan club
Kevin Kelly suggests artists only need 1,000 true fans to make a living.
I'm not sure such a hard rule exists for running an online business. It depends on your business model. Are a few high-paying clients enough? Or do you want to sell lower-margin products to a large number of customers?
I'm not sure how to define a true fan, but I'm sure not every Twitter follower is a fan. Not every Facebook friend is a fan. And not every email subscriber is a true fan.
True fans are reading each of your emails–they miss your voice when you're on vacation. Or they might help you spread your ideas by writing raving book reviews or sharing your post on social media week in week out. Or they're the first to buy your new products because they believe in what you do.
True fans believe in you. They're groupies. They feel you're having a positive influence on their life.
Do you know how many fans you have? True fans?
The truth about online authority
Online authority isn't about how many Twitter followers or Facebook likes you have.
It's not about how much web traffic you get.
And it's not even about how much you know.
Real authorities solve their audience's problems. Consistently. Repeatedly.
That's why people listen to them. And spread their ideas.