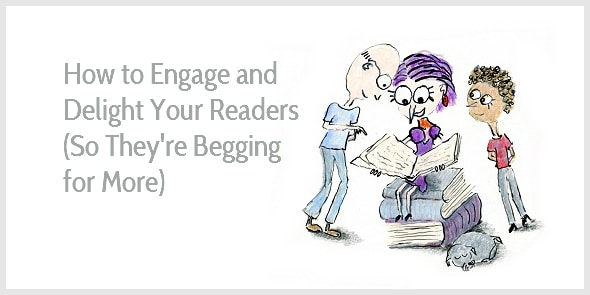 Once upon a time there was a 42-year old girl.
She was stuck in her job. She was fed up with her 2-hour commute. And above all, she hated her boss.
Secretly, she started planning her escape.
She decided to learn how to write. She mastered the basics of WordPress. And she learned how to pitch guest posts and build an email list.
The odds were stacked against her. She'd never been a good writer. She hated writing essays, and English was her worst subject at school.
Eye-brows were raised when she handed in her notice. How could she set up her own business?
She wasn't sure either. But she was going to give it her best. The idea of building a popular blog seemed as attractive as it sounded ridiculous.
Fast forward to January 2016 … and that crazy Dutch girl has found her tribe. She's made friends online. She has an active community of readers, who comment and share her posts. She'd never say it herself, but some even call her a popular blogger.
What happened?
Before Christmas I had an email conversation with reader Hans. He asked me how I engage my readers. Why does my writing feel like a conversation? Our emails went back and forth, and we agreed that true engagement is about more than the tone of your writing.
When I look back on my online journey so far, I've stumbled on various tactics that helped me build an engaged audience. Often by coincidence.
Generosity
Readers possess a super-sensitive radar.
They know whether you're in it for money only. They feel it when you're only sharing content hoping to sell your books and courses so you can get rich while you sleep.
But they also notice it when you truly care.
Building a blog community starts with putting your readers first. For me this was easy. I had no clear monetization plan. I was simply testing whether I could write well enough to get people interested.
Stop trying to be liked
Trying to be liked can damage your blog and your business.
Why?
It muffles your voice. You water down your messages. You tiptoe around, trying not to upset anyone.
Watery messages may not offend anyone, but they don't create a strong bond either. To pull loyal readers closer to you, you need a strong message to appeal to them.
Some people clearly don't like my content. They call it superficial, childish, boring, or repetitive. One person even accused me of talking only about myself.
Feedback like that can sting, but it's better to shrug my shoulders.
Trying to be liked by everyone doesn't work.
Connect on multiple levels
We like people who are like us.
In his book Influence, Robert Cialdini dedicates a whole chapter to likeability. He explains, for instance, how friends at a Tupperware party feel obliged to buy containers because they like the party host (even when they don't need more containers).
Cialdini also tells us how car salesmen look for similarities between themselves and potential buyers. A car salesman might mention how much he loves the outdoors if he sees your hiking boots in your trunk. Even such trivial similarities can increase likeability and sales.
You might have joined Enchanting Marketing to learn how to become a better writer. But by reading my blog posts on a regular basis, you've peeked into my life. You might experience the same struggles with self-doubt, stress and perfectionism as me. Or you might like my stories about traveling.
Once I started weaving metaphors into my writing, I could connect with you on more levels. People who love cooking send me emails about food. Readers who love cycling share pictures of their bikes and stories about their cycling trips. We talk about the weather or discuss how I learned to draw.
We probably share a similar view on life. We want to have a good life, but we don't need to get rich quick. We'd like to find a sense of meaning in our work. We're looking for freedom and creativity. We enjoy meeting and helping others. We're curious. We want to learn.
Be vulnerable
I'm an intensely private person. I don't like sharing my personal life on social media. That's one of the reasons I don't even have a Facebook account.
But in my blogging journey, I've learned that sharing only tips isn't enough. Everyone is sharing tips. We can't hide ourselves if we want to build a loyal readership and a warm community.
It's deeply poignant that we should expend so much effort on trying to look strong before the world — when, all the while, it's really only ever the revelation of the somewhat embarrassing, sad, melancholy and anxious bits of us that are what makes us endearing to others, and can transform strangers into friends.
~ The Book of Life
Popularity, authority, knowledge, skills, intelligence, a sense of fun, a strong voice—these may attract people to our blog.
But showing our vulnerability turns readers into friends.
A consistent conversational tone
A corporate tone creates a distance between the writer and his audience. An academic tone puts the writer on a pedestal, looking down on his readers.
To truly engage your readers, start a conversation. Write as if you're writing to your favorite reader only.
Have you seen my email designs?
Right. There's no design. That's on purpose. Because I like my emails to look and feel like they're coming from a friend.
Whether I'm writing emails, blog posts or sales pages, I use exactly the same conversational tone. I don't change the way I engage you. I ask questions. I might share tips or offer a product. But whatever I write, you recognize my voice.
Authenticity is a much hyped concept
But it doesn't mean you have to reveal everything.
What's important is to be honest and consistent.
To be human and real.
To write with a purpose.
And to try to make a difference to your readers—no matter how small.