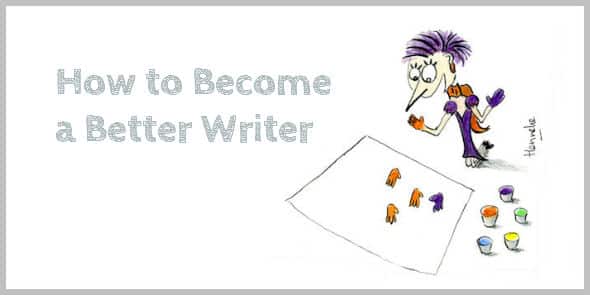 Have you felt that nagging doubt?
You notice how others churn out spellbinding content.
Seemingly without effort.
While you yourself seem to be slaving over your own words. Don't you feel proud about the content you produce?
I've been there, too.
I never felt I had writing talent.
Writing essays and English were my worst subjects at school.
I have a competitive spirit
Whatever I do, I want to get better, go farther, do more.
Getting back on my bike? I want to cycle up a higher hill than last year.
Starting a business? I want to earn more than I did in my last job.
Publishing a new slide deck? I want it to be better than the previous.
Sure, I've read the advice about embracing our imperfections.
Anne Lamott warns us perfectionism is the voice of the oppressor, the enemy of the people
Brian Eno tells us that perfection is characterless
Ann Handley encourages us to be flawsome
Our imperfections make us unique and human in a world of pixels and polished perfection.
But let's be honest …
Do we accept the advice of being imperfect? Or do we fear looking amateurish? Are we scared of being ridiculed because of silly mistakes?
My first trick to deal with perfectionism
To avoid endless umming and ahhing, I've enforced strict deadlines and accountability.
A few weeks before I launched the Enchanting Marketing website, for instance, I told everyone on my email list when my website would go live. I worked like crazy to meet my deadline. Because not meeting an agreed deadline seemed even worse than launching a slightly imperfect website.
When I launched the website, I didn't have a hire me page (I still don't have one!), my about page sucked, and you could find other minor flaws. My rather ridiculous fear of looking like an amateur kept me tossing and turning all night. But I launched my site.
To develop my blogging course, I employed a similar trick. I invited three readers for a test drive. While my guinea pigs were working on the first module, I developed the second, and so on. It was the only way to finish such a big project.
This accountability method works.
But it does have a downside. Grappling with fear and pushing through the perfection barrier is pretty exhausting.
Does another way exist?
What publishing silly sketches has taught me
18 months ago I joined a drawing course.
I hadn't drawn since I was a kid. But I was fascinated by the idea of creating my own blog illustrations, and I was sick of clichéd stock photography.
6 months after starting my course, I published my first drawing. I remember it well. The evening before publication, I tried to perfect the drawing. Henrietta's nose wasn't pointing in the right direction, her finger was odd, or the laptop perspective was wrong. I drew 7 or 8 versions before giving up.
The drawing would never be perfect.
Drawing has taught me to accept imperfection. Instead of worrying about mistakes and looking silly, I started to enjoy drawing. I started to play. I experimented and learned.
Imperfection didn't matter any more.
And that realization quietly seeped into other parts of my life. It has helped me drop my shiny mask of the perfect business woman. I've told you about my self-doubt, my stress, my fear of being boring.
And I sense that sharing my imperfections is what's bringing me closer to you.
Does perfection create a certain distance? Does imperfection resonate stronger than a shiny tutorial on writing?
The art of embracing imperfection
Have you ever looked up in an old church?
And noticed the light playing with the colors of the stained glass?
Shimmering and shiny, the colors seem perfect and pure.
But you know what?
The stained glass is in fact uneven. And the colors sparkle because of impurities in the color mix.
Weird, isn't it?
How to become a better writer
The secret to embracing imperfection and becoming a better writer is to play.
Instead of worrying about being amateurish, enjoy the process of writing. Have fun. Play.
Play is a state of mind, rather than an activity. Remember the definition of play: an absorbing, apparently purposeless activity that provides enjoyment and a suspension of self-consciousness and sense of time. It is also self-motivating and makes you want to do it again.
~ Stuart Brown
Writing is playing with words and rhythm.
Experiment when metaphors. Try telling a story. Explore the power of words. Have a childlike curiosity, and go on an adventure to discover new techniques.
Playing is critical to being happy.
Embrace your inner child.