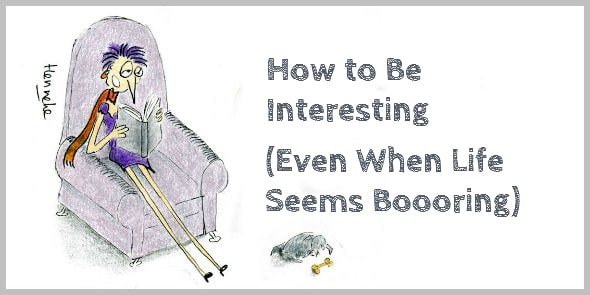 Yeah, yeah.
You've heard it before.
Add a splash of personality to your writing.
Because it helps you bond with your readers. And it makes you stand out in a grey ocean of me-too blogs.
The theory seems sound.
But what if you feel your life is boring and plain?
I lead an ordinary life
Married. No kids. No pets.
An end-of-terrace house in a small English town.
Nothing special. Nothing interesting.
Less than three years ago, I didn't think I could start a blog. Honestly, I didn't think I knew anything worth sharing. I'm not a party animal. I've never been popular at school. And I wasn't a writer either.
Today, I'm still a little surprised you're reading my blog.
And I don't want to pretend I know the answer to the rather big question of How to be interesting.
But I can share a few tricks I've learned so far.
5 sure-fire methods to be drab
Don't want to sound like a boring old fogey?
Start with avoiding the silly mistakes that make you sound yawn-inducingly bland:
Writing for Google is a sure-fire path to blandness, because humans don't like being addressed as automatic content processors.

Always write for humans first, optimize for crawling robots later.

Don't whine in public. Fire up for the occasional rant, but don't bore us with an endless stream of petty complaints.
Don't hide your voice. Mindless content full of gobbledygook is boring.
Sloppy editing wastes your reader's time. You must cross out all wordiness to become engaging.
Filling up space makes content drab. Only write when you have something to say.
Think you have nothing important to say?
Read on, because we all have something to say.
How to find something to say
When I started Enchanting Marketing, I wanted to learn how to write. I wanted to understand what makes writing riveting, and what makes it boring.
I followed my curiosity.
I devoured blogs about copywriting. I gobbled up book after book about copywriting. And along the way, I figured out that many others were as interested in learning how to write as I was.
I simply started sharing what I was learning.
Most of what I write about, I've learned in the past few years. I had questions I wanted to know the answer to. Or you asked me questions for which I desperately went looking for an answer.
You don't need to be a thought leader before you start to blog.
You don't even need to be an expert. Nurture your curiosity, and share what you're learning.
When you force yourself to share valuable information each week, you build a huge base of knowledge. You turn yourself into an expert, while blogging.
But be careful – don't simply rehash the same old tips you're reading everywhere.
How to be different
Thousands of bloggers write about the same topics.
They regurgitate the same superficial garbage.
But you can be different:
Use your own examples. New case studies or fresh examples can add a dimension to an existing story. Hundreds of blog posts have been written about, for instance, features and benefits, but hopefully my post made you smile, because of the examples I used.
Come up with a tantalizing metaphor. Metaphors can make any boring subject interesting. Everyone shares tips about content marketing, but how many people use a puking tour leader as an analogy?
Share your own struggles. We might have read hundreds of posts about becoming a better blogger. But we still find it interesting to hear about your challenges, and we'd love to know how you overcame your writing fears.
Dig deeper. Regurgitated content is often superficial. Instead, make your blog posts more specific, and more in-depth. Instead of sharing generic copywriting tips, can you explain to people who hate selling how they can write a sales page?
And you know what's most fun?
When you follow your curiosity, you learn more, you deepen your knowledge, and you have more ideas to share.
How to be yourself and be interesting
Average is boring.
But fortunately, none of us is average.
We're all a little weird in our own ways.
In his book To Show and To Tell, Phillip Lopate talks about writing literary non-fiction–which seems quite similar to blogging:
The mistake many would-be essayists and memoirists make is to try so hard to be likable and nice, to fit in, that the reader, bored, begins craving stronger stuff.
Don't try to blend in. Instead, be yourself. Find your quirks, and showcase them.
And write about yourself from a certain distance. Don't take yourself too serious. Don't brag, but don't dislike yourself either. As Lopate suggests, be curious about oneself:
Such self-curiosity (…) can only grow out of that detachment or distance from oneself (…). I may be very tired of myself in everyday life, but once I start narrating a situation or set of ideas on the page, I begin to see my I in a comic light, and I maneuver him so that he will best amuse the reader.
I'm an intensely private person.
I hate sharing personal stuff on social media.
And I had been writing for a few months before I started using the word I in my blogs. Slowly I've become braver, talking more about myself. Not because I love talking about myself, but because I've noticed sharing my experiences can help you, and perhaps even inspire you.
Remember, as a blogger, you're in charge, and you decide what you want to share. You decide which parts of yourself you highlight. You can showcase your shiniest, funniest, or most authoritative YOU. It's up to you.
The art of being interesting
Being interesting means being curious.
Ask questions about why things are the way they are, and look for answers. Dig deeper. Ask more questions.
Be interested in your readers.
Be interested in life, and in yourself.
Learn more.
And you'll have more interesting ideas to share.
Special thanks to Bill Honnold and Mellie whose comments on my post How to Woo Clients With Your Online Personality inspired this post.