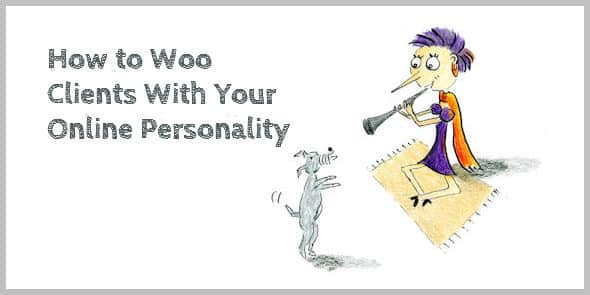 How do you win clients online?
You build authority.
You show off your knowledge.
You share useful tips.
Right?
Not quite.
Authority alone doesn't win you clients.
As social media expert, for instance, understanding social media isn't enough to win you clients. Thousands and thousands have similar knowledge, similar expertise, and similar skills.
To win business online, you need to use your most precious asset–your personality.
Because your personality helps you stand out online, woo clients, and win business.
Let me explain …
The big mistake I made in my career
Answering the question, "What do you do?" always seemed easy.
As a product manager, I managed products. As a marketing manager, I ran marketing campaigns. As a sales and marketing director, I directed a sales and marketing team.
That's logical, isn't it?
Nope, it's a big mistake.
Why?
"If you want to increase perceived value for you and your work, you need to focus on who you are, rather than what you do." ~ Sally Hogshead
In other words, it's not so much about what you do, but how you do it.
When I look back at my career so far, I see a common thread: Unhappy to follow the beaten path, I always changed the way things were done. As product manager, I didn't add value by simply managing products. I grew market share by generating new product ideas and by finding ways to develop products faster and cheaper.
I'm not good at following rules and listening to a boss. I rather do things my own way.
What about you?
To find your added value, look for the common thread in your career. If you struggle to find it, I recommend you take Sally Hogshead's Fascination assessment. It helped me a lot.
As a blogger, I repeated my mistake
"You write well.
But your posts lack personality."
That's what my friend and Dutch professional blogger Kitty Kilian told me in my early days of blogging.
I was naive. I thought I only needed to share useful tips.
But thousands of bloggers share tips about copywriting and business blogging. Simply sharing tips made me a commodity–easily interchangeable with any other blogger.
The only way to stand out is to have a unique voice. To use your personality's unique advantages.
But how?
In her book, Sally recommends defining an Anthem by picking an adjective and a noun. For a Maverick Leader (like me!), this could be Pioneering Ideas or Irreverent Creativity.
As you'd expect from me, I've not quite followed her approach. Inspired by her assessment, I defined my personality and online presence as irreverent and bold with a focus on simplicity.
How would you describe your personality in a few words? How does your personality add value?
How to translate your personality into your online presence
Complete strangers don't do business together online.
You need to build trust.
Clients want to get to know you and like you, before they part with their precious cash and ask you to do a job. So you need to let your personality shine through your online presence. And do this consistently.
You can't tell me you're a meticulous fact checker, and then have a spelling error in your Twitter bio. You can't tell me you're creative, and then have boooooring stock photography on your site.
Let's have a look at a few examples how you can translate your personality into your online presence…
1. Web design
What does your web design tell about you?
Taking blue as a brand color, for instance, is a safe option.
Nothing is wrong with going for safe, but it doesn't suit me. So I went for purple and orange. A bolder choice–not everyone likes it. But that's fine with me. I don't need to please everyone.
What impression does your web design make? How does it reflect your personality?
2. Images
You see the same images everywhere, don't you?
Clichéd. Bland. Unbelievably boooring. And completely devoid of personality.
I've been spending the last year learning how to draw. Because I wanted to create images that were completely unique.
But you don't have to go that far to let your personality shine through. You can use Canva to create your own images. Or you can find unique sources for stock images that don't look like the same stock photography everyone uses.
Demian Farnworth creates a strong impression with stock photography on his blog the Copybot. Check out his advice in The Misfit's Guide to Finding Interesting Images. You might also want to listen to his Copyblogger podcast with Jerod Morris about selecting images.
3. Social media profiles
Before you decide to follow or circle someone, you check out their profile first, don't you?
Imagine if my Twitter bio would read:
Copywriter and marketer helping companies use words to win sales. #copywriting #blogging #onlinemarketing
Apart from the meaningless hashtags, that profile doesn't sound like me, does it? It's rather run-of-the-mill.
Instead, my Twitter bio reads:
Irreverent writer on a mission to stamp out gobbledygook.
What's your mission? What does your bio tell us about you?
4. Your voice
How many blogs sound drab?
How many corporate websites sound inhuman? Robotic? Utterly boring?
As a small business owner, you don't have to appeal to the masses. You can charm potential clients with your voice. You can find the clients who love working with you because they like who you are, not just what you do.
To develop your own voice:
Consider your word choice. Are you using strong or flowery language? Do your words express you're streetwise or erudite?
Think about the rhythm of your writing. Super-short sentences add a spark of enthusiasm, while long sentence are more formal
For further guidance, check out my post on how to find your writing voice.
5. Your personal stories
Have you noticed how I told you teeny-tiny stories about myself in this post?
I shared how I re-invented the product development process in my early career. I explained how I chose bold colors for my site. I told you my early blog posts were devoid of personality, and how Sally's test helped me find my voice.
As soon as you abandon the idea that you're simply sharing tips and building authority, you'll find opportunities to share personal mini-stories in your posts. That's how readers get to know and like you. That's how you build trust. And that's how you win clients.
For further guidance, check out my blog post about How to Tell Itty-Bitty Stories to Engage and Entertain Your Readers.
The truth about your online personality
When I started blogging, I was afraid to show myself.
I thought my life was plain and boring.
Who would be interested in hearing more about me?
But in a world of incessant twittering, where a like has become meaningless, we're all looking for the human touch, for real voices.
In this world of pixels, we're all looking for personal connections.
Don't try to please everyone. Don't hide yourself.
Be human. Be YOU.