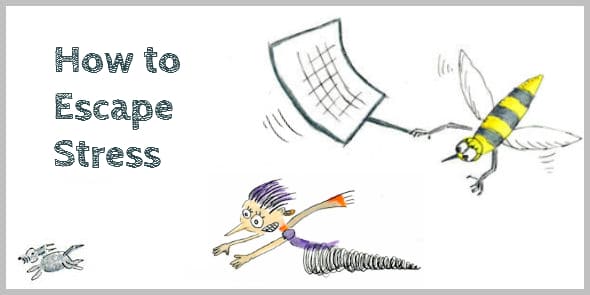 *Sigh*
Another late night.
Your head is spinning.
You're working damn hard. You have loads of ideas to improve your business.
But you never seem to be able to get enough stuff done.
Does your to-do list become longer, and ever longer?
When I returned from vacation 3 weeks ago, I decided I had to change.
Working at 90% had rescued me, but it wasn't enough to make me happy. I didn't want to cope any longer with an overflowing inbox. I didn't want to feel I wasn't achieving enough because there was always more to do.
I implemented a simple plan to stop feeling frustrated and to get more stuff done.
Wanna do the same?
Step 1. Get stuff out of your head
Throughout my career I've been obsessive about to-do lists.
Keeping to-do lists is great–you're capturing ideas so they get off your mind, and you can concentrate on the real work. I also love ticking off tasks I've completed. Yay!
But a to-do list can become so unwieldy, that you want to run away.
Does glancing at your list demotivate you? Do you get agitated or feel frozen? This is when you need a different system.
I now keep separate lists for must-do's and nice-to-do's. The must-do's are usually time-limited and I write them in my Google calendar. I know what needs to happen each week.
The nice-to-do list includes stuff that I might want to do some time, but it's not urgent and not important. The nice-to-do's are parked. When I have time, I can look at this list and pick something I feel like doing.
But day-to-day, I don't feel burdened by nice-to-do's. And I've stopped wasting time wading through nice-to-do's trying to figure out what must be done.
You know the feeling?
Step 2. Understand your biggest stress factors
During my vacation, I mulled over all the stuff that was frustrating me.
Not enough time to build an engaged following on Google Plus. Still no Facebook account. Lack of sleep. Working like crazy on Tuesday morning to finish my weekly blog post. Not finding time to improve my website. Still no New? Start here page. No Speaking & workshops page. No Coaching page.
The list was endless.
No wonder, I was stressed and frustrated. I felt harassed by my inbox. I was working too late.
I finally realized I had to prioritize my stress factors so I could do something about it.
It seems obvious, now.
I picked 4 points to work on:
Go swimming
Get enough sleep
Finish my weekly blog post earlier
Get on top of my inbox
The decision to focus on improving these 4 points immediately made me feel better. I know there's more to work on. But I have parked that for another month. Focus clears your mind.
Do you know what's causing you most stress?
Step 3. Write down a specific plan
How do you achieve your goals?
Willpower?
Motivation?
Discipline?
Research has proven that the simple trick of writing down a specific plan may have a huuuge impact on your ability to achieve goals.
Research published in the British Journal of Health Psychology shows that without a specific plan only 35% of people exercised at least once a week. But a whopping 91% of people who had written down a specific exercise plan exercised at least once a week (read more in this post by James Clear).
For each of my 4 items, I specified what I had to do:
1. Go swimming
I blocked time in my calendar between 1pm and 2pm on each Tuesday and Friday as a recurring event, preventing me to plan client calls at the same time. And Google even reminds me when it's time to pack my swimming suit.
2. Get more sleep
I can work like a maniac on Monday and Tuesday, still get some work done on Wednesday, and then be a wreck on Thursday and Friday. Lack of sleep destroys my productivity.
I agreed with myself to be in bed by midnight—each night. No negotiation.
(Next month I'll try 11.30pm)
3. Finish my blog post in time
Have you noticed my blog posts arrive in your inbox at variable times?
That's because I'm working like crazy, polishing a word here and replacing a comma there. Often I re-write half my blog post on Tuesday morning. And I finish 5 minutes before I send you an email.
Implementing my commitment to finish my blog post on Mondays has been hard as I also had to get to bed by midnight. But after two failures earlier this month, I've finally succeeded yesterday. Yay!
4. Manage my inbox
How could I achieve inbox zero?
I picked up a few tips in David Allen's book Getting Things Done and I set up three new folders: @ACTION, @READ, and @WAITING. I'm using @ so they show up at the top of my folders.
If I need more than a few minutes to answer an email and if it's not urgent, then I move the email to @ACTION. I still need to find dedicated time in my diary to deal with the email in this folder.
If an email contains information I might want to read later, I move it to @READ. I suspect I will delete most of the contents of this folder once a month (probably unread!).
If I've dealt with an email, but have to be sure I get feedback from someone, then I move it to @WAITING.
If you use Google Mail to manage your email, please note there's a difference between labeling an email and moving it. When you move it, it's out of your inbox. This is what you need to use to clear your inbox. I'm clearing mine once or twice a day. And email notifications are off.
Clearing my inbox makes me feel more in control. I don't need to scan through emails to see whether there's something urgent to answer. I don't need to feel bad about not getting back to people in time. I'm forcing myself to either answer or postpone because it can be dealt with at the end of the week. No dithering.
How are you keeping your inbox under control?
Step 4. Keep track
Research suggests that writing down your goals and keeping progress reports help you stick to your plans.
I like visual reminders.
So, in the back of my idea book, I've created a little table with the boxes for each of my action points.
At the end of each day, I color the boxes I had achieved purple, and the ones I've failed orange.
The simple act of coloring these boxes makes me more eager to stick to my plan. It sounds childish, but it works.
And I'm not getting frustrated with an orange box here or there, as I know I can try to do better next week.
Are you celebrating your mini-successes, too?
The truth about your business success
We think that once we reach our goals we'll be stress-free and happy.
Once I have my own business, life will be good. Once I reach 10k subscribers, life will become easier. Once I've saved enough money, I'll be happy.
But whenever we reach a goal, there's a higher goal. We keep chasing a better this or higher that.
Our success is never good enough.
Being ambitious is good. But don't tie your happiness to reaching your goals, to becoming successful.
Slash unhealthy stress now. Become happier now.
Because as Shawn Achor suggests:
Success doesn't bring happiness – happiness brings success.