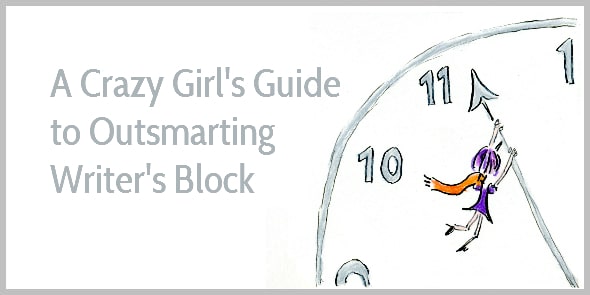 Imagine waking up full of excitement.
The sun is shining, and you have a great idea for your next article.
If you write your article quickly, you can go out and enjoy the spring weather. Yay!
You brew a cup of your favorite tea. You switch on your computer. You open up a new document in Microsoft Word.
And then …
Your excitement evaporates quickly.
The words don't want to flow. You can't even type a first sentence.
Why is writing so hard?
Why does writing sometimes feel like the most exhausting, excruciating, nerve-racking, and backbreaking job on earth?
For three and a half years, I've written at least one blog post a week, often two or three when including my guest posts. I've published three short books, created two in-depth courses, and I've done client work, too.
So you might think writing is easy for me.
But that's far from the truth.
Sometimes you have to go on when you don't feel like it, and sometimes you're doing good work when it feels like all you're managing is to shovel shit from a sitting position. ~ Stephen King
I'd like to say I love writing
But the truth is … sometimes I hate writing.
Early in my writing career, perfectionism held me back.
I couldn't start writing because I couldn't accept writing crappy drafts. Why write something, you delete later on?
Almost all good writing begins with terrible first efforts. You need to start somewhere. Start by getting something—anything—down on paper. What I've learned to do when I sit down to work on a shitty first draft is to quiet the voices in my head. ~ Anne Lamott
I still detest writing first drafts.
To get my blog posts written, I often fool myself. I have fun with ideas. I outline. I tell myself I'm only playing. But secretly, I'm working on a post.
I collect ideas. I research. I think. I brainstorm. I plan. I write crappy content. I edit. I polish. I format.
The trick is to know when you've done enough thinking and playing, and when you're ready to produce a first draft.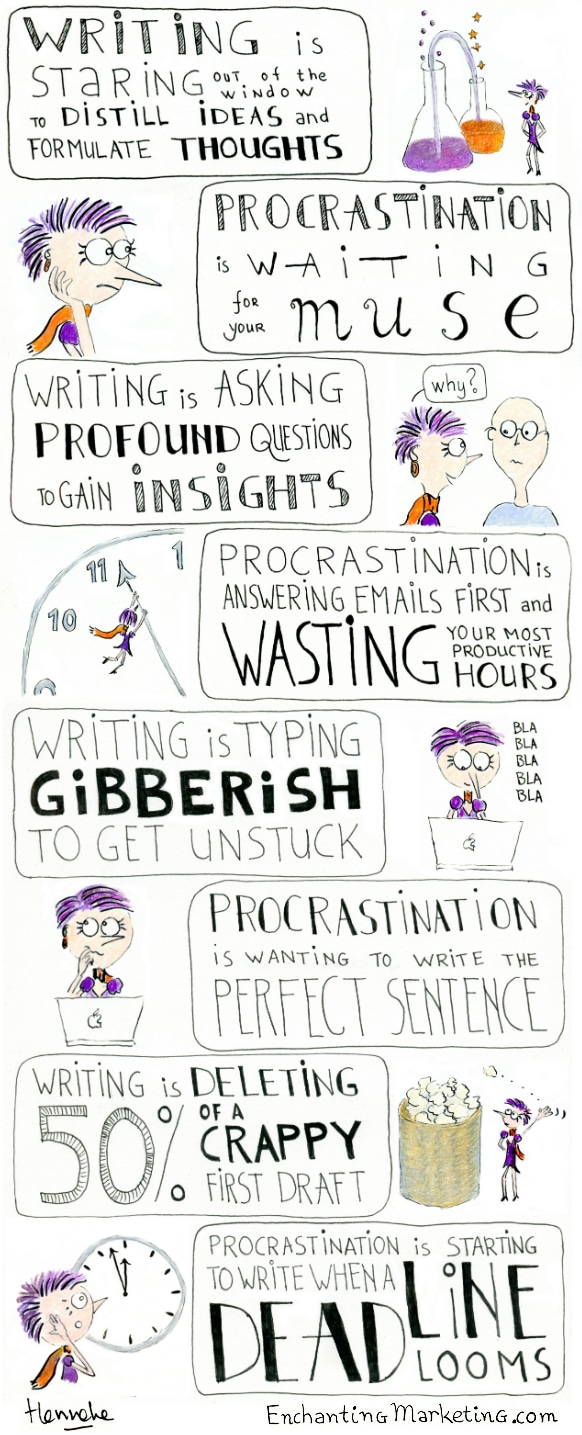 The perfect antidote to writer's block?
Self-knowledge.
When you know what's stopping you from writing, you can find a way to outsmart procrastination.
Running out of ideas? Hop on Skype with some clients and discuss their struggles. Goof around in forums to see what people are asking. Survey your readers.
Do you seriously need to do more research? Or are you shirking away from writing?
Perfectionist? Learn to calm down that nagging voice in your head and embrace the power of shitty first drafts. Understand that writing is a process. Chop up the process into doable chunks.
Exhausted? Creative burn-out? It's time for self-compassion. Take a long shower. Go on a run. Spoil yourself with a few hours of no commitments. Read a book. Take a break.
Afraid to be ridiculed? Of not being good enough? Stop comparing your writing with bestselling novelists and popular bloggers who've been writing for ten, twenty, thirty years. We all have to start somewhere.
All of us who do creative work, we get into it because we have good taste. But there is this gap. For the first couple years you make stuff, it's just not that good. It's trying to be good, it has potential, but it's not. But your taste, the thing that got you into the game, is still killer. And your taste is why your work disappoints you. A lot of people never get past this phase, they quit. (…) And if you are just starting out or you are still in this phase, you gotta know it's normal and the most important thing you can do is do a lot of work. Put yourself on a deadline so that every week you will finish one story. It is only by going through a volume of work that you will close that gap, and your work will be as good as your ambitions. ~ Ira Glass
And the craziest idea to boost writing productivity?
Don't try to work harder.
Instead, take more breaks.
Just like your body needs rest, your brain needs refueling, too.
Even a 5-minute break can re-energize your thinking, ignite your creativity, and motivate your writing.
So be kind to yourself.
I combat [writer's block] through gentleness toward the self. Anything you fight, after all, fights you back. So I don't fight Writer's Block. I just try to coerce, persuade, encourage, bribe, and trick myself into returning to work. ~ Elizabeth Gilbert
PS Thank you to Jeremy Weber who inspired this post.