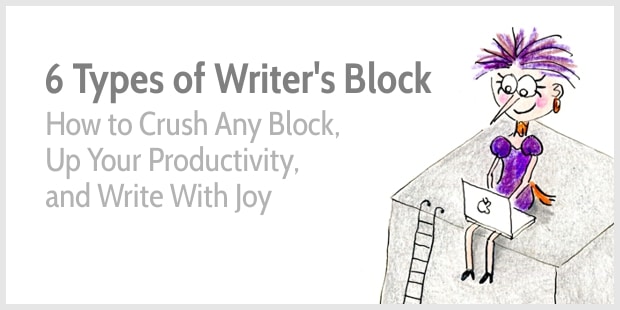 Does writer's block exist?
Jodi Picoult, who has published novels at a rate of almost one per year since 1992, suggests writer's block is simply a sign we have too much time on our hands.
Yet, I've sat at my desk, trying desperately to write but feeling completely stuck.
That writer's block felt real to me. No inspiration. Nothing at all. Nada.
Know the feeling?
You're not alone. Probably everyone who writes will hit a smaller or bigger writer's block at some time.
So, what do you when you hit writer's block?
Waiting until inspiration strikes again can take ages, and it's rather frustrating.
It's quicker to tiptoe around or scramble over your writer's block.
How?
First, diagnose which of the 6 types of writer's block is stopping you.
Next, employ smart tactics to sneak around that particular block.
Shall I explain?
Writer's Block #1: Fear of bad writing
Whether you call it the resistance, perfectionism, or procrastination, the fear of bad writing is probably the most common type of writer's block.
When we worry our writing isn't good enough, our inner critics take charge, and getting started becomes hard, perhaps even impossible.
Many coaches suggest you show up and start writing. But silencing your inner critic isn't always that easy.
You may need to fool your inner critic.
How?
Start by giving yourself permission to write badly. After all, it's hard to revise a draft that only exists in your mind. Once you've written a rough draft—no matter how badly, you give yourself the opportunity to revise and improve it.
Here's what Seth Godin suggests about this type of writer's block:
(…) it's comforting to think that we are blocked, that we're just not in the right mood to deal with something. But people who say they have writer's block actually have a fear of bad writing, so they're not willing to do any writing at all. What I say to somebody who has writer's block is, "Show me all your bad writing. Go sit down and write badly as much as you can, because sooner or later, some good stuff is going to slip through." (…) Indeed, the job of someone who's creating is to create, not to be perfect.
Early in my writing career, I kept reminding myself a first draft was expected to be bad. I would try to write as quickly as possible to get that draft done, so I could start revising.
Slavoj Žižek has another smart tactic to get around the fear of bad writing. He tells himself he isn't writing, he's simply jotting down ideas:
I have a very complicated ritual about writing. It's psychologically impossible for me to sit down [and do it], so I have to trick myself. I elaborate a very simple strategy which, at least with me, it works: I put down ideas. And I put them down, usually, already in a relatively elaborate way, like the line of thought already written in full sentences, and so on. So up to a certain point, I'm telling myself: No, I'm not yet writing; I'm just putting down ideas. Then, at a certain point, I tell myself: Everything is already there, now I just have to edit it. So that's the idea, to split it into two. I put down notes, I edit it. Writing disappears.
To get over the fear of bad writing, you may need to fool your inner critic, too.
Whether you give yourself permission to write badly or tell yourself you're only jotting down ideas, the key is to get a first draft on paper, no matter how bad that draft is. Revision is the next step.
Bonus tip:
The fear of writing not only strikes at the start of a writing career. If you've written a good piece, the fear may creep up again. Can you write something that good again? The antidote remains the same: Remind yourself it's okay to write a bad first draft. You may even challenge yourself to write as badly as possible.
Writer's block #2: Lack of ideas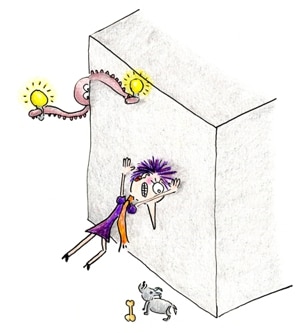 When I started writing, I never had more than one or two ideas for blog posts, and I was afraid that I'd soon run out of ideas.
At that time, I didn't understand how ideas work:
1. Ideas breed ideas.
2. Ideas are everywhere; you just have to notice them.
Each blog post has a loose end that you can explore further. Each question needs an answer. Each answer raises new questions.
A discussion with a client can be the spark for a new article. A book, or a podcast, or a conversation with a friend—these can all provide ideas.
Here's what Austin Kleon suggests about this type of writer's block:
I often get most blocked when I lose sight of why I began my work in the first place: because I was inspired by the work of others and wanted to join in the fun.

"Most artists are brought to their vocation when their own nascent gifts are awakened by the work of a master," Lewis Hyde writes in The Gift. "That is to say, most artists are converted to art by art itself."

In other words: all writers are readers first.

When I stall out, it's time to start taking things in again: read more, re-read, watch movies, listen to music, go to art museums, travel, take people to lunch, etc. Just being open and alert and on the lookout for That Thing that will get me going again. Getting out the jumper cables and hunting down a battery.
When you lack ideas, your muse has not deserted you. You've simply neglected feeding your creative soul.
Creative output relies on the right creative input.
So, when you lack ideas, review your input. What are you reading? What conversations are you having? Which (armchair) adventures are you embarking on?
Bonus tip:
If you listen too much to your inner critic, you may be discounting good ideas. So, be honest with yourself: Are you out of ideas or are you afraid to write about your ideas?
Writer's block #3: Reporter's block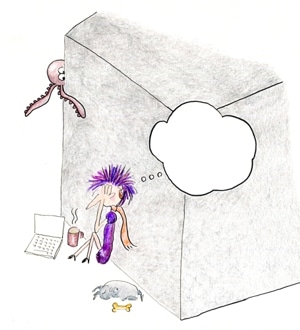 Sometimes, we have an idea but after writing a few sentences, we get stuck. We thought we had a lot to say but it now feels as if we have nothing to say.
If that happens, you may have hit reporter's block. You have an inkling of what you want to write but your knowledge lacks depth.
Here's how Clive Thompson, a writer for the NYT and Wired, describes reporter's block:
You're having trouble writing not because you can't find the right words, but because you don't know what you're trying to say. You don't have the right facts at hand.

So the solution is to gather more facts. You need to step away from the keyboard, stop trying to write, and do some more reporting: Make phone calls to some new sources, consult new experts, read a relevant book or article. Once you have the facts at hand, the words will come.

Or to put it another way, when you're writing nonfiction, the words flow from the research. If the words aren't flowing, usually the problem is the research isn't there. To say something, you have to have something to say.
If you have a good idea but your knowledge lacks depth, it's hard to write with substance. So, deepen your knowledge: Dive into the details, find examples that illustrate your ideas, hunt for stories that provide context.
Keep exploring, and enjoy learning more.
Bonus tip:
Your inner critic might be nagging that your knowledge is insufficient. Be careful: Do you really need to do more research or do you need to overcome your fear of writing about this topic?
Writer's block #4: Fuzzy thinking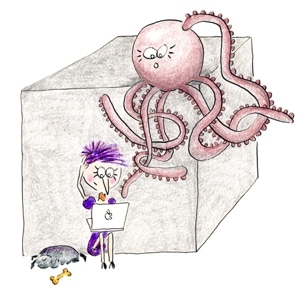 Do you have a lot of information to share?
But you don't know how it all hangs together or where to start?
When your thoughts feel complicated, entangled, or fuzzy, you may need more time to think.
Thinking is an important phase of the writing process. Content marketing pioneer Ann Handley calls it pre-writing:
Thinking is pre-writing.

And pre-writing is the key to writing.
And here's what songwriter Carole King says about stepping away from writing:
If you are sitting down and you feel that you want to write and nothing is coming, you get up and do something else. Then you come back again and try it again. But you do it in a relaxed manner. Trust that it will be there. If it ever was once and you've ever done it once, it will be back. It always comes back and the only thing that is a problem is when you get in your own way worrying about it.
That need to step away can be necessary at the start but also halfway the writing process. Some parts of your ideas may be clear, and you've written those down. Other parts may remain fuzzy, and you need more time to think and gain clarity.
I do my best thinking while out on my daily walk. Those walks are a surprising productivity booster, helping me write faster and better. I gain clarity from playing with an idea in my mind without focusing on it too much. It's called the diffuse mode of thinking.
The diffuse mode of thinking also works while asleep. When you sleep your mind continues processing ideas and helps you make fresh connections. This is why I spread the work of writing a blog post over a series of days.
Taking breaks can help prevent writer's block and boosts productivity.
Bonus tip:
Stepping away from writing can feel like procrastination but deep in your heart you'll know the difference.
Procrastination is when a task feels too daunting so you find excuses and allow yourself to get distracted. In contrast, when you let your mind wander around an idea, you're still engaged with your idea. You're pre-writing—thinking about what to write and how to write it in a logical order.
Writer's block #5: Lack of process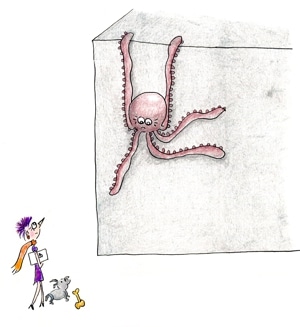 Getting started becomes a daunting prospect when you treat writing as one big task.
Do you find excuses not to get started?
Try to cut writing into smaller tasks. By focusing on one task at a time, each task becomes more doable:
Chop the writing process up in steps, such as outlining, writing a first draft, revision, editing, proofreading, and formatting.
Chop projects up in parts, such as an opening paragraph, one section of a chapter, a conclusion.
When you focus on one step at a time, getting started becomes easier and writing becomes more joyful.
When Hemingway feels blocked, he tells himself: "Do not worry. You have always written before and you will write now." But more importantly, he prevents writer's block by spreading the work over more days and always leaving something to write for the next day:
The best way is always to stop when you are going good and when you know what will happen next. If you do that every day when you are writing a novel you will never be stuck. That is the most valuable thing I can tell you so try to remember it.

(…) Always stop while you are going good and don't think about it or worry about it until you start to write the next day. That way your subconscious will work on it all the time. But if you think about it consciously or worry about it you will kill it and your brain will be tired before you start.

From: Ernest Hemingway on Writing, compiled by Larry W. Phillips
To prevent writer's block, make it easy to get started the next day.
Writer's block #6: Loss of writing joy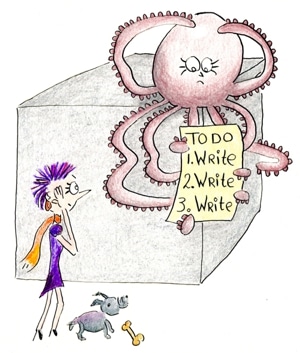 When writing becomes a chore, we become reluctant to write, and we find excuses not to write.
To take away such resistance, a lot of productivity advice suggests scheduling our work.
The advantage of scheduling is that you know what to do when. You just need to be disciplined enough to follow your plan.
While scheduling may work for many, a lot of us resist it as each task on the schedule starts to feel like a chore. It can feel like we're bullying ourselves into doing our work, and that's how we can lose the joy of writing.
So, how about tapping into joy instead of bullying ourselves?
Here's what happened when Susan Piver decided to stop scheduling her days and gave herself permission to do things "for the joy of doing them rather than the obligation":
So I didn't schedule myself at all. Instead, I asked myself: what do I feel like doing? What would be fun for me? Write? OK. What is fun about writing? Oh, it's so cool when it just starts to flow and plus I really enjoy thinking about things like dharma and love and creativity simply for the sake of doing so. So start there. When you're done, ask yourself what would be fun to do next.

Which I did. And you know what? I did all the things I yell at myself to do. My day looked pretty much exactly like my days do when I succeed in being "disciplined." Only this time, it seemed effortless. I had such a light heart.
When we tap into our joy of writing, sticking to writing habit becomes much easier.
So, remind yourself why you love writing and find a way to make it more interesting again.
Aren't you lucky you can write today?
Make writing a choice, not an obligation.
How to crush writer's block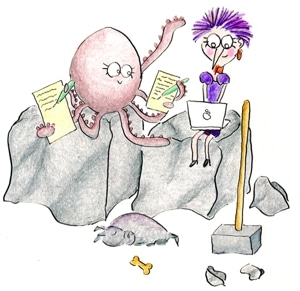 I don't like the phrase writer's block.
The phrase makes the blockage sound like an enormous, immovable object. Plus, thinking about a block only makes it grow bigger.
Instead, I like think of writer's block as merely a hesitation to write.
And that hesitation is easy to overcome with a bit of self-knowledge.
First, be gentle with yourself. Next, observe why you might be stuck. Are you out of ideas? Reporter's block? Fuzzy thinking? Has writing become a chore? Does your writing not feel good enough?
Once you understand the reasons behind your blockage, you can find the tactics to get unstuck.
Dance with your fears, tiptoe around your block, or find a ladder and climb over your block.
Happy writing!
Your illustrated guide to avoiding writer's block

Grab the embed code below to display the infographic on your website:
6 Types of Writer's Block, courtesy of Henneke at Enchanting Marketing