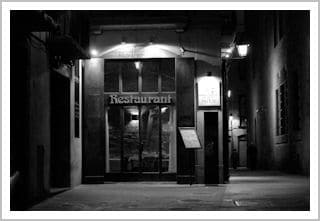 What makes your blog popular?
Well-written blog posts?
Interesting topics?
Useful information?
A design that promotes readability?
Those are all important, but there is something else.
Something nobody talks about. Because it's so hard to put your finger on.
Let me explain by telling you about one of my dreams.
My imaginary little restaurant
I've dreamed about opening my own restaurant for a long time.
A tapas-style menu. With Spanish dishes and a few of my Asian favorites. A good wine list, plus a decent selection of beers from across the world.
I'd have simple wooden tables and chairs. An eclectic mix of art and photographs on the wall. Or maybe I'd ask the local school for a few children's drawings each month.
When we think about our blog, we tend to think about material things, too. Topic selection, fonts, colors, writing style, post structure.
And as good marketers, we think about our audience. What would they like to read? Which tips would be helpful to them? Which problems are they struggling with?
These blog considerations are relatively straightforward and simple. You write about copywriting or content marketing or both. You choose a serif or a sans-serif font. Sure, these choices can be hard to make, but at least they're concrete.
Let's think about my imaginary restaurant again.
A restaurant isn't just about a menu and interior design
There's something far more important. Something that's more difficult to describe. It has to do with atmosphere, feeling, and personality.
Yes, the interior design has an impact on the atmosphere in the room. And so has the music, but what about the welcoming feeling? Why does the restaurant feel familiar and homey even if you enter for only the second time?
A restaurant can exude a certain poshness. Bristling white linen. Delicate food on giant white plates. The waiter who keeps at just the right distance. Maybe a few awards hang on the wall near the entrance.
Or the restaurant can be fun. There could be a surprise menu. A free cake if you can prove it's your birthday. Loud music and a lot of laughter.
Or you can have a local pizzeria with photos of the owner's ancestors who had a trattoria in an Italian village. The menu explains the origin of the dishes. The olive oil is specially imported. And at the end of the meal you get an aged grappa from the house.
The atmosphere in your restaurant isn't just about the décor, the menu, and the music. It's about a lot more… the twinkle in your eye, the stories you tell, the welcoming smile of a waiter.
As Bernadette Jiwa wrote last week:
In the real world a disproportionate amount of value is placed on the tangible. Things we can easily explain, or put our finger on.
It's the intangible that makes us connect and feel welcome
A good restaurant doesn't just fill up your stomach, it's also about the experience, about having a good time.
What's the feeling you want to create with your blog? Homey and welcoming? Or maybe a bit rebellious? Or a strong voice of authority? Or super-slick?
The feeling on your blog is about the way in which you answer comments (or not). How you ask questions in your blog posts. Whether your blog posts feel intimate or lecturing.
It's about the stories you tell. The metaphors you use. The words you choose.
It's about how you inject your personality into your blog posts. Whether you sound bored or full of enthusiasm.
When I started Enchanting Marketing in November 2012, I thought I just needed to write super-useful blog posts. Long list posts. In-depth information. Because I thought creating a blog is about building authority.
But how wrong I was.
Yes, being useful and helpful is important. But blogging is about intangible matters, too. How do you inspire your readers? How do you make them feel better?
Think about my little restaurant. The music, the menu, the décor – they all influence the atmosphere. But I'd want you to come because it's my place. Because you'd like me to say hello to you and linger at your table for a chat. Maybe we talk about your work. Or about the latest blogs we've discovered, the books we're reading. Maybe you'd ask me about my next cycling holiday.
The "secret" ingredient in blogging
Plenty of blogs share useful tips about the same topics you and I write about. If you just share tips, it's easy to swap one blogger for another.
To build a loyal audience you need to truly engage people. Your readers need to come back because they like you. They smile at your stubbornness. They forgive you for a badly written post. They shake their heads about your latest crazy idea. They wait for your next email to arrive in their inbox.
The secret ingredient of your blog is you. You're the only one who can make your blog really work. By telling a little more about yourself. By sharing your enthusiasm or your doubts.
Readers don't just read your posts for your tips. They come back to be inspired. They come back to "hear" your voice. They come back because of you.