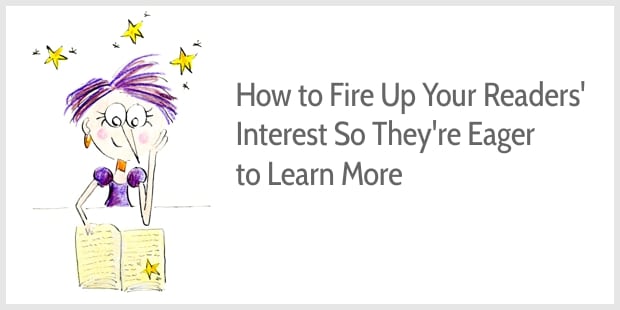 Do many blogs seem a tad boring?
As if writers are just producing content without putting their heart into it?
Of course, we've all been there.
Content marketing is demanding, especially if you're flying solo in your business.
Sometimes, a tip is all we can produce.
But when all we do is sharing tips, our writing remains flat. We miss an opportunity to connect with and inspire our readers.
Want to know how to fire up your readers' enthusiasm for any topic?
Below follow 3 tips to inspire readers and make them eager to learn more from you …
1. Allow readers to look through your expert eyes
I recently read Robin Wall Kimmerer's book Gathering Mosses and was impressed by her teaching.
I had never really thought much about mosses.
But Kimmerer made me eager to learn more about these tiny, primitive plants that thrive in the unlikeliest places. You've seen mosses, right? Perhaps in the crack of a tile or brick, on the worn-out asphalt, or in the woods, on tree barks, on rocks.
Did you know there are over 22,000 different species of mosses? And that they exist in almost every ecosystem on earth?
Here's how Kimmerer describes fissedens, a type of moss:
Fissidens is a small moss. Each shoot is only 8 millimeters high, but it is tough and wiry. Fissidens' form is very distinctive. The whole plant is flat, like an upright feather. Each leaf has a smooth thin blade, atop which sits a second flap of leaf, like a flat pocket on a shirtfront.
Can you picture this small moss?
A good description shares just enough detail to allow readers to see what the author is seeing. The details are vivid but not overwhelming nor boring.
Kimmerer goes a step further …
She also teaches how to observe, how to pay attention:
You can look at mosses the way you can listen deeply to water running over rocks. The soothing sound of a stream has many voices, the soothing green of mosses likewise.
Of course, years of studying mosses have sharpened Kimmerer's observation skills. When she looks at mosses she notices more than you and me.
By letting us look through her expert eyes, she gives us a glimpse of her enthusiasm. A spark flies from teacher to student.
2. Share facts and tell stories
The book Gathering Mosses is a collection of essays, full of fascinating facts on mosses, like this:
A true moss or bryophyte is the most primitive of land plants. Mosses are often described by what they lack, in comparison to the more familiar higher plants. They lack flowers, fruits, and seeds and have no roots. They have no vascular system, no xylem and phloem to conduct water internally.
The facts become more interesting when Kimmerer harnesses the power of storytelling to let us imagine how life as a moss varies from life as a higher plant. While higher plants conserve water to survive, mosses have learned to deal with desiccation:
When moisture is plentiful, the moss soaks up the water and grows prolifically. But when the air dries, the moss dries with it, eventually becoming completely desiccated. Such dramatic drying would be fatal to higher plants, which must maintain a fairly constant water content. Their roots, vascular systems, and sophisticated water-conservation mechanisms allow them to resist drying and stay active. Higher plants devote much of their effort to resisting water loss. But when water depletion becomes severe, even these mechanisms are overcome, and the plants wilt and die, like the herbs on my windowsill when I left for vacation. But most mosses are immune to death by drying. For them, desiccation is simply a temporary interruption in life. Mosses may lose up to 98 percent of their moisture, and still survive to restore themselves when water is replenished.
Note how Kimmerer makes the idea of desiccation concrete: The herbs left on her sill wilted and died. It's something we've all seen. But the mosses? They survive, even after losing up to 98 percent of water. (Wow!)
Experts often get stuck in abstract language. But amateurs need concrete language—vivid pictures and stories—to understand what the facts mean.
Kimmerer's writing is not just dry science writing. She enchants her readers by combining facts with storytelling.
3. Show up and get more intimate
My favorite passages in Gathering Mosses are when Kimmerer explains how she relates to mosses:
Often, when I encounter a new moss species and have yet to associate it with its official name, I give it a name which makes sense to me: green velvet, curly top, or red stem. The word is immaterial. What seems to me to be important is recognizing them, acknowledging their individuality. In indigenous ways of knowing, all beings are recognized as non-human persons, and all have their own names. It is a sign of respect to call a being by its name, and a sign of disrespect to ignore it. Words and names are the ways we humans build relationship, not only with each other, but also with plants.
By showing up wholeheartedly in her writing, Kimmerer creates a sense of connection, an intimacy with the mosses. She shares her knowledge and her wisdom. She teaches from the head and heart:
In indigenous ways of knowing, we say that a thing cannot be understood until it is known by all four aspects of our being: mind, body, emotion, and spirit.
Kimmerer teaches with mind, body, emotion, and spirit, too.
How to teach with head and heart
In today's grim world, I found Kimmerer's teaching soothing.
She helps me stay grounded and reconnect with nature.
She encourages me to look more closely, to pay attention to the world around me, right now, right here.
She also makes me think about teaching again, and what it means to be a good teacher.
To let students see through our eyes and teach them how to observe and pay attention. To share facts and tell stories.
To share knowledge and wisdom, and enthusiasm.
To spark interest.
To make readers eager to learn more.
Book mentioned in this post:
The link below is an Amazon affiliate link. If possible, please support your local bookstore.