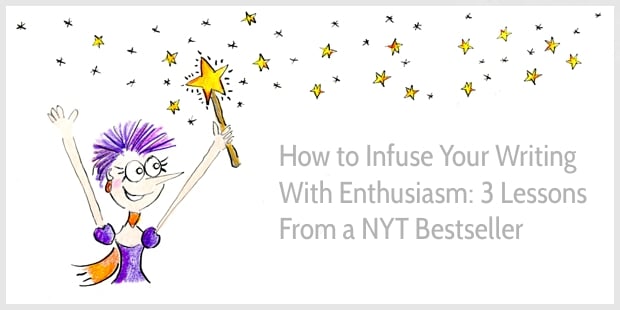 Do you know what it is?
What keeps people reading a blog, week after week, year after year?
Let me ask you another question …
Which of your school teachers do you remember?
I imagine your favorite teachers were full of passion for their field. Their enthusiasm made their teaching sparkle, and it made you curious to learn more.
As bloggers, we're all teachers, too, and our enthusiasm breathes life into our writing.
Enthusiasm may be difficult to measure but readers—like students—can sense it. Our enthusiasm is contagious, making readers curious to learn more.
Want to know how to infuse your writing with your enthusiasm?
A journey of discovery
Last week, I read the book Finding the Mother Tree by Suzanne Simard.
It's a scientific memoir—a fascinating mix of personal stories and teaching. Simard shares her discovery of the interdependence of trees in forests: the "wood wide web."
Simard's writing reminded me of the power of questions. For instance, at the start of her career, Simard works in forestry, recommending how to replant trees after a forest has been cleared for the wood industry. She finds the seedlings are struggling, and wonders:
Why did they look so awful? Why, in contrast, did the wild firs germinating in that old-growth patch look so brilliant?
Later on, Simard questions the conventional understanding that trees are in competition for survival:
Are forests structured mainly by competition, or is cooperation as or even more important?
Historian David Hackett Fischer called questions "the engines of intellect." But questions are more than that. Questions are also an opportunity to share your curiosity with your audience, to take them with you on your journey of discovery.
No matter whether you're a science writer or business blogger, when you pose intriguing questions, you make readers curious to learn your answers, too.
What are the most intriguing questions you'd like to answer on your blog?
A question may be too big to answer in a single blog post but you can break big questions down into smaller questions and answer those smaller questions one by one in your blog posts.
Agitate against a villain
Fighting against a villain is a common storytelling technique.
As readers, we cheer on the good characters, and we're eager to find out whether (and how) they'll defeat the bad characters.
In non-fiction writing, a villain doesn't need to be a person or a group of people. Preferably it's not, as there's more than enough hostility in the world already.
Your enemy can be a practice you can fight against. In Simard's case, it's the practice of clear-cutting and replanting trees without considering biodiversity and the health of trees.
Simard's fight starts when she's young:
I'd become horrified, at eleven, when the city ran a pipeline spewing foamy water into the river beside my house, where the effluent killed the cottonwoods along the shore. First the tops of the crowns thinned, then black cankers appeared around the furrowed trunks, and by the next spring the great trees were dead. No new germinants got established among the yellow outflow. I wrote to the mayor, and my letter went unanswered.
And:
I was born to the wild. I come from the wild. I can't tell if my blood is in the trees or if the trees are in my blood. That's why it was up to me to find out why the seedlings were fading into corpses.
Writing becomes more powerful when you and your readers share a common "enemy"—when you spur on your readers to help you defeat a bad practice.
Which unhealthy practice would you like to help eliminate through your writing?
If you don't know what you're agitating against, take your time. Start with answering questions that intrigue you, and over time, you'll discover more about your passion and what you want to change in the world.
Share your successes
In her book, Simard shares the disappointments of her journey—the pushback from the scientific and forestry communities, the talks that don't go well, the hesitance to advocate for her research.
But she also shares her successes. For instance, when she discovers that fir and birch are transferring carbon to each other:
Dan's eyes were ablaze at this initial clue. Me, I was over the moon, ecstatic, the grin on my face irrepressible. I threw my arms up to the wind and I shouted, Yes! Deep down, in our own ways, we both knew that we'd picked up something miraculous happening between the two tree species. Something otherworldly. Like intercepting a covert conversation over the airwaves that could change the course of history.
Did you notice the strong imagery at the start of that paragraph? Eyes ablaze, an irrepressible grin, throwing up her arms, and shouting Yes! As readers, it feels like we're there, witnessing Simard's success and celebrating with her.
Here's another example of the excitement of success:
When I put the fir roots from the mixed pots under the microscope, I almost fell off my lab stool. The roots looked as big and abundant as the strands on a kitchen mop. More strikingly, the different fungal species colonizing them were as diverse as tree species in a tropical forest. (…) I shouted that the firs grown with birch looked like decorated Christmas trees. While the firs grown all alone had fewer mycorrhizas.
We often think of success in terms of a bigger business, more money, or perhaps more awards.
But what about discoveries, fresh insights, and new life experiences? Isn't that success, too?
And how can you share such joy of learning on your blog?
Write with enthusiasm
Content marketers often talk about metrics like page views, new signups, open rates, search traffic, and number of links.
But such figures feel abstract to me. They don't make me super-enthusiastic to write a new blog post. What makes me enthusiastic is sharing my love of good writing with you.
Let's not forget that we're humans communicating with other humans.
Just like the trees, we're interconnected.
And instead of sharing carbon dioxide, we feed each other with knowledge, wisdom, and a spark of enthusiasm.