An inspirational success story doesn't require bragging about your achievements. You can write a powerful story while staying humble.

Write your success story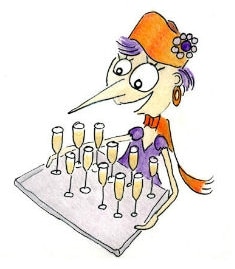 I grew up in the Dutch countryside, where bragging is frowned upon.
You're not supposed to talk about your achievements, and success seems almost a dirty word.
So, the idea of writing my own success story seems bizarre.
Yet, I've discovered that even an honest story about modest success can inspire readers and boost business.
What's more, you can write such a story without bragging, and without feeling self-conscious. You can be humble and still showcase your success.
Shall I show you how?
Here's the first question to ask yourself …
What is success, really?
In my corporate career, defining success seemed quite simple.
Another step up the career ladder. A salary increase. More people reporting to me. A place in the board.
But while I seemed to be doing well, my career progress didn't make me happy. I was losing connection with my self-identity. I merely pretended to be happy, with a smile painted on my face.
Leaving my job initially felt like a failure. Why did I give up on my ambitions?
But leaving my job was one of the best decisions I have ever made because it helped me to discover what success means to me.
For an online business, it seems easiest to define success in number of social media followers, web visitors or the amount of money we make.
But other signs of success excite me much more. I feel energized when I can help readers and clients find their writing voice, share their ideas, and discover the joy of writing. I feel happy when I find the right balance between work and relaxation, when I can take care of myself.
Feeling at peace with myself and excited by my work may seem a modest form of success, but it's huge for me.
If you want to write a success story, start by defining what success means. You'll probably find that success is a mix of hard numbers (profit, number of inquiries, business growth) and soft indicators such as feeling passionate about what you do and enjoying positive working relationships.
So, what does success mean to you?
And what does it mean for your clients?
Next, ask yourself this …
What hindered your success?
Inspirational stories are less about success, and more about how our heroes deal with setbacks, how they conquer their enemies and how they grow as human beings.
Think about the last action movie you saw, or remind yourself of an biography that inspired you most.
And … what kept you watching or reading on?
Jack Reacher, for instance, deals with thugs to get to the truth. Tony Morrison wrote many bestsellers and won the Nobel Prize despite feeling like an impostor. Nelson Mandela survived imprisonment to help overcome apartheid.
But adversity doesn't need to be life-threatening, and success can be far more modest.
For instance, if you've followed me for a while, you know that writing used to be a struggle for me. I had to learn to cope with my self-doubts and writing fears. I summarize this story on the sales page for my new course Write It, Don't Fight It:
When I started writing in 2012, writing felt like an excruciating process.

I felt slow. I struggled to get my ideas on paper. I was a procrastination champion. I thought writing was just difficult, and that the torturous process was normal.

But over time, I learned I was wrong. I learned how to troubleshoot my process and how to work with my inner critic. I learned how to nurture healthy writing habits, so I quit procrastinating (mostly). Above all, I've learned to love writing.

Discovering the joy of writing helped me become an influential writer. My blog has become both the engine and heart of my business. As a smooth-running engine, my blog posts attract new email subscribers and create interest in my courses. And as the heart of my business, my writing helps me engage readers and make friends.

Writing nourishes my soul and helps me earn a living.
Success isn't a polished story. If you want to write a truly inspirational story, look for the gritty truth behind the success. Which obstacles did you have to clear away? Which adversity did you have to overcome?
Don't be afraid to show your own vulnerabilities because it makes you more human and more relatable, and it makes your success seem more achievable for others, too.
A success story builds over time
Whether you sell a product or provide a service, your success is not just about you.
Your clients' success is your success, too.
This is why testimonials are powerful sales tools, and normally you should include them on every web page—your home page, about page, and each sales page.
However, when I launched my new course a couple of weeks ago, I didn't have time to ask for reviews.
Most marketers would think I am crazy to launch a course without a single review. But I was running out of time, and didn't want to delay the launch until next year. So, together with my co-author Kathy Keats, I forged ahead and launched.
Could I sell the course without reviews?
You bet.
Over 230 people from 39 different countries purchased the course already (thank you!).
How was that possible?
I wasn't selling to strangers.
As bloggers, you and I share our stories over time.
When you share your knowledge generously on your blog, people come to trust your advice. And when you write from the heart, your passion and personality shine through.
That's how your success story, warts and all, builds over time.
And that's how readers come to know and trust you.
PS
Here's some early feedback on the course that Catherine Tuckwell posted on Instagram: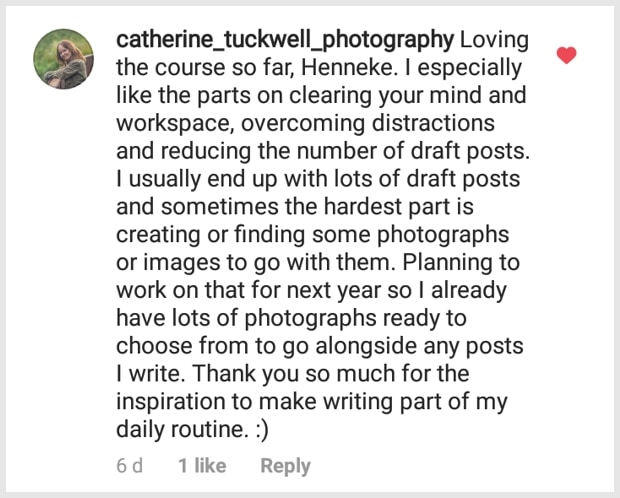 And Christina Wielgolawski tweeted:
Finding the course inspiring and fun. Excellent step by step set out – appreciate the download option – with valuable ideas and suggestions on every page. Glad to see Henrietta is along for the ride and find this advice is spot on: pic.twitter.com/b9PN2HqTih

— Christina Wielgolawski (@christina_ebla) November 28, 2018
Would you like to nurture a writing habit, too?
And want to write with ease and joy?
Check out the new course "Write It, Don't Fight It: A Step-by-Step Course to Become a Prolific and Joyful Writer".