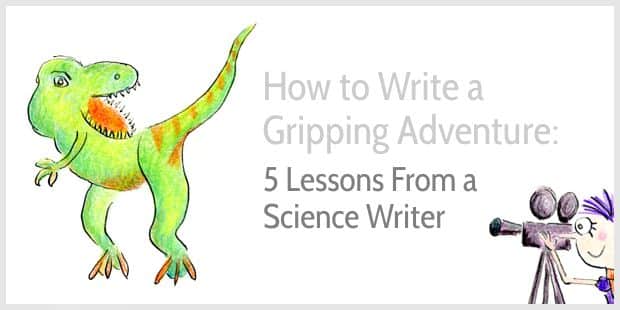 Sometimes, I worry whether my writing is at risk of going stale.
I start to feel like I'm going around in circles.
Sound familiar?
The most useful trick I've found for fixing creative staleness is to find fresh inspiration.
To improve your output, you change your input.
So, I decided to read something completely different.
Something outside my comfort zone …
An unusual book (for me)
I tend to favor novels and memoirs. I'm interested in human stories.
So, a book about volcanic apocalypses and lethal oceans is not the kind of book I'd normally choose.
Still I decided to read the book The Ends of the World by science writer Peter Brannen.
I was curious …
How could a science writer who describes himself as a placental mammal keep me intrigued?
1. Put people into your story
Behind every story, there's a human story.
Brannen tells the story of our planet, a story of volcanoes and meteors, of dinosaurs and extinctions.
But who are the people behind this story? Who are the geologists and paleontologists studying our planet? What fascinates them? How do they make their discoveries? What are the controversial topics?
Brannen quickly characterizes the scientists he's meeting:
Ward is a surprisingly jolly prophet of doom, with a disarming grin and an unshakable urge to veer off-topic.
Such quick characterizations make me feel like I get to know these scientists, too. It's like we're going on a trip together:
When I met Olsen at his office, he shuffled me into his rusting Toyota pickup and hit the gas. While he works in a field that can render a million years utterly inconsequential, he drives as if time itself were running out.
And then Brannen lets readers eavesdrop on conversations:
Even the supposed downfall of the dinosaurs is not all it seems: modern birds are both indisputably dinosaurs (theropods, just like T. rex) and vastly more species-rich than mammals.

"There are twice as many species of birds as there are mammals," Paul Olsen told me. "So we're still living in the age of dinosaurs. Mammals have never been as successful as dinosaurs. Still aren't."
Behind every story is a human story, and sharing that human story makes anything more interesting.
You can apply this storytelling technique to blogging, too. For instance, if you're writing a case study, who are the people involved? Can you allow readers to picture them? Or if you're reviewing a book, who is the author? What do you know about him or her?
If you can't find an angle to write about others, that's okay. You can put yourself into the story, too …
2. Make it personal
Have you ever noticed that the best writing is personal?
Brannen's book on mass extinctions sometimes reads as a road trip:
I drove into the wilds of central Pennsylvania to see where one of the greatest transitions in the history of life happened at the very end of the period.
And he shares his own feelings on witnessing dinosaur footprints:
I found myself almost embarrassed by how deeply the pockmarked slabs moved me. There's something about fossil footprints that are strangely personal, perhaps even more so than the bones themselves that animals offer up to the ages.
Such brief descriptions of Brannen's actions and feelings make the book more personal, as if I'm getting to know the author a little, too.
You don't need to go on a road trip to put yourself into a story. An armchair journey of discovery is equally fascinating. Think about why you wanted to write about a specific topic. What makes it fascinating to you? Or why did you hesitate to write about it? What did you learn?
When you weave your own story into your blog posts, your personality will shine through your words, and that makes readers feel closer to you.
3. Put numbers in context
Data are often hard to grasp.
So, sharing stats can make your writing quickly feel flat.
What does it mean that the most recent ice age started only 2.6 million years ago and lasted until about 12,000 years ago?
Brannen helps us by putting such ginormous numbers into context:
The height of this last ice age is popularly conceived to be a distant part of the planet's past. But from a geological perspective, it was an eyeblink ago. If all of Earth's history were represented by a 24-hour clock, it was half a second before midnight.
Comparing something we understand (an eyeblink or half a second) with something that's difficult to grasp (2.6 million years) is a useful trick for better explanations. Brannen uses this trick often. Here's another example:
In the tropics, ocean temperatures skyrocketed from 25 degrees Celsius—similar to today's oceans—to perhaps upwards of 40 degrees Celsius (104 degrees Fahrenheit). This is the temperature of a hot tub, or as End-Permian expert Paul Wignall puts it, that of "very hot soup." Multicellular life simply can't exist in this sort of globe-spanning Jacuzzi.
The phrase globe-spanning Jacuzzi instantly turns a hard fact (40 degrees Celsius) into a sensory description (Jacuzzi). I can almost sense the warmth of the ocean enveloping me—just while reading that sentence.
Numbers are hard to grasp for readers. So, try to put them in context by comparing them to something they know. It'll make your writing more entertaining, too.
4. Make your writing as immersive as a movie
Want to keep your readers engrossed as if they're watching a full-color, surround-sound movie?
The foundation of engaging writing is vivid imagery—you allow readers to visualize your stories in their minds.
For instance, Brannen gives us a quick, yet vivid impression of the animals living in the sea in the Cambrian period:
The seas were suddenly stocked with creatures that would be difficult to invent during the most frenzied acid trip—indeed, one Cambrian animal is even named Hallucigenia. Another, Opabinia, with five eyes and a bizarre armlike appendage where one would expect a mouth, drew peals of laughter when it was first described at a scientific meeting. Still others, like the iconically weird Anomalocaris—looking something like an undulating, satanic lobster—invite us to squint when imagining its place on our common tree of life.
The trick with writing vividly is not to describe every single detail.
Because too many details slow the pace of your writing, making it boring.
So, present just a couple of striking details and let readers imagine the rest. In the example above, Brannen gives us 3 details on the Opabinia:
It has "five eyes."
It has "an armlike appendage where one would expect the mouth."
It makes scientists laugh.
Just 3 details are enough to give an impression, and it keeps the pace of the writing high.
Sometimes, a metaphor or simile can help sketch a picture more quickly:
But our ice age was so recent that some places like Alaska and Canada are literally still bouncing back up from the removal of oceans of ice overhead—that is, the landmass is actually rising, year after year, like your seat cushion after you stand up.
That seat cushion makes it clear, right?
Good writing strikes a careful balance: Enough details to make your writing vivid but not so many that you slow your reader down.
5. The movie trick that keeps us glued
You know how in movies you always want to know what's happening next?
It's because of the cliffhangers—hints that foreshadow what might be coming, piquing the curiosity of movie watchers.
You can use the same trick in your writing—even if you're writing a tutorial, a blog post, or a popular science essay. One way to arouse curiosity is to pose questions because a question makes readers want to know the answer. Here's an example from Brannen:
Where did all this extra light carbon in the atmosphere come from?
(Okay, yes, please tell me.)
But you don't always have to spell out the questions, you can leave them implied:
By the end of the Permian, virtually everything on the planet would be killed off, and in the wake of the slaughter, life on earth would chart an altogether new course.
(What's that? Why was everything killed off? And what's that new course for life on planet earth?)
Cliffhangers are a useful trick to keep readers engaged, especially for long form content like books. For shorter blog posts, it's often enough to put a cliffhanger in the opening paragraph.
Writing is like directing a movie with your words
When I started reading Brannen's book, I wasn't sure whether I'd finish it.
After all, it wasn't my kind of topic.
But thanks to Brannen's storytelling skills, I kept reading and learning, from the start all the way until the end of the book.
Why?
He directed a mental movie in my mind.
I nervously tagged along when he meets ranch owner Ronnie Mullinax, "a man of few words and a mascot of Texas independence, wearing a cowboy hat, boots, denim, wraparound sunglasses, and, on his waist, the largest handgun I'd ever seen."
I watched over his shoulder as he opens the door of David Jablonski's office at the University of Chicago, and I see what he sees: a narrow path through stacks of academic papers. Jablonski doesn't have time for tidiness. He spends his time "dwelling on the whole history of life."
I even start to feel empathy for the nautilus. This nearly blind, squid-like animal has survived 5 major extinctions but is now at risk because humans love the geometric elegance of its shell.
I read the book until the end, and felt a little sorry I'd finished.
What about your writing?
Would you like to keep your readers captivated from your first to your last words, too?
Use your words to direct a movie in your readers' minds.
Sketch vivid images. Tell a human story. Make it personal.
Happy movie making writing!
Book mentioned in this post:
The link above is an Amazon affiliate link. If possible, please support your local bookstore.