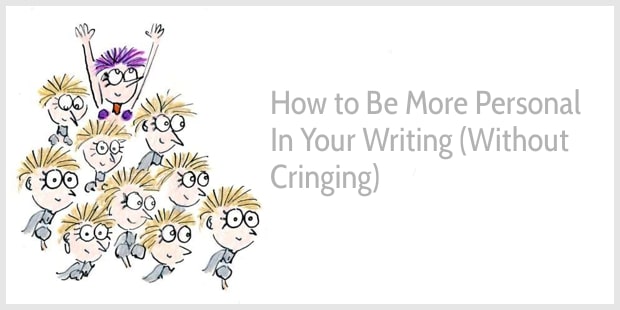 Uh oh.
It's hard, right?
How can you be personal without oversharing?
Let me tell you a tiny story first …
The email confirmation from the hotel looks promising.
Check-in from 2 PM.
Yay!
We've been cycling for a few days and are used to hanging around for a couple of hours before we're able to check in.
This is different.
It's been blazingly hot, and I'm looking forward to a shower and then a siesta.
Our timing is almost perfect.
We arrive just before two.
Huh?
The hotel still looks closed. The door is locked. Nobody is there.
We wait for a few minutes and ring the bell.
Nothing.
I ring the bell again.
Nothing.
We decide to get a cold drink at the cafe next door.
By 3 PM I am getting fed up. I've rang the bell several times, and there's been no answer.
I decide to ring the phone number printed on a sheet of paper, stuck on the door. In my best French (not good at all), I ask when I can check in.
I get a code to unlock the door and find our key at the reception desk.
The guy on the phone seems to find this normal.
What's the value of a human welcome?
Maybe checking in by phone makes financial sense. Staffing a reception desk is expensive and it was past peak season.
But that's thinking about numbers, not people.
The hotels I enjoy most are the small ones, designed with personality.
Above all, the places I like are where I feel welcome. In one hotel, there's the reception guy who's clearly proud of the local sights and shows us a fab trip to a lovely beach.
At another hotel we are welcomed by a friendly lady who slows down so I can follow her French. And then, there's the hotel owner who clearly enjoys welcoming his guests. He asks me how to pronounce my name and wonders where we've come from today. All with a twinkle in his eye.
These people made me feel seen. I feel welcome.
In the world of online writing, we often talk about followers, audiences, and email lists. We think of numbers, not people.
But a connection with a reader is never one-to-many.
It's always one-to-one.
A reader reads by themselves.
They're having a one-on-one conversation with you. They want to feel seen. They want to feel welcome. They don't want to be a number.
Leave a piece of yourself in your writing
When I think of the best hotel check-in experiences, they were all personal, and they were all a little different. The lady who spoke slowly. The guy joking about Heineken and my name, and the guy who showed me the way to the local beach.
Sure, they were all friendly.
But they found their own way to be friendly.
Being yourself in your writing may seem difficult at first. When I started blogging, it seemed safer to just share tips. Sharing a piece of myself felt way too scary.
But being personal doesn't mean you have to bare all. You can choose what to share. Those friendly people at the hotels didn't tell me their wildest secrets either. They simply showed up as themselves and made me feel seen.
The easiest way to do that in content marketing is to share miniature stories: Tiny stories that you can feature in blog posts, books, social media, and courses.
The first miniature story I wrote was about my experience as tour leader in China. I was only 21 and was guiding 14 tourists through China. On my own. For 4 weeks.
The journey started badly.
I puked on the flight to Hong Kong.
I used that story to explain how mistakes matter less than we think, also in content marketing.
After that inauspicious start of my trip, I had time to make up, to do better. I shared my knowledge of China, organized fab dinners, and I shared simple gifts: I bought a huge watermelon, and we ate it together. In content marketing, we give away valuable free gifts, too.
I don't think my bosses at the travel agency ever found out about me puking. Nobody told them. Because somehow things got better during that journey.
You can be personal without cringing
Sure, my story about puking is embarrassing.
But it's from the past and I can laugh about it now.
I tell these stories because they show the lessons I have learned. And perhaps you recognize the lessons, or perhaps you find them useful.
The story about the hotel check-in by phone made me think about the value of real human connections.
I'd like my blog to be like one of those charming hotels—a place where you (yes, you!) feel seen, where you feel welcome.
And I'd like you to be inspired to tell your own stories, too.
To captivate your readers. To share your lessons. To forge new connections.
What are you waiting for?

P.S.
The course Stories in Miniature teaches you how to write captivating stories and use them in all your content marketing: in emails, social media, blog posts, books, and courses …