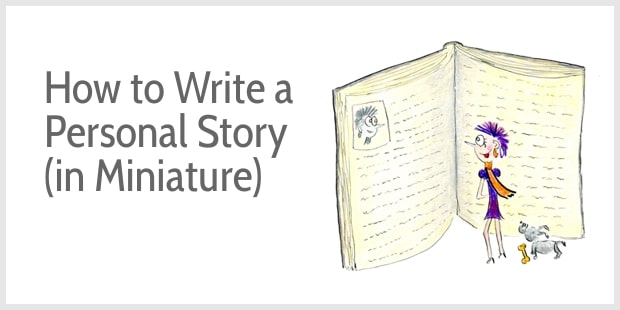 Writing about yourself can be tough, eh?
I'm with you.
As an intensely private person, sharing my own stories is hard.
I don't feel like baring myself. I'm worried I sound needy. I don't want to be self-indulgent.
But overcoming my doubts has been worth it.
Stories make us more human. The specifics of each story may be unique, but the underlying themes are universal. So, sharing a personal story can not only help us close a chapter and move on; it also helps us feel more connected to each other.
Let me show you 3 ways to shape your story so it becomes easier to engage and connect with your readers.
But first an example.
Okay?
The needle was huge …
I imagined a sadistic smirk behind the doctor's face mask.
I was lying on my side, bare-breasted. I felt vulnerable. What are you doing?, I asked.
3 weeks earlier, I had found a lump in my breast.
It had been an uncertain and stressful time.
Fortunately, the lump was only a cyst, and the doctor drained 55 ml of fluids from my breast.
The procedure was almost painless. The lump was gone. The problem was solved. I should feel relieved.
But days later, the stress was still racing through my body. I slept badly. I couldn't concentrate.
And I got a little frustrated with myself.
I told myself that thousands of women go through the same stress every single day. Many of them get worse news. Many are living in warzones.
I am so privileged. Why can't I simply bounce back?
I felt ashamed that I still felt unsafe in my body.
Since a car crash years ago, my body has been hypersensitive to stress. Once my nervous system hits stress mode, inflammation flares up. Calming down can take weeks.
The lump in my breast might be gone but the stress is still there.
So, I remind myself that life isn't a race.
I'll heal at my own pace.
3 ways to shape your personal narrative
In today's online world, readers are in a hurry.
There's an endless number of social media updates and blog posts to read or just scan.
Who has time for a long story?
To engage readers, it's often wise to keep our stories short. But we know too much. We remember every single detail of our experience. What happened. What we saw. What we heard. How we felt.
So, how do you choose what to include and what to leave out?
You can shape and shorten your story in 3 ways:
Focus on one transformation
Jump straight into the drama
Choose details with care
Let me explain …
1. Focus on one transformation
I first thought that the story of the lump in my breast was a story about bad communication.
I felt upset by the lack of respect that one doctor showed me. He didn't tell me what was happening. He didn't tell me what he saw on the ultrasound scan. He never explained why he painted a big black cross on my breast. He didn't ask permission. He didn't even confirm that it was a cyst until I asked.
I wanted to explain this doctor's imaginary transformation: How a more respectful manner would have reduced my stress and helped me stay connected with my body.
But I realized the real story was the story I was a little ashamed to tell. The story of my fragility. The story of struggling to heal, of healing at my own, slooooow pace.
Sometimes, when I write a story about myself, I know what transformation to focus on. More often, I freewrite a first draft to figure out the crux of the story.
Pinpointing the transformation helps shape your story. So, consider: How has an experience changed you? What problem was solved? Which question was answered? What lesson have you learned? What's the point of telling this story?
In my case, I realized I had to write about healing—how healing may take longer than solving a physical problem, and how we can only heal at our own pace. That is a universal lesson.
2. Jump straight into the drama
To grab the attention of readers, dive right into the middle of the action.
I chose to start the story with the doctor readying the big needle. The point of maximum drama.
If you make a timeline of the story, then finding the lump in my breast happens 3 weeks before the opening scene. Moreover, the car accident that made me hypersensitive to stress happens years before that. But I don't tell the story in chronological order. To make the story more interesting, I add the backstory later on.
Also, to avoid boring readers with the backstory, you can take shortcuts. For instance, my hypersensitivity didn't start straight after the car crash. My nervous system only went into overdrive after 15 months of misguided physical therapy. But I don't think this is relevant to the story, so I leave it out to keep the pace of the story high.
In summary, to grab readers' attention, jump straight into the action. What is the most dramatic point of your story? Next, keep your backstory short. What's essential for readers to know?
3. Choose the details
The first draft of a personal story often includes too many details.
For instance, my first draft included my nightmares—not about the big needle but about the doctor's unseeing eyes, about feeling unprotected, diminished, and disrespected.
Those nightmares felt important at first, but I realized they were not essential to the story. So, when I edited the draft, I scrapped the nightmares to shorten the story.
There were many more details that were vivid in my mind and that seemed essential to my experience. Like the 5 people in the ultrasound room including the career woman from Siemens who assisted with the new equipment but felt completely out of place, dressed for business. Like the doctor who exclaimed "Amazing!," when he started the scan (I asked but he never explained what was amazing). And long before that: The endless phone calls to get the hospital appointment. How my referral letter got lost. How my case was urgent, then wasn't urgent, and then was urgent again.
All these details were relevant to my experience and they heightened my stress. But they're not required to tell the key point of the story—that we can only heal at our own pace. So, I leave these details out to keep the story short.
I included the most vivid details in the opening scene: The big needle, the face-masked doctor, the imagined smirk behind his mask, and that I'm lying on my side bare-breasted. These details seem enough to help you picture the scene and invite you into the story.
Telling a good story in miniature requires a careful choice of details. Too many details slow readers down. Not enough details makes a story too abstract.
How to write a personal story
I prefer sharing a personal story when I'm (almost) ready to close a chapter, when there's no neediness anymore.
Without my neediness, I can focus on telling the story, and I can try to tell it well.
I'm editing this final paragraph 16 days after I was at the hospital.
I've been feeling a little under the weather this week and I've lost my voice but I'm starting to feel safer in my body. My nervous system is beginning to calm down.
I have faith in my body.
I have faith in my body's power to heal.