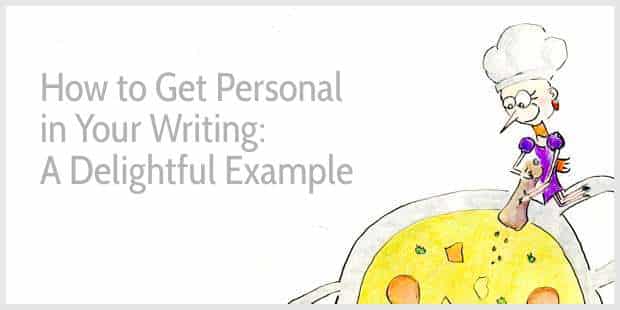 Content marketing is tricky, eh?
Everyone says to write helpful content.
But if you're a small company or a solo-flyer like me, you can't outcompete the big companies on helpfulness. They have a whole team of writers, editors, social media managers, SEO experts, link builders etc., etc.
And you?
Like me, you might be on your own.
And content marketing is only a small part of your job.
So, what to do?
You can go super-niche and get known for something very specific.
Or you can be more personal and become like a friend to your readers so they can't wait to work with you and tell all their friends about you.
Want to know how?
How to show up in your writing
I just finished reading a delightful book: Home Cooking by Laurie Colwin.
It's partly a how-to book with recipes and cooking advice. But what makes the book delightful are the personal stories.
These stories make me feel like I get to know the author. I picture her—with a twinkle in her eyes—writing about red peppers. I watch her preparing her favorite potato salad. I almost expect her to ring the doorbell later today, a pot of hearty soup in her hands. It's been a cold day, my friend. Let's eat.
When writers show up in their writing, readers feel closer to them, it's almost as if they become friends with the author.
How is that possible?
Say the quiet things out loud
There are things that we are meant to keep to ourselves—even more so when we're trying to position ourselves as experts.
Why embarrass yourself? Better to focus on sharing your knowledge and showing off your skills, eh?
But, while Colwin shares plenty of her knowledge, she also says—or rather writes—the quiet bits out loud.
It's rather endearing:
Some people might call this Red Pepper Conserve, but it will always be red pepper sludge to me. (…) I confess that I have been known to stand over the jar with a long fork and simply eat the contents by themselves.
Colwin shares her guilty pleasures. She eats one-pot meals straight out of the pot and recommends eating pancakes directly from the skillet without sharing with others.
And she recommends a pair of tongs:
A pair of cheap tongs—no kitchen is complete without them. For picking up asparagus or other vegetables, for pulling the stuck spaghetti from the bottom of the pot, for grabbing cookies that have fallen off the sheet in the oven. Tongs can easily be unbent to form one long arm with which to retrieve things that you have accidentally kicked under the stove, and then they can be bent back into tongs again.
Note how that paragraph above goes from the most to the least respectable. Using tongs to pick up vegetables is normal advice. Unbending them to retrieve things that you have kicked under the stove less so.
And while she tells us that platters of fried chicken will be greeted by family and friends with cries of happiness, she also admits:
There are many disagreeable things about frying chicken. No matter how careful you are, flour gets all over everything and the oil splatters far beyond the stove. It is impossible to fry chicken without burning yourself at least once. For about twenty-four hours your house smells of fried chicken. This is nice only during dinner and then begins to pall. Waking up to the smell of cooking fat is not wonderful. Furthermore, frying chicken is just about the most boring thing you can do.
What an honesty!
Marketers often talk about authenticity. But let's be real. That authenticity is often performative. How often do we share the quiet bits? How often do we write like real humans?
Earn the right to share your successes
Colwin's book is part recipes, part essays about cooking and life, all in one smooth flow.
But surprisingly, as she's teaching how to cook, she gives us permission to cheat:
And of course, for those of you about to give a dinner party for chocolate nuts, you know what bakeries are for: so that, at the end of dinner, you can put your feet up and have the chocolate dessert you didn't bake.
And she's honest when she messes up a dinner party so badly that they decide to go out for dinner:
"Hey," said one of these friends, "wouldn't it be groovy if we could dump this whatever it is in the garbage and go out for dinner?" So that is what we did. If all else fails, eat out, and while you are smiling through your tears, remember that novices usually make the same terrible mistake only once.
There are many cooking mishaps in the book. The numerous times she fails to cook rice properly. A loaf of bread so dense it almost knocks her teeth out. Yet another ill-fated dinner party that ends up with hamburgers and fries at a local bar.
As a reader, I am ready to cheer Colwin on, smiling and licking my lips when she's sharing her successes:
The result was absolutely breathtaking. I could not believe I had baked such a perfect loaf of bread: a dark brown crust, a beautiful smell. I let it cool down and when I cut it, it had air holes just like a loaf from a French bakery. Furthermore, it was delicious: wheaty, light but not at all airy. Everyone loved it, and I assumed it was beginner's luck. It was not, for I have now made this bread over and over, with varying proportions of white to whole-wheat flour.
Even when sharing her successes, Colwin remains humble, and she doesn't take herself too seriously:
As everyone knows, there is only one way to fry chicken correctly. Unfortunately, most people think their method is best, but most people are wrong. Mine is the only right way, and on this subject I feel almost evangelical.
Writing about yourself requires a little distance from your ego. Don't take yourself too seriously. A dollop of humility makes your writing better and endears you to readers.
Share your joy and passion
Social media is full of people whose bios claim that they're passionate about their work.
But telling us you're passionate actually tells us nothing.
Instead, let your actions speak for you. Here's how Colwin shows us her passion:
At night some people count sheep and others read mysteries. I lie in bed and think about food. Often I make up menus. Sometimes I invent recipes. One night, while drowsily meditating on the issue of stuffing, it came to me: cornbread and prosciutto. Yes, that was it! The perfect stuffing. The next Thanksgiving, I tried it out.
You can sense Colwin's joy and her passion on every page of the book. Here's an other example, when she's taken out to a Chinese restaurant:
At the first taste of that fish, I began to laugh. My companion gave me a worried look. After all, I was in my early twenties and perhaps he thought I was more than a little cracked. But it was the food that made me laugh. It was so wonderful and unexpected, so totally new I hardly knew how else to respond.
To befriend your readers, write from your heart and share what fascinates you. Readers will not only realize you know your stuff, they'll also sense your passion. And that's what breathes life into your writing, and it makes readers want to get closer to you.
Serve your readers a hearty soup
Of course, writing is not just about the writer and her joy.
Good writing is a dialogue with readers. You may write for yourself but you also write for your readers.
So, I want to end with this lovely thought:
A long time ago it occurred to me that when people are tired and hungry, which in adult life is much of the time, they do not want to be confronted by an intellectually challenging meal: they want to be consoled. When life is hard and the day has been long, the ideal dinner is not four perfect courses, each in a lovely pool of sauce whose ambrosial flavors are like nothing ever before tasted, but rather something comforting and savory, easy on the digestion—something that makes one feel, if even for only a minute, that one is safe. A four-star meal is the right thing when the human animal is well rested and feeling rich, but it is not much help to the sore in spirit who would be much better off with a big bowl of homemade soup.
When you write your next blog post or e-newsletter, what hearty soup can you serve your readers?
How will you feed them and comfort them?
Remember, if you're a tiny team or doing content marketing on your own, your biggest asset is YOU.
Your personality. Your passion. Your ability to connect with and befriend your readers.
Being helpful is a given.
Being YOU is what makes you different, more endearing, more worthy of reading.
Book mentioned in this post:
The link below is an Amazon affiliate link. If possible, please support your local bookstore.