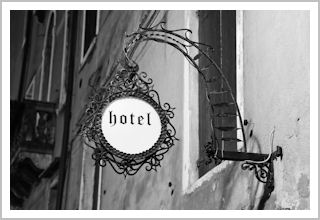 How often are you delighted with a new website you find?
And how often do you click the back button to go somewhere else?
With an abundance of websites and information overload, it's not easy to enchant new web visitors.
I'll share some tips soon, but first a quick story …
The village seemed deserted
The only shop was closed.
It was Thursday afternoon, half past four. Exhausted from cycling in the heat, we were longing for a shower, a snack, and a cold beer.
We knocked on the door of the village hotel.
Nobody answered.
The door was locked.
Was the hotel closed?
We tried the back door and found it was open. We sneaked in and discovered a key and a piece of paper with Mrs Henneke – room 10 written on it.
We showered and hand washed our clothes; and then waited for somebody to turn up. We had nothing to eat, just tap water to drink, and the wifi wasn't working.
Not a welcome you'd like give your visitors, huh?
But that's exactly what happens on your website, my website, and everyone else's website. We are not around to personally greet each web visitor and guide them in the right direction.
So what can you do to make weary internet travelers feel welcome?
Step 1: Create a welcoming home page
Your home page is like the lobby of a hotel.
What impression do you want to give web visitors? Swanky or intimate? Friendly or business-like?
Have a simple headline that tells web visitors where they've arrived and what to expect.
Consider showing a photo to humanize your business. When Highrise included a picture of a real person, their opt-in rates increased by 102.5%.
Tell people you can be trusted by displaying logos of customers, a testimonial, or logos of publications you've been featured in.
Be clear about what you expect first-time visitors to do next. Read a popular blog post? Sign-up to your blog updates? Download a report?
Scrap gobbledygook and marketing drivel because it turns customers away. You don't want to sound like one of those hotels where a machine rather than a human checks you in, do you?
De-clutter. Simplify your home page because showing a lot of options can confuse first-time visitors.
Your home page tells first-time visitors where they've arrived (e.g. a friendly place to learn more about copywriting and blogging); and your about page tells them why they should read your blog posts or buy your services (e.g. you're fun and know your stuff).
Step 2: Make your about page more engaging
Write what your readers want to read, not what you want to write. Tidbits about your life can make you more approachable, but nobody wants to read a long biography about you.
Show your personality. Tell web visitors why they'll enjoy reading your blog posts and why they'll love working with you.
Include an email address, because not everyone likes filling in forms.
Link to active social media profiles only. Stale social media profiles make you look anti-social.
Show a professional photo with a welcoming smile. Don't chase customers away with a stern-looking picture or an overly relaxed holiday shot.
Use a conversational tone. Sound like YOU.
Step 3: Add extra guidance
You know those folders you find in a hotel room with information about services and the surrounding area?
Some are chock-full with useless advertising. Others give you just what you need (where to find the honesty bar!) plus interesting information about the village history and the hotel (Ernest Hemingway stayed here in 1924).
This is how you can help your first-time web visitors and point them in the right direction:
Consider a New? Start here page to guide people around your website. Glen at Viperchill recommends articles for beginner, intermediate, and advanced marketers on his New? Start here page.
Have content landing pages that show your best posts about a specific topic (like my sales copy tutorial).
Hand-pick your most useful posts and list them as popular blog posts in your side bar.
The truth about first-time web visitors
Internet travelers are weary, fed-up of reading long-winded copy and clicking around websites without finding what they need.
Keep your website simple, reduce options, and think about the small touches that can delight first-time visitors – like the hotel owner offering you a free bottle of water.