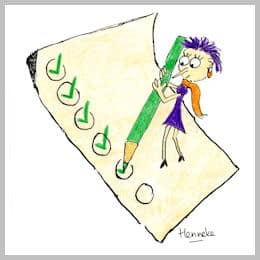 Your head is spinning.
How many web pages do you need?
What do you write on each page?
How do you get people to buy from you or to get in touch?
Each question brings up more questions. Each web page gives you a headache.
Are you feeling tired yet? Do you want to give up your website project? Or delay it until next year?
Creating a new website or updating an existing one can feel like a nightmare. But your web project doesn't have to be so difficult – as long as you have a simple checklist.
Use the list below to avoid content failures and to create a website that's both engaging and persuasive.
This checklist includes:
How to plan your content
Specific tips for your home page, about page, contact page, service or product pages, and your blog
How to revise and edit your content to make it engaging
Web conventions you must not break
Crimes against readability you must not commit
SEO tips for your content
Let's start with your overall content plan.
Ready?
Your content strategy focuses on your ideal reader
When we start a web project, most of us think about who we are, what's special about us, and how we should communicate our unique selling points.
But our readers aren't interested in us, our business, and our products.
They just want to know what's in it for them.
So before you start planning or reviewing your website:
Consider who you're writing for – this is your ideal reader or buyer persona.
Define what content helps your ideal reader understand your type of products or services – perhaps you need to educate your reader and explain what a marketing coach, web designer, or IT specialist can do for them.
Collect the reader questions you should answer and consider how you can help your ideal reader make choices – your ideal reader might not know whether he needs a web designer or a web developer; or whether he should get a Windows or Linux server.
Think about how you can help your ideal reader. Does he want to grow his business to make more money? Or would he prefer to find a way to work less and still make enough money? To start a conversation with your ideal reader and to sell to him, you need to understand what drives him, what motivates him, and what he's dreaming off.
List the objections you need to overcome. Why would your ideal reader hesitate to hire an interior designer or business coach? How can you nudge him and overcome his hesitations?
Your home page is your billboard
Web visitors are in a hurry.
They don't read word by word. On an average web page visitors read only 28% of words.
As their cursor already hovers over the back button, how can you quickly tell web visitors what they'll find on your site?
Confirm that people are in the right place. Avoid a clever headline As usability expert Steve Krug suggests: Don't make me think.
Don't waste precious pixels with a headline like Welcome at Enchanting Marketing.
Have a clear call-to-action. What are people supposed to do on your home page?
Don't push your services but focus on what your web visitors want to do. For instance: When the Swedish Cancer Society shifted focus away from organizational goals (more donations) towards web visitor goals (understanding cancer symptoms and treatment), donations increased massively (source).
Minimize distractions so web visitors can quickly find what they're looking for.
Avoid self-indulgent blurb that nobody is interested in. Who wants to read company news on your home page?
Include an interesting image. Make a product photo clickable so people can find further information on the featured product.
Your about page engages your reader
What's the purpose of your about page? That's obvious, isn't it?
It's about your company. Your history. Your products. Maybe some stuff about you personally. That's it. Isn't it?
Not quite.
That shouldn't be the main focus. Potential customers don't want to listen to your stories all the time. What they want to know is: What's in it for me?
The question your about page should answer is this: Which problems do you solve for your customers?
Writing about your products bores your readers. Writing about their problems grabs their attention:
Remember to address your reader with the word you.
Include some interesting tidbits about yourself, but avoid self-indulgent content.
Ensure that your about page reflects the right tone of voice. If you'd be talking to a client on the phone, would you sound the same?
Include a photo of yourself or your team. People connect with people and we like seeing faces.
Don't forget a call-to-action. An about page is often one of the most visited pages. What would you like web visitors to do next? Include a sign up form to your newsletter or links to your service pages. Don't expect web visitors to figure out what to do next. Be bossy and tell them what to do.
Your contact page encourages readers to connect
How often do you come across a boring contact page with just a drab web form?
Perhaps the contact page is the most neglected page on the web. Often it chases visitors away rather than encouraging them to email you or pick up the phone.
Follow these tips to encourage contact:
Show you're interested in hearing from someone with a friendly introduction.
Suggest how long it'll take for you to answer inquiries.
Don't make a web form your only method of contact because it's impersonal and robotic. Add a phone number or at least an email address (use [at] instead of @ to avoid spam).
Include social media profiles and encourage people to connect – but don't include profiles that you haven't updated for the last year because it looks like you're out of touch.
If you have a physical address, include your full address, a picture of your building, a geo site map (so people can find you in Google Earth and on Google Maps), driving directions, and details about parking.
If you have a showroom, include details of what people will find in your showroom as an incentive to come and see you.
Create persuasive service and product pages
It's a big mistake.
Even experienced web writers make it sometimes. They simply describe what you do, rather than persuade readers to contact you or buy from you.
Think about your ideal reader and how your product or service helps him.
Create separate pages for each service you offer because this will help you generate more search engine traffic.
Use the same language your clients use. If they're looking for a marketing coach, don't talk about a business optimization service.
Focus on benefits rather than features. Features are facts about your product or service. Benefits explain what your product does for your clients. How do you help clients achieve their objectives? How do you take away hassle and problems?
Don't forget a clear call-to-action – get people to buy your product, to contact you, or suggest where they can find more detailed information.
Your blog educates and inspires
People are tired of sales pitches.
They're looking for information that's helpful, entertaining, or inspirational.
You don't need to blog daily or even weekly. Create website section where you share helpful advice because it attracts visitors to your site, and it builds trust and authority.
Follow the rules for conversational writing – ask questions and use the word you
Stop worrying about word count. Communicate your message in the number of words required.
Publish content only when you have something to say. Publish content you're proud of.
Don't worry about giving information away for free. As Chris Garrett recently said: I have yet to find someone who has given away too much.
Create a newsletter sign up form that stands out and encourage people to sign up by telling them what they can learn and how you can make them feel better.
Edit your content to make it engaging
Editing doesn't mean you simply correct grammar and spelling mistakes.
Check the flow of your content. Ensure you've not missed anything important.
Follow these tips to make your content engaging and persuasive:
Consider the people sneaking in through the back door – not everyone lands on your home page. Can they navigate their way around when they land on a blog post or a product page?
Ensure your spelling and capitalization is consistent. For instance: Subheads Can Use Title Case Like This. Or subheads can use sentence case like this. Both methods are fine as long as you're consistent.
Use non-sugary testimonials to overcome customer objections. Don't limit your testimonials to a dedicated page – include them on your home or about page, and on your product pages.
Include a call-to-action on each page. What do you expect your readers to do next?
Challenge yourself to reduce your word count by half. Simplify your text, kill redundant sentences, and slaughter excess words until you get your message across in as few words as possible.
Remove exclamation marks, because they're the sign of a lazy copywriter or a sleazy sales man.
Avoid the passive voice because it sounds awfully corporate. A mistake has been made is passive and dull; I've made a mistake is active and engaging.
Reduce your sentence length to a maximum of 14 words on average because it makes your content easier to read.
Use plain English. Avoid superlatives and banned words like market leading and world class, because they make you sound sleazy.
Don't break any web conventions
You know I'm a rebel.
I like to do things my way.
But web conventions are different. Even for me.
Your web visitors are in a hurry, so make things obvious for them:
Position your logo at the top or top left, because that's where people look to find out who you are.
Include a navigation bar at the top or the left-hand side – on each page.
Make clickable buttons look like buttons, because people know they can click buttons.
Avoid creative wording – keep it simple.
Don't commit crimes against readability
You've created wonderful content.
Why would you make it difficult to read?
Don't make your lines longer than 75 characters. Longer lines are difficult to read as you need to move your head like you're watching a tennis match. A shorter line length becomes stressful as your eyes have to move back to the beginning too often.
Increase your font size. Don't make your readers strain their eyes with a tiny font.
Have plenty of white space because blocks of texts are tiring to read and turn readers away.
Your text is left-aligned because our eyes automatically return to the starting point when we've finished reading a line – just like in books.
Use dark fonts on a light background for maximum contrast.
Make headlines stand out in a larger font in a different color.
Use bullet points to make your content easy to scan.
Seduce search engines to promote your content
Firstly you write for your ideal reader.
But then you can polish your content to boost your search engine rankings:
Include a title tag with a maximum of 55 characters. Your title tag becomes the blue link in search results, so it's important that it tells readers what your page is about.
Use active words in your meta description to encourage readers to click through. The meta description is the text shown in the search results below your URL and a maximum of 155 characters is recommended.
Use H1 tags for headlines and H2 tags for subheadings. The H1 and H2 tags indicate to Google that these words are more important than the remainder of your text.
Be specific and answer customer questions, because it increases your chances of gaining relevant web traffic.
And a few last tips …
Get Google Analytics set up so you can measure your results and find what content is most popular.
In your site footer, replace the standard links to your theme with a copyright statement.
Include a privacy statement to explain what data you're collecting.
Upload your own favicon – the little image you see in the tabs of your web browser:

How to create a website that wins business
Always start with your ideal reader.
View your website through his eyes.
Overcome his objections and nudge him in the right direction. Allow him to achieve his aims. Help him fulfill his dreams.
Be yourself. Be enchanting. And business will come.