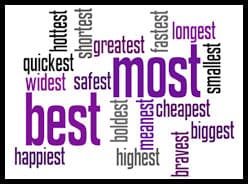 Call me a reluctant marketer.
Or even an anti-marketing marketer.
I quickly detect a hint of slick sales speak or marketese. I've developed a sensor for the slightest insincerity in copy. I know the phrases that make you lose a tiny bit of credibility.
Today's errors are subtle copywriting mistakes. Even professional writers make them sometimes. Because they're in a hurry or a little lazy, or because they don't have the in-depth knowledge required to write about a specific topic.
I'm not talking about glaring, over-the-top salesiness. You're an Enchanting reader, so I guess you hate in-your-face, yellow-highlighter sales as much as I do. You and I don't do that. We're not aggressive. We're not pushy. We are helpful.
But do you make these two delicate errors that reduce your credibility?
1. Superlative laziness
Do you provide the quickest service, the easiest app, or the best whatever?
Superlatives can make you sound insincere.
Use superlatives only in these situations:
You prove why you offer the most wonderful service. Quote your sources; use test results; or mention specific figures to increase your credibility.
You quote someone else who says your product is the most exceptional they ever used. Allow your customers to boast on your behalf. But be careful: sugary testimonials can make you lose credibility, too.
You use a superlative in a question: Could this be the best IT service in Birmingham? A question makes you sound a little humbler.
Words like market-leading or world-class are as bad as superlatives. Apply the same rules as above.
2. Yeah, yeah phrases
When your reader starts to mumble yeah, yeah, you're losing him. Because he doesn't believe you anymore.
This happens when you're writing obvious stuff such as excellent customer service or quality product. Ever seen a website claiming to offer average service? (Thank you to Julie Stanford for making this comment on my post about gobbledygook.)
It's easy to avoid a yeah, yeah reaction: Be specific. If possible, use numbers.
If your service is excellent, explain why. Do you pick up the phone within 3 seconds? Do you solve all complaints within 3 days? Do you have a no-quibble guarantee? Or are your opening hours longer than those of your competitor?
Don't waste your reader's time with empty phrases. Add credibility with facts and figures.
Avoid slick sales talk to win sales
Nobody wants to be sold to.
Present useful information and details to justify your claims.
Be helpful. Be charming. Be enchanting.
Okay?