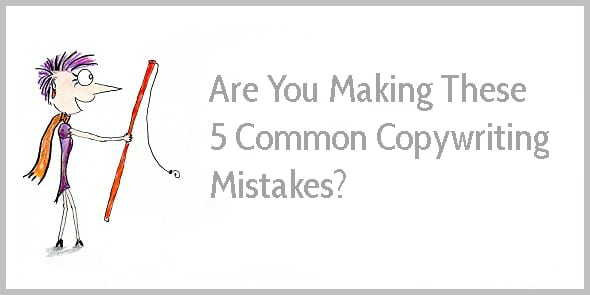 Have you had an overdose of copywriting advice?
Frustrating, isn't it?
You read copywriting tips every day. You listen to podcasts, and have read a few books.
But …
When you have to write your copy, you feel stuck.
Copywriting advice is swirling around in your head. You can't make sense of it. Should you include more rational arguments? Or tap into emotions? Should you tighten your text? Or include more details?
Too many tips are fighting for your attention.
You're not alone. Most copywriting advice is over-complicated, making your head spin.
So, let's get back to basics, shall we?
Let's focus on the 5 most common copywriting mistakes destroying your persuasiveness. Avoiding these mistakes not only makes your content more compelling; your confidence as a writer also grows and you can stop staring at a blank sheet.
Sound good?
Copywriting mistake #1: You don't follow a proven process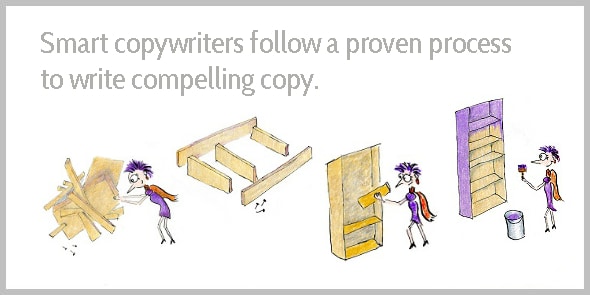 Have you ever been staring at a blank sheet for more than one minute?
Perhaps you saw the clock ticking away and still hadn't written a word after an hour or two?
Your problem is not a lack of inspiration. Your problem is not that your muse doesn't want to turn up today. And your problem definitely is not that you're a bad writer.
Your problem is a lack of preparation.
To write persuasive copy, follow a proven copywriting process. Write your copy step by step:
Start with research—understand who you're writing for and gather the right arguments to persuade your audience to hire you
Plan your copy—arrange your persuasive arguments from most important to least important
Write a rough draft—this simply means you turn your persuasive arguments into working sentences
Edit your writing in several rounds, and check for spelling and grammar mistakes
Read your copy aloud to adjust its rhythm
Review how your copy looks in its final design and make any adjustments required
Copywriting becomes surprisingly easy, when you focus on one task—research OR planning OR writing OR editing.
Copywriting mistake #2: You're afraid to scare off clients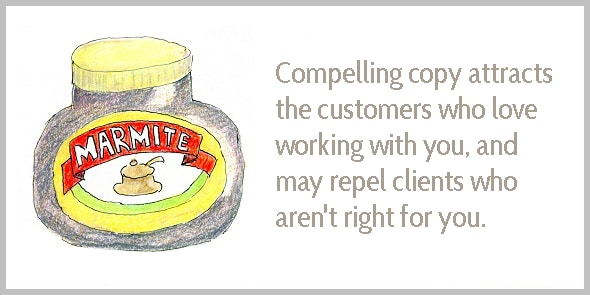 Trying to attract a wide audience?
Your copy will surely become wishy-washy. That's fine for big companies because they have enough money to promote their message and improve their brand recognition.
But, as small businesses, you and I don't care about brand recognition among the wider population. We need to attract our favorite clients, so we can do our best work (and charge a higher fee!).
How?
It's simple: Write for your favorite customer only. What exactly do you help her achieve? Why is she attracted to your personality? Why does she want to work with YOU?
Don't try to do too many things for too many people.
Copywriting mistake #3: You're selling your services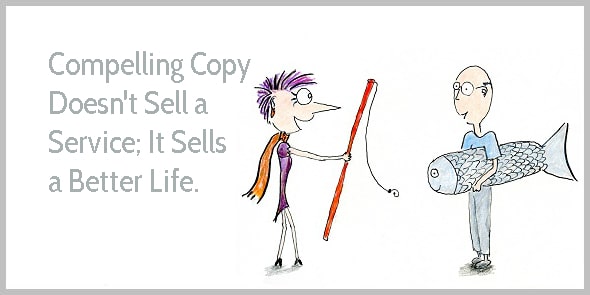 Are you selling your services?
Think again.
You don't sell a service.
You don't sell yourself.
You sell a better life. For instance, you help your clients:
Save time
Make more money
Become happier
Become more productive
Become healthier
Feel less stressed
Become more creative
Famous copywriters like John Caples, Eugene Schwartz, and Joe Sugarman have all said it: To sell your products or services, you need to focus on the benefits to your readers.
Those benefits are often a mix of goals your customer wants to achieve and problems they want to avoid.
Imagine you're a web developer. You build websites in WordPress. This means your customer can easily update the content on their website. Your customer avoids the hassle of having to ring or email you to change a word here or there because they can do it themselves.
You can reformulate most benefits as problems you help avoid. Your restaurant service is quick, so you avoid delays. You help people improve their presentation skills, so they can avoid those pesky uhms in their conference talk.
In your copy, show how you make your client's life better AND highlight the problems, hassle, glitches, pain, and mistakes you help avoid.
Copywriting mistake #4: Lack of specificity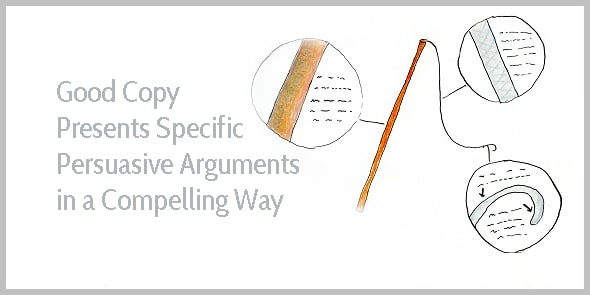 During my freelance writing career, I picked up a few projects messed up by inexperienced copywriters.
The biggest problem?
It was always lack of specificity.
As a copywriter, it's an easy mistake to make. You have to write about something you don't know much about, so you end up with grammatically correct sentences that don't convey any meaning. Unpersuasive blah-de-blah.
As a small business owner or solo-flyer this is where you have a solid advantage: you know your offer inside out. And you know your customer.
So, review your sales copy, and ask yourself: Is this concrete or generic? Can I visualize this?
Blah-de-blah—generic and unpersuasive:
We take your marketing to the next level.
Specific and persuasive:
I help you optimize your online marketing budget so you can generate more leads and win more clients.
Don't skimp on the detail. Design your copy so it's both easy to scan and easy to read. Your real prospects check out the details to evaluate whether you're right for them.
So share ALL your persuasive arguments and make people eager to contact and hire you.
Copywriting mistake #5: Lack of credibility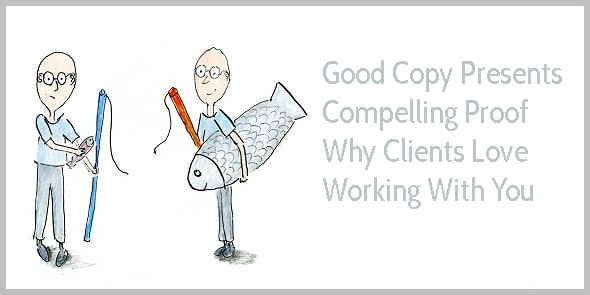 Why would readers believe you and hire you?
Let's be frank. It's easy for web visitors to doubt your claims, to hesitate to believe you, and to turn away to go somewhere else.
You can't assume people believe your coaching will help them improve their marketing, or your ebook will teach them how to become a confident communicator. Readers want to see proof. Too often they've been disappointed already.
To build trust, provide external proof for your claims.
External elements of proof are provided by experts and other buyers. This can be reviews, review ratings, test results, press coverage, and social sharing numbers. For service providers, testimonials are probably the most commonly used external proof. Make sure your testimonials are persuasive and back up your claims.
Good copy describes what exactly you offer to your clients and how you make their life better; plus you prove why they should believe your claims.
How to Write Compelling Copy
Good marketing is the basis of good copywriting.
So define who your favorite client is. Know exactly why they would hire you. Then give them proof why hiring you is the right choice.
And remember, the best customers don't hire you because of what you do.
But because of who you are.
So let your personality shine through.