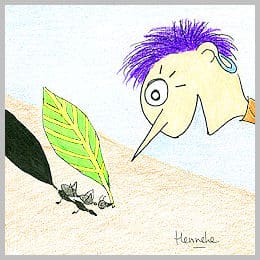 *sigh*
Have you noticed how many websites state that their customer service is excellent?
Do you believe them?
Or do you assume their service is average at best?
Well?
Let's be honest.
In a world where marketers are shouting harder and harder, we trust their statements less and less. Potential clients are weary of marketing speak. They're tired of wading through advertising messages they don't believe.
Can you still cut through the marketing nonsense? And deliver credible and persuasive marketing messages?
Yes, you can. Today I'll explain an easy trick that you can borrow from novelists. Follow this trick and your marketing copy becomes more credible and persuasive.
The power of itty-bitty details
Allow me to explain with a quick example.
Picture two people walking in woodlands. Can you imagine what they're saying to each other?
Well?
That's difficult, isn't it?
Now, let's try again.
Picture two guys in the woodlands. One is an older guy in a suit. The other carries a spade and he's pointing a revolver to the older guy who's walking about a yard in front of him.
Can you imagine what's being said? And what's going to happen next?
Much easier isn't it?
The idea of two people walking in woodlands seems concrete, but it's vague because you lack context. You don't know enough details to imagine the scene.
People don't think in abstract language and vague statements.
Fiction writers stress the importance of show, don't tell
Knowing the difference between showing and telling is the single most important skill for powerful sentence-by-sentence writing. ~ James Thayer
The difference between showing and telling is quite simple. When you show something, you reveal a vivid scene. When you tell something, you just state your conclusion without vividness, without facts, without proof.
Let's look at an example:
Henneke is weird. – That's simply telling you something.
Boing. Boing. Henneke arrived in her wooden shoes at the cocktail party. – That's showing you I'm weird, without telling it directly.
When you show your reader something, you allow your reader to hear, see, or feel something. And you also allow him to make up his own mind.
When writing marketing copy, you need to show rather than tell, too
When your copy states that you're committed to customer service excellence, nobody believes you.
Readers immediately think yeah, yeah, that's what everyone says. You're not providing proof with specific details, so your statement isn't credible. It's just marketing drivel.
Potential client don't care about your commitment, they want to know what your excellence in customer service means to them. How does working with you make their life easier or more enjoyable? Can you give an example? Can you provide proof? What is it that makes your service special?
Testimonials can help you get around the problem of marketing drivel. But even when you write a testimonial, you should still ask your client to explain exactly why she liked your customer service.
Imagine a testimonial that says you hand-delivered a new party dress when a client splashed a few drops of red wine on her favorite outfit. Or consider a testimonial that says you finished the web design on schedule despite the client providing late feedback. That's far more persuasive than a testimonial stating your customer service is excellent.
Persuasive marketing messages are concrete
To convey a strong and memorable message, you have to sketch a concrete scene. You have to show rather than tell.
Words like service, quality, and performance are abstract concepts. You can't examine them with your senses. As Chip and Dan Heath say:
If you can examine something with your senses, it's concrete. A V8 engine is concrete. "High-performance" is abstract. Most of the time, concreteness boils down to specific people doing specific things.
Rather than simply describing your product as high-quality, you need to say exactly what makes the product so good. Is it the design? Is it the material? You have to dig deeper, because stating that the material is high-standard is still abstract. What is it exactly that makes your material so good?
To write good marketing copy, you need to describe the details. These tiny details may seem insignificant, but they boost the credibility of your sales copy, your product, and your company.
Professional copywriters know exactly how to apply the persuasive power of itty-bitty details. Apple copywriters, for instance, allow you to draw your own conclusion about the quality of their manufacturing process. They simply share the details:
Take the glass inlays on the back of iPhone 5, for instance. During manufacturing, each iPhone 5 aluminum housing is photographed by two high-powered 29MP cameras. A machine then examines the images and compares them against 725 unique inlays to find the most precise match for every single iPhone.
Amazon's copywriters are not content with stating the weight of the Paperwhite. They paint a vivid image by comparing it to the weight of a paperback:
Weighing only 7.5 ounces, Kindle Paperwhite weighs less than a typical paperback.
The persuasiveness of your marketing copy
Caress the detail, the divine detail. ~ Vladimir Nabokov
When you next review your marketing copy, think about the memorable examples and the tiny details you can use to explain why your service is so good and why your product quality is so excellent.
Readers ignore vague statements.
But they remember vivid details.