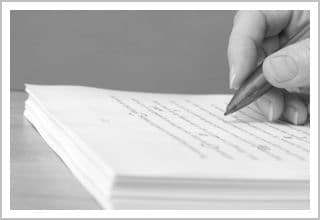 Ever assembled a flat-pack bookcase?
As long as you can figure out in what order to assemble the parts, it's doable.
Now imagine a flat pack from hell…
You struggle to decide which parts are just packaging. You need to cut loose a few parts because they're glued together in the wrong place. A few parts are dirty. And a couple of screws are so rusty you need to replace them.
Editing a first draft is like assembling a flat pack from hell
You need to re-arrange, clean, and polish your first draft.
You need to write the missing parts. And throw away excess parts.
Editing can be a painful process because you're rewriting text you've put together with so much effort. You throw away your favorite sentences because they're redundant. You dig deep to find exactly the right words.
It's a rigorous revision process.
But editing is also fascinating. You uncover the beauty of your ideas. You create clarity and simplicity. You make your text more engaging, more credible, and more persuasive.
Let's have a look at the steps of the editing process. Your first task is to ensure your text is complete.
Don't miss any important sales messages
Check you've not missed any product features or specifications.
Ensure you've translated product features into attractive benefits. A benefit explains what your product or service does for your customer. Your customers want to know what's in it for them.
Highlight the hassle you avoid. A list of features and specs becomes boring because the information is all positive. Keep your reader awake and engaged by pointing out a problem you help to avoid.
Review the objections to buying your product or service. Make sure you've addressed them all.
Examine the captions below your images. Do they contain a sales message to entice your reader to read on?
Analyze each page like a landing page. Each page should have a simple headline and an impeccably clear call-to-action.
Remember: fuzziness kills conversion rates. Ensure your web visitors know what to do next and why. (tweet this)
Edit your web copy for scanners
You know web visitors behave like hungry animals, don't you?
Web visitors don't take the time to read your text. They glance at your web copy before deciding whether to click away or not.
Follow these tips to optimize your web copy for scanners:
Ensure each page has a headline in a large font that indicates your web visitors have arrived in the right place.
Check that your subheadings entice scanners to start reading.
Try to convert more sentences in short lists of fascinating bullet points, because they're easier to scan.
Ensure you've followed the inverted pyramid. Your most important information should always come first.
Make your web copy more credible and persuasive
Your bullet points and subheadings have enticed scanners to start reading.
It's time to boost the persuasiveness of your web copy with these 7 simple tricks.
Check your engagement level. Is your content focused on your ideal reader? Count the number of times you've used I and me versus you.
Imagine you're having a conversation with your ideal reader. Does your copy sound natural?
Make your copy more specific. General statements like Leading Widget Manufacturer sound like marketing blurb. A specific statement sounds much more credible: 23,700 Satisfied Widget Users in Manchester.
Put numbers into context. Relate your numbers to something people can visualize. Amazon, for instance, explains the lightness of the Kindle Paperwhite like this: Weighing only 7.5 ounces, Kindle Paperwhite weighs less than a typical paperback.
Put on your devil's advocate hat and read through your text. Where do you slightly doubt your claims? That's where you need to add further proof. Consider adding a quote from a customer or figures from a test report.
Kill blandness in your copy. Choose sensory and emotional words, because they're more memorable and persuasive.
Use the word because. Give people a reason why they should do something and you have a better chance that they'll follow your advice. Psychologists call this an automatic response pattern.
Boost your web copy's readability
Simplicity is the ultimate sophistication. ~ Leonardo da Vinci
Tight, simple text engages and delights.
But first drafts are usually unwieldy. Too long, too wordy, and too complicated.
How can you simplify and tighten your text? And avoid chasing your web visitors away with sloppy writing?
Let's have a look.
Cut all ideas that are irrelevant. Sometimes we include stuff in our copy because we like it, not because our readers want to read it.
Scrap redundant sentences. If a sentence doesn't add to your sales message, it's unnecessary. Saying the same thing twice in different ways is needless. Don't repeat the same thing using different words. (See how irritating that is?)
Cut weak words. Read each sentence carefully, delete each unnecessary word so your sentences become clear and concise. Words you can almost always delete: ought, perhaps, in my opinion, just, actually, truly, and very.
Scrap gobbledygook. Each word should have a meaning that adds to your readers' understanding. Scrap overused phrases, such as innovative, best-in-class, and market-leading.
Replace complicated words with simple words. Cut long words and replace them with shorter ones. Only use jargon if you're sure your reader understands it.
Avoid the passive voice. We appreciate your email sounds much more personal than your email will be appreciated.
Avoid spelling and grammar goofs
Stop looking silly.
Don't lose sales because of stupid errors.
To spot typos, read your text backwards or ask someone else to proofread your text. Remember: A spellchecker isn't perfect.
Check you've not committed common grammar goofs that make you look silly. Check your there, they're and their, your complements and compliments, and your then and than.
Proofread on paper. You're less likely to skim the text and miss errors.
Read your text aloud. Rewrite the text where you stumble.
The truth about writing persuasive copy
I am a lousy copywriter, but I am a good editor. So I go to work editing my own draft. ~ David Ogilvy
You don't have to be a great writer to create persuasive web copy.
You shouldn't worry about writing a good first draft.
Just get some words on paper. Write as if it's a warming-up exercise. And enjoy the process of turning crappy copy into persuasive text.
Above all: tighten your copy. Cut more text. Cut even more text.
Your readers will be grateful for it. And you'll win more business.