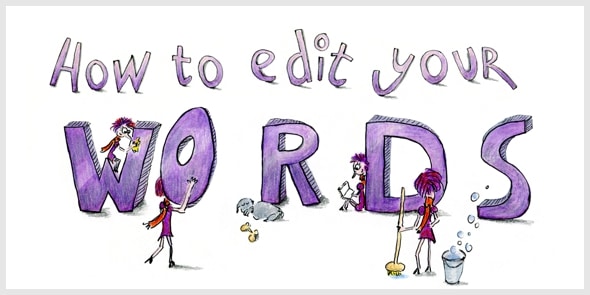 When Hayley reads her draft text, she feels disappointed.
Her writing doesn't make her heart sing.
She knows her tips are valuable—they'll make her readers feel less stressed and more productive. Hayley inspires her readers to slow down, get more done, and feel good about themselves.
Her content is good. The flow feels right. She's corrected typos, and ironed out grammar mistakes.
But still …
Her writing feels a bit off.
Her words don't seem to shine as brightly as the content from the pros she admires.
What can she do?
Self-editing can feel tricky
You need to step back a little, and review your content through the eyes of a reader.
When does your reader stumble? When does he fail to get your message? When does he nod off?
Editing is like sandpapering away small blemishes so your content feels smooth to readers. You change a word here and there to make the meaning more accurate, to cut the flab, to smooth over transitions.
When editing, you also have to consider yourself: Does your writing voice suit you or do you need to fine-tune your words?
Edits are often subtle changes, and sometimes these changes are personal—you choose a word because it suits you and your writing voice better.
Editing tasks include:
But how exactly does self-editing work in practice?
Everyone's draft texts are different. For instance, I've practiced concise writing so much, that even my first drafts are pretty concise. I more often add text rather than delete flab. For you, the opposite might be the case.
Below you'll find three draft paragraphs (from my post about business manifestos) and I explain exactly how (and why) I edited these paragraphs. You can compare the draft and final versions.
Sound good?
Example 1: The opening lines
The opening paragraph below aims to engage readers and make them curious to read on. This was the draft version:
Evaluation:
When I start editing, I have already revised my draft, so I know the content works and the overall flow is fine. My main task is to look for small content issues.
The key change I make here is to take out the reference to a fun hand-lettering project. While this comment is true, it distracts from the key message: my realization that manifestos are more important than I had previously thought.
A story only needs to include essential details—anything non-essential may distract readers and slow them down.
Once I decided to focus the opening on the importance of manifestos, I increased the contrast with my previous thinking (that manifestos are not so important) by adding the sentence: "My excuse was: No time for such 'pet projects.'"
The other changes are minor:
In the initial version, I mention that the task landed on my too-hard-to-do pile for several years. However, I'm not sure whether the reference "the task" here is clear enough for hasty readers, so I make it specific and change it to "writing a manifesto."
I replace "landed" with "languishing" because it's a more accurate description: a task lands only once on a to-do list, and then might stay, linger, or languish for days, months, or years.
I add an opening sentence: "A business manifesto?!??" because I like starting with ultra-short or broken sentences and these three words with the "?!??" seem to add a little flair. Like many edits, it's a personal choice. It doesn't make the content better, but different—more like me.
Final version of my opening paragraph: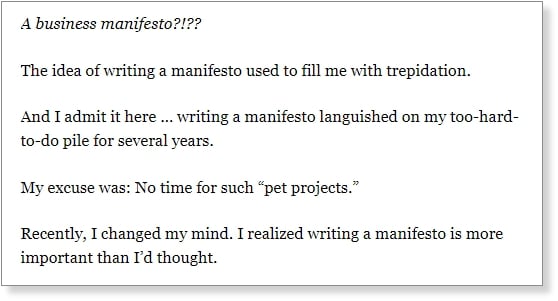 If you read both versions aloud, you'll notice the rhythm changed, too. My drafts often sound choppy.
Example 2: The "Why" section
My opening paragraphs usually explain how readers will benefit from the advice in the post.
However, in this case, I want to explain the "Why" in more detail, so I created a separate paragraph about the benefits of writing a manifesto. This is the draft version: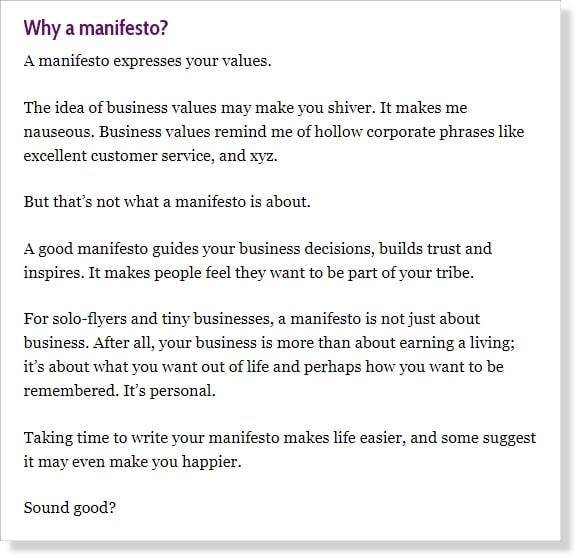 Evaluation of the draft:
Again, this version is pretty good—I've ironed out the big issues already. However, I can make a stronger case for writing a manifesto, and I can adjust the tone to make this paragraph more engaging and to make it sound more like me.
These are the key changes:
The draft still includes the letters "xyz." Now, it's time to add examples of hollow corporate phrases, such as "passion for innovation" and "authenticity."

Writing "xyz" or "TK" (to come) in a draft keeps me in a writing flow so I can write faster.

"Become part of your tribe" is perhaps a slightly vague buzzword, so I add examples to make this more concrete—"to become your client, to read your blog, to partner up for projects, to buy and own your products, to act on your advice."
The next short paragraph feels a little weak:

For solo-flyers and tiny businesses, a manifesto is not just about business. After all, your business is more than about earning a living; it's about what you want out of life and perhaps how you want to be remembered. It's personal.

I extend this paragraph into three paragraphs and include questions to make it more engaging.
Here's the final version: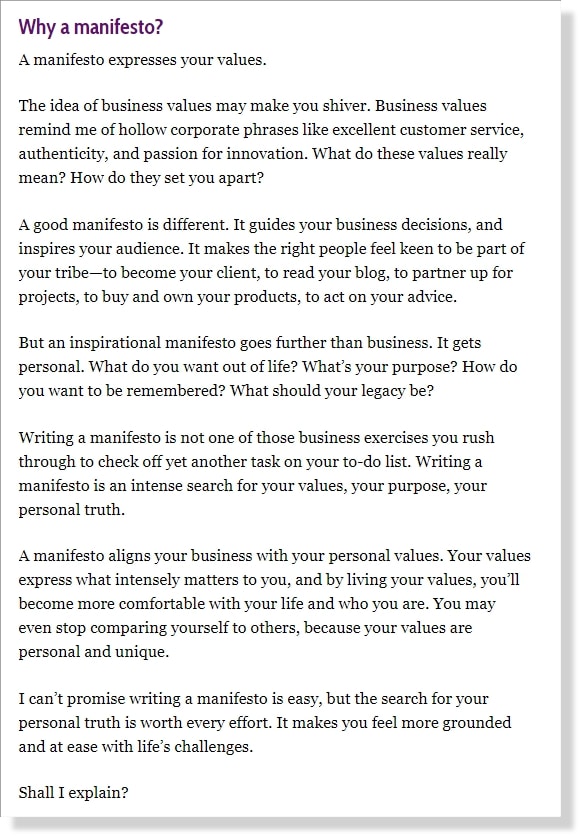 Example 3: The first tip
After explaining the benefits of a business manifesto, the real "meat" of the post starts—the tips helping you write your own manifesto.
Here's the draft paragraph for the first step: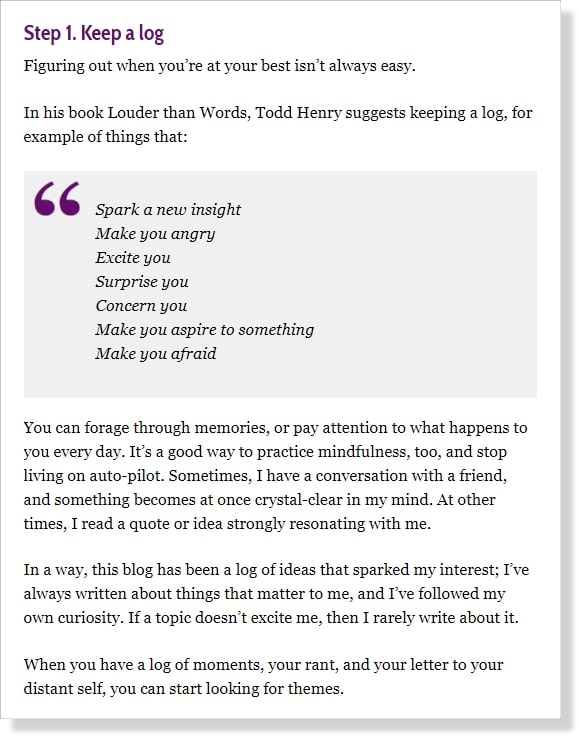 Evaluation:
This paragraph starts rather abruptly. I don't explain why you need to be at your best, but state that it's hard to figure out. I change this first sentence and add more questions to create a conversational tone.
I change the order of the last few sentences, so the flow is smoother: I first explain how Henry suggests to keep a log, and then I explain what's in my log—adding examples so this feels less abstract.
Here's the final version: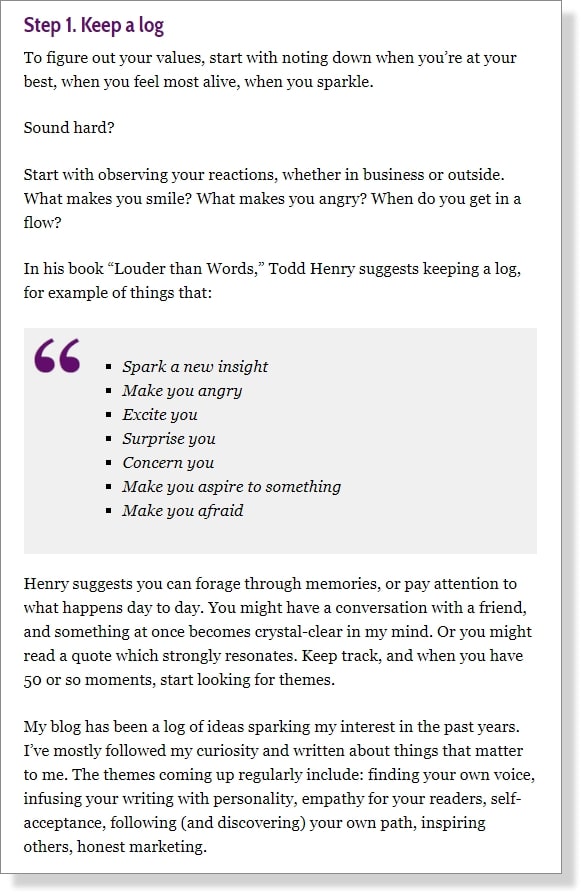 Don't keep polishing your words forever
Don't endlessly um and ah about each word and each comma.
Instead, give yourself a time limit, and focus on the most important editing tasks. For instance:
A product description or "hire me" page aims to communicate your sales messages quickly, so it's important to be concise—focus on cutting the flab
A blog post aims to entice visitors to read your whole page—focus on your headline, subheads and opening paragraph to encourage visitors to read instead of skim your article
Turn self-editing into a fun exercise
In most cases, editing is not about being right or wrong.
Instead, your edits are an opportunity to change your writing voice, to make your content sound more like you.
So, don't take this task overly serious. Play with a few words. Add a couple of questions. Perhaps chop long sentences in two.
How do the changes sound? Do they feel good?
Don't try to find the perfect words. Perfection doesn't exist.
Instead, find the words that shine.
The words that make your heart sing.
PS Thank you to Richard Padgett for inspiring this post, and thank you to Amanda and Andy at OrbitMedia for nudging me to write it.