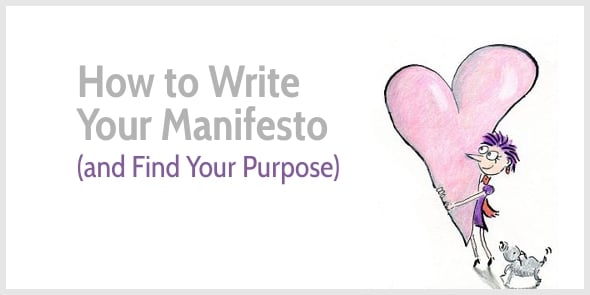 A business manifesto?!??
The idea of writing a manifesto used to fill me with trepidation.
And I admit it here … writing a manifesto languished on my too-hard-to-do pile for several years.
My excuse was: No time for such "pet projects."
Recently, I changed my mind. I realized writing a manifesto is more important than I'd thought.
Why a manifesto?
A manifesto expresses your values.
The idea of business values may make you shiver. Business values remind me of hollow corporate phrases like excellent customer service, authenticity, and passion for innovation. What do these values really mean? How do they set you apart?
A good manifesto is different. It guides your business decisions, and inspires your audience. It makes the right people feel keen to be part of your tribe—to become your client, to read your blog, to partner up for projects, to buy and own your products, to act on your advice.
But an inspirational manifesto goes further than business. It gets personal. What do you want out of life? What's your purpose? How do you want to be remembered? What should your legacy be?
Writing a manifesto is not one of those business exercises you rush through to check off yet another task on your to-do list. Writing a manifesto is an intense search for your values, your purpose, your personal truth.
A manifesto aligns your business with your personal values. Your values express what intensely matters to you, and by living your values, you'll become more comfortable with your life and who you are. You may even stop comparing yourself to others, because your values are personal and unique.
I can't promise writing a manifesto is easy, but the search for your personal truth is worth every effort. It makes you feel more grounded and at ease with life's challenges.
Shall I explain?
Step 1. Keep a log
To figure out your values, start with noting down when you're at your best, when you feel most alive, when you sparkle.
Sound hard?
Start with observing your reactions, whether in business or outside. What makes you smile? What makes you angry? When do you get in a flow?
In his book "Louder than Words," Todd Henry suggests keeping a log, for example of things that:
Spark a new insight
Make you angry
Excite you
Surprise you
Concern you
Make you aspire to something
Make you afraid
Henry suggests you can forage through memories, or pay attention to what happens day to day. You might have a conversation with a friend, and something at once becomes crystal-clear in my mind. Or you might read a quote which strongly resonates. Keep track, and when you have 50 or so moments, start looking for themes.
My blog has been a log of ideas sparking my interest in the past years. I've mostly followed my curiosity and written about things that matter to me. The themes coming up regularly include: finding your own voice, infusing your writing with personality, empathy for your readers, self-acceptance, following (and discovering) your own path, inspiring others, honest marketing.
Step 2. Start ranting
The idea for writing my manifesto was sparked by a blog post (about manifestos), written by Sharon Tanton. She suggests starting with ranting, and then flipping your rant on its head to find what you intensely care about.
Writing down what you hate often feels easier than noticing what you love. Hate motivates us, and stirs up strong feelings. Rejecting ideas is easier than embracing them.
For your rant, think about questions like: What winds you up? What irritates you? What frustrates you? Which problem would you desperately like to solve?
The things I hate include:
Gobbledygook—I'm on a mission to stamp out gobbledygook because I hate corporate and bland writing; let's communicate as human beings
Pushy marketing—I'd love to get rid of popups and salesy, time-wasting webinars; instead let's write honest sales copy and share our knowledge with generosity
Blueprints and other "proven" plans—The idea that you can plan your solo-biz in detailed steps doesn't work for me; I can only find my path by taking action and figuring things out along the way
Boxes and labels—People are too complicated to fit in a box; let's embrace diversity, and treat each other with empathy and respect
Big, hairy goals—They scare me; I've learned it is okay to make tiny ripples
Step 3. Write a letter to your future self
What do you want your life to look like?
In her book "Emotional Agility," Susan David describes a research project in which psychologists ask people in their twenties to write a letter to their future selves.
One group casts their minds only three months ahead, the other group twenty years. After writing the letter, they're asked whether they'd buy a stolen computer, commit insurance fraud, or download media illegally.
The result? The people who wrote letters to their distant selves were significantly less likely to say they'd participate in illegal activities. David explains:
By connecting with their distant selves and with their values, they were able to understand themselves as people with core beliefs and a moral keel that would remain stable, even as other elements and situations in their lives changed.
Writing a letter to your distant self can help you determine your values, live by them, and feel more comfortable about yourself. You live by your own compass, not other people's guidelines. You make a success of your life based on what matters to you, not based on what others tell you to do.
What kind of life would you like to lead? When do you feel most alive? What gives you hope? What have been your main life lessons so far? What matters to you?
I'd like to be see myself as generous, warm-hearted, and open-minded. I'm still working on being non-judgmental.
I feel most alive when writing, drawing, or having a in-depth conversation with a good friend. Or when I'm out on my bike. I love learning new things, experimenting, and untangling complex topics to simplify them.
Learning to write well has changed my life—it made me more confident, and connected me with people across the world. Writing has helped me feel good about my life and who I am. I'd love to share this skill with as many people as possible, so we can all become more confident writers, find our voices, share our ideas, and feel good about ourselves and who we are.
Step 4. Compose your manifesto
In the first three steps, you've collected input for your manifesto.
Now, it's time to sift through your ideas and distill their essence. If you're feeling stuck, talk to friends and ask their input, or ask clients for feedback.
Which points come back in all three exercises? What matters really? And what's less essential?
I left my ideas simmering for several weeks. Deciding what matters more and what matters less, wasn't easy. Some of the ideas dropping out included:
Embrace your inner child and spark your creativity—make, write, draw, play, and tinker
The journey is more important than the destination
Plan less, act more—take tiny steps to reach your goals
Find moments of stillness and experience the world with a childlike wonder
Balance your heart and mind to make the right decisions
The five statements I chose, corresponded with the five things I want to reject most strongly: a solely money-driven business, blueprints, uniformity & gobbledygook, busyness, and scary, over-ambitious goals.
I was a little surprised the phrase "writing" didn't end up in my manifesto. But when I review what I've created, these five guidelines feel right for making decisions in my business and life. What do you think? Does this manifesto reflect what you've learned about me?
Write your manifesto this year
Life is busy.
And I know you don't really want another task for your list.
But think about this:
Do you want to do your best work? Do you want to feel fulfilled and at ease in your business and in life?
Do you want to live the life you're meant to live?