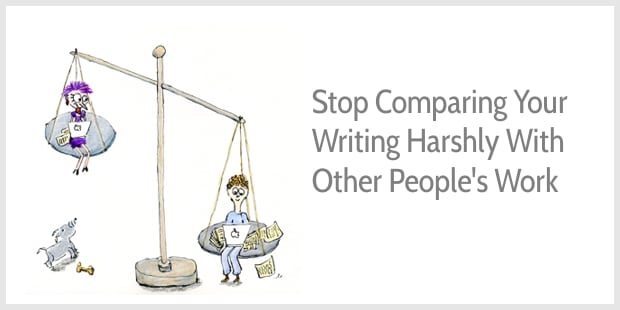 Hillary rests her head in her hands, and sighs.
Whenever she reads the work of her favorite bloggers, she feels down.
Why can they write so well? Why does her own writing suck?
She starts reading her own draft blog post … It doesn't sing. It isn't clear. It feels unoriginal. Why?
Hillary wonders whether she lacks talent and whether she should quit blogging.
Sound familiar? Have you ever read other people's work and felt a spark of envy?
I've been there, too …
The day I gave up
I recently joined an online PhotoShop course for illustrators.
But I quickly regretted my purchase.
I discovered the course was for "real" artists. And that's not me, I thought. I was in awe of the work others had posted, and felt like an amateur.
What had I been thinking?!? Why did I join a course by a lecturer at Central Saint Martins?!?
So I gave up.
I didn't read the course material. I didn't try the assignments. I didn't even start up PhotoShop (which I had never used before).
I told myself I was too tired, and I had more important things to get done.
The difference between modeling and comparing
When we harshly compare our work with others, we confirm the negative ideas we already have about ourselves. We fuel existing insecurities.
Often these insecurities are fed by comments from authority figures in the past. For instance, I struggle with the idea of being an artist. I was never good at creative work at school, and a more recent tutor made me feel that drawing with colored pencils is childish. Don't real artists use watercolors, pastels, or acrylics? Or … PhotoShop?
When I compare my drawing skills with those of others, I only see what they can do and what I can't. I ignore my strengths, and feel inadequate.
But that's no way to improve my skills.
Instead of comparing my work harshly, I should model my work and evaluate what I can learn. What do I like about other people's work? Is it the colors? The dynamic pen strokes? The idea?
Which techniques can I apply to my own work, too? What can I learn?
Modeling means reviewing how other people do their work, learn from their techniques and apply these to our own work. Modeling doesn't come with any value judgments. We don't think about whose work is better or who's a better artist. We simply want to learn.
Comparing means evaluating our work against others, and judging what's good and what's bad. When we compare, we don't look to learn, but to judge, to criticize. If we think our work is better, we big ourselves up and boost our self-esteem. If we think their work is better, we feed our own securities. We confirm our negative self-image. We think we lack talent.
But talent is overrated
In her book "Mindset. How You Can Fulfil Your Potential," Carol Dweck describes two different mindsets.
People with a fixed mindset believe they're born with certain talents. What they can and can't do is already determined. Success for them is proving how gifted they are.
People with a growth mindset, however, believe skills can be cultivated, stretched, and improved through effort. They thrive on challenges and learn from their failures. Failure isn't a sign that they lack talent, but an opportunity to learn more.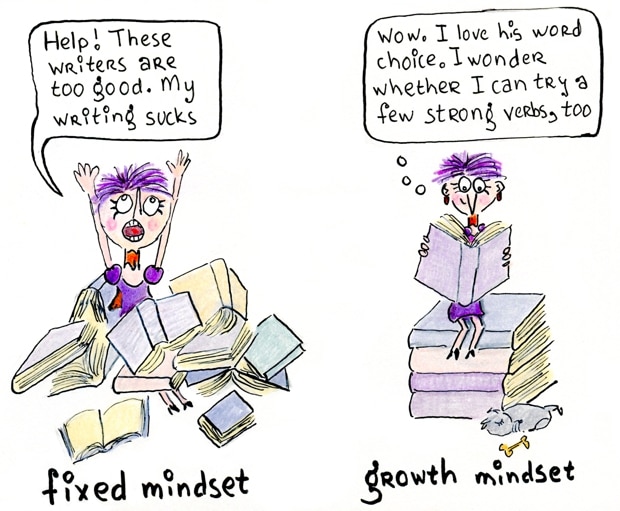 When people with a growth mindset study other people's work, they do so to learn. They believe in their ability to grow. They believe hard work and deliberate practice are more important than relying on talent.
So, after two weeks of stagnation on my PhotoShop course, I gave myself a peptalk. I asked myself:
Do I want to learn and get better? (yes)
Do I believe I can improve? (yes, of course)
Why am I so anxious? (not sure, it seems a little silly now)
How about looking at the work posted and see what I can learn? (let's try)
How to manage the scary gap
There's a gap between work we admire and our own work. Ira Glass calls it the gap between our good taste (where we'd like to be) and our skills (where we are now).
And the only way to close this gap is to do a lot of work to get better. Write more. Draw more. Play more.
The gap can make us feel insecure, frustrated, and anxious. What if we can't bridge the gap?
So when studying the work of our heroes, see it as an opportunity to learn and grow. Don't tell yourself you lack talent.
It's okay to acknowledge that the work of our heroes is better, but it's not okay to think we can't learn and improve.
Be kind to yourself
You may think that to improve you have to beat yourself up. Mistakes are wrong, and imperfections are bad.
But how encouraging is that?
To learn we have to make mistakes. We write crappy drafts. We draw wonky lines. We sing out of tune.
When we evaluate our work with compassionate eyes, our learning experience turns into a magic, enlightening journey.
So, embrace the opportunity to learn. And you'll be amazed how much you can improve and grow.
PS Thank you to Kathy Keats for inspiring this post.