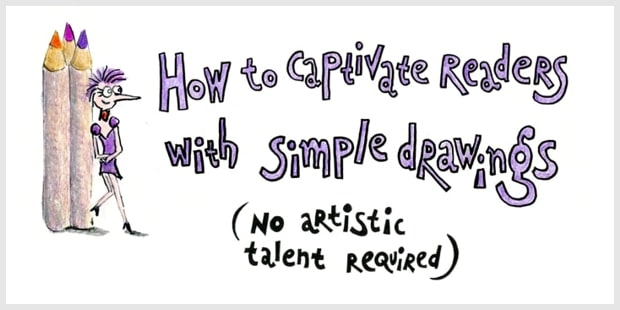 Do you ever land on a website and feel like you've been there before?
But on closer inspection, you might find that site is actually new to you.
It wouldn't be the first time.
Generic stock images make sites look like every other site.
How about making your own illustrations?
The idea of drawing my own blog images seemed crazy
I used to think I couldn't draw.
I never felt I was creative.
But I was fed up with clichéd stock photography, and Sean D'Souza claimed he could teach anyone to draw. So, I decided to give it a go. In 2013, I joined Sean's Da Vinci drawing course.
The result?
6 months after starting the course and drawing almost daily, I published my first drawing on my website: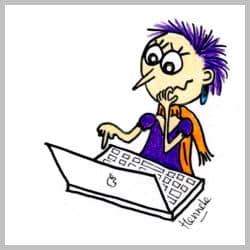 I published that drawing on 7 January 2014. I remember it well.
The evening before publication, I tried to perfect the drawing. The nose of Henrietta wasn't pointing in the right direction, her finger was odd, or the perspective was wrong. I drew 7 or 8 versions before deciding Henrietta would never be perfect.
Yet, it was that lack of perfection that appealed to many people. As Caroline wrote: "I like it simply because it *is* hand-drawn and doesn't look 'too' professional."
Hand-drawn images are more personal. As Dan Roam, chief advocate of using simple drawings for business, suggests, the roughness of simple images makes them more inviting and less intimidating.
The advantages of drawing your own images are manifold. You can express your ideas rather than use images for mere decoration. You can communicate with more impact and make your message more memorable. Your brand stands out as no one who will mistake your hand-drawn images for someone else's.
Drawing taught me to let go of perfectionism
Publishing that first drawing on my blog taught me to aim for "good enough" rather than try to achieve perfection.
I don't need to compare my drawings with the art of my favorite illustrators like Quentin Blake (best known from his illustrations of Roald Dahl books) and André Franquin (the Belgian creator of the comic book series Guust Flater, known as Gaston in the English-speaking world).
My acceptable standard isn't their acceptable standard. I draw to express my ideas, and I hope that sometimes my illustrations make you smile. No exhibition-standard required.
The idea of a personal "good enough" has been liberating. I became less critical of myself. I feel curious rather than anxious. I play and experiment more. I focus on the process of creation, and I'm less worried about results.
Above all, I learned the value of "good enough."
This doesn't mean I don't strive to be better. What I produce today is good enough for today. Tomorrow, I'll perhaps make something better.
It has been a crazy journey
Who would have ever thought this could happen?
5 years ago, I struggled to draw a circle, and now my hand-drawn images have appeared on Inc.com, HubSpot, Orbit Media, and MarketingProfs.
And what's more …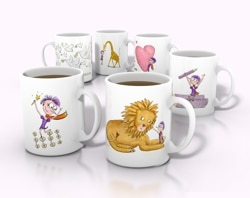 My new mugs featuring Henrietta are now available to inspire writers and their friends. The first orders have already been shipped to Japan, Australia, New Zealand, Belarus, Germany, France, Italy, The Netherlands, Canada, the US and the UK.

Haven't seen the mugs yet? Browse the US store or the
UK shop. The mugs are shipped worldwide by Zazzle.
A celebration of Henrietta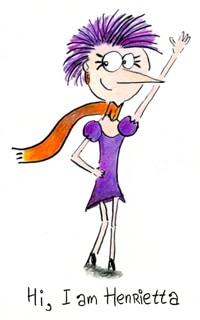 Henrietta is my cartoon character. As my alter ego, she is a little braver and more outgoing than me. She inspires and encourages me.
I created the infographic below to celebrate her. With special thanks to my drawing teachers Sean D'Souza, Alison Beere, Koosje Koene and her colleagues at SketchbookSkool.
Thank you also to everyone else who has encouraged me on my drawing journey, who has purchased a mug already and who has helped support the launch (it's been fun!).

Grab the embed code below to display the image on your website:
Blog Images: How to Captivate Readers with Simple Drawings, courtesy of Henneke at Enchanting Marketing
Let Henrietta inspire you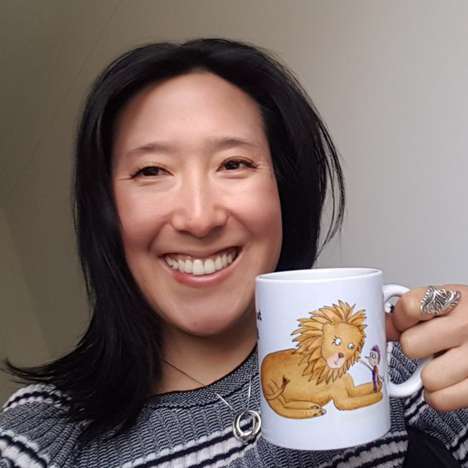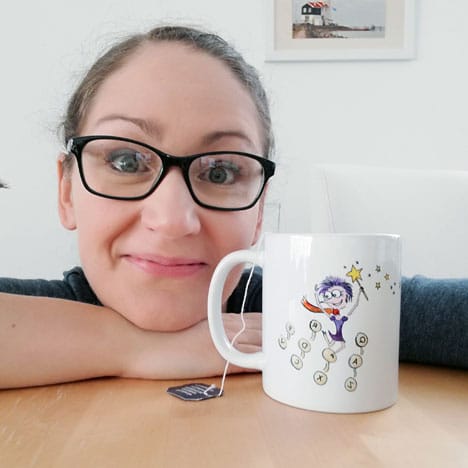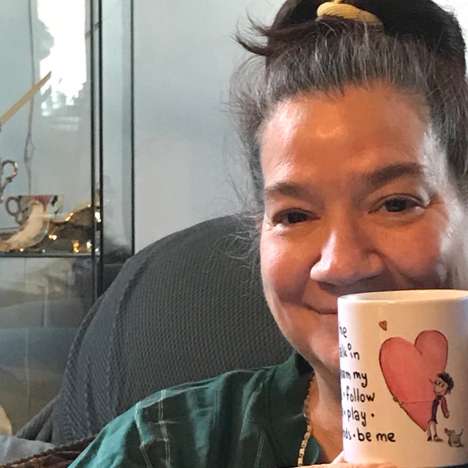 Gill Andrews wrote on LinkedIn about her Magic Creativity Mug (pictured in the middle):
(…) And while you can't talk to a friend every time you experience that impostor syndrome, you can always look at the mug, read the words and remember Henneke's many thoughtful posts on how you're good enough, and that you should just take a deep breath and keep going.
The enchanting mugs for writers and their friends are printed by Zazzle and shipped worldwide: