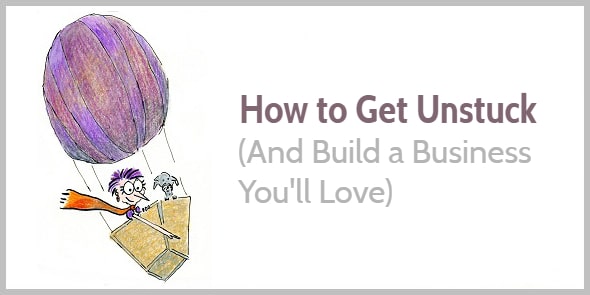 Does running your own biz make you feel stranded?
Others seem to know exactly how to build their business.
They set audacious goals. They plan their actions. They achieve their dreams.
Sounds brilliant, doesn't it?
But how does it work for you? Does business planning leave you confused, stuck, and stressed?
Planning my own business has always felt like an impossible task. I faced too many unknowns. And too many options.
When you look at my business now, you may think I've always known what I was doing.
But that's far from the truth.
I've stumbled around in the dark.
Most business advice assumes you know your destination
Many business gurus tell you to dream BIG.
And to follow their fool-proof blueprint.
It never worked for me.
I used to think building a business is like planning a cycle trip. You decide on your destination. You know how many miles you can cycle per day. You look for hotels, inns, and B&Bs along the route.
But business planning doesn't work like that—at least not for me. I didn't know my destination. I couldn't plan my overnight stops. Heck, I wasn't even sure whether I wanted to cycle or travel by hot air balloon.
Shall I explain how I built my business without having a clue where I was going?
Focus on the next step
Possibilities are endless, right?
Do you want to freelance or run courses? Do you like coaching one-on-one or want to sell books and DIY courses? Do you want to sell to freelancers or CEOs? To marketers or sales people?
When feeling overwhelmed by too many questions, I get unstuck by focusing on the next useful step.
When I started my business, for instance, I didn't know how I'd make money. I didn't know what I'd like to do or what I wanted to sell.
So I decided to start with the first step: Build an audience. I had learned how to write and how to pitch guest posts, so that's what I set out to do.
And I didn't get it right.
I wanted to attract marketers at small and medium-sized companies because that's an audience I knew.
But the people I attracted were mainly freelancers and small-biz owners.
And you know what?
Instead of changing my marketing tactics to attract the "right" audience, I changed my ideal reader profile. Because I enjoyed working with freelancers and small-biz owners.
I grew my business by trial and error. I learned to get comfortable with unknowns and followed my curiosity.
Decide with both heart and mind
In a solo-biz, planning is hard because profitability isn't the sole predictor of your success. You want to enjoy what you're doing—even if you might not know yet what your passion is. I, for instance, had no idea I'd enjoy writing and teaching others how to write.
For each decision you must balance two requirements:
Does this decision make business sense?
Does it feel good, too?
For instance, when injury struck late 2014, I had to reduce my working hours drastically. I choose which tasks to do based on a mix of business sense and feel-good factor:
I made more money per hour by copywriting than by teaching my courses. However, helping people find their voice and express their ideas excites and inspires me more. So I decided to continue with my writing courses and to quit freelance copywriting. Money can't be the sole driver of your business decisions.
While my hand-drawn cartoons have become part of my brand, the business benefit is hard to define. However, as I enjoy drawing and find it relaxing, I chose to continue with hand-drawing my blog illustrations. You don't need to maximize productivity.
In the world of growth hacking, you promote each piece of content like crazy. But I prefer content creation to promotion, so I promote less and write more.
Don't make decisions based on what other people say. Learn to trust your own judgement, and let both your heart and your mind guide you.
Find out what resonates
When you focus on building your business step by step, you become more open-minded; and you'll find surprising opportunities on your way.
If you had told me early 2012, that I'd be hired as a copywriter, I would have laughed at you. I'm not even a native English speaker, so the idea of working as a copywriter seemed ridiculous to me.
Writing books about blogging and copywriting? Even more idiotic. Early 2012, I didn't even consider myself a writer.
I didn't plan to be a copywriter. I didn't plan to write books. I didn't plan to teach business writing courses.
But I followed my curiosity and listened to my audience:
Soon after I had launched my blog, I offered a limited number of free web reviews by Skype to the people on my email list. I learned they struggled with both what to write and how to write it, and because they didn't follow a process, their writing got muddled up. That's how I came up with the idea for my book How to Write Seductive Web Copy.
I developed the Enchanting Copywriting course after participants in my blogging course told me exactly what they wanted my next course to be.
My guide on writing About pages? A blog post about the same topic generated one of my highest open and click-rates. Together with the comments and emails I received, I knew people were interested in this book because it's one of the hardest web pages to write.
My book Blog to Win Business and my Enchanting Business Blogging course were a little different—I wrote what I wished I'd had when I started my blogging journey.
When you learn how to ask questions and listen well, you find out what resonates with your audience. Keep an open mind, experiment, and let new opportunities surprise you.
Becoming my own boss has been harder than I imagined
I was crap at managing myself.
I can empathize with others, but accepting my own weaknesses?
No way.
I constantly fought with myself. I thought I was weak, unproductive and slow. A hopeless decision maker.
But over time, I've learned to accept my weaknesses and to go with the flow.
Build your business your way
The dominant business voices may seem to come from super-productive extroverts who know exactly what they're doing.
Don't let their dominance fool you.
You don't have to be like them.
It doesn't matter whether you're introverted or highly sensitive, whether you feel quickly overwhelmed or whether hairy goals scare you, whether you haven't found a passion yet.
You can find your own path. One step at a time.
So follow your curiosity.
Hop into the basket of that hot air balloon and see where the wind takes you.
Float across landscapes. Enjoy the views. And find a surprisingly delightful spot to land.
PS This post was inspired by questions, comments and conversations with various people. A recent email conversation with Kathy Keats nudged me to finally write this. Thank you all for your inspiration and encouragement.