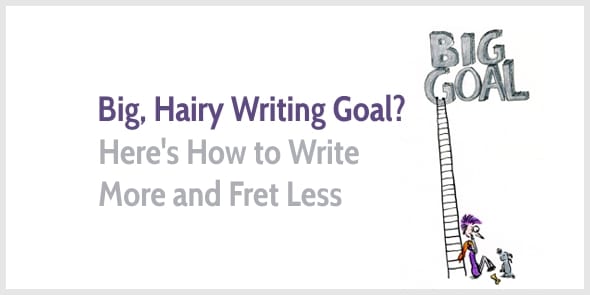 Helen Green had wanted to write a book this year.
But it's March already, and she's not written a single word yet.
Well, she's written emails, and blog posts, and she's even updated her About page. But her book? Not one single word.
Helen's enthusiasm about her book is slowly evaporating. Was this book the wrong idea? Will her readers truly like it? Does she know enough to write a whole book? Will she be wasting her efforts? What if it flops?
Sometimes, Helen tells herself to get on with writing her book. Stop faffing about! Just write it! She blocks off a Friday afternoon in her diary. But more urgent work keeps her busy. Like preparing her coaching calls. Writing her next blog post. Getting dinner on the table.
Helen feels miserable and guilty about her lack of progress. Why does she lack the willpower to write? Is she a wimp?
Whether you want to write a book, blog more regularly or finally get that email series ready, achieving writing goals can feel like a daunting, perhaps even an impossible task.
The theory about goal setting and planning seems simple enough. But the practice often feels different.
Planning gurus tell us to set smart goals
First you set S.M.A.R.T. goals—goals that are specific, measurable, agreed, realistic, and time-based. For your business these could be:
Double your email list by the end of the year
Grow search engine traffic by 10% month-on-month
Grow profitability by 25% this year
For writing, smart goals could be:
Write one blog post every week
Write 500 words each day
Write a 10,000-word book by the end of the year
Once you've set your smart goal, you can chop it into doable chunks. To write a book of 10,000 words, for instance, you may start with writing 1,000 words per week. After 10 weeks, you have a first draft and you can start editing.
In my corporate career, I've always worked with smart goals. I knew exactly what I had to achieve, so I could plan my work.
But since starting my own business I've shied away from setting big goals. And I've wondered for a long time whether there was something wrong with me. Was I not ambitious enough? Was I not a real entrepreneur?
I felt like I was just muddling through. But somehow my approach of "muddling through" helped me create a popular blog, gain a ton of search traffic and run sell-out writing courses—something I'd never thought I could do.
So, how the heck did that happen?
Why big, hairy goals can back-fire
In his book "One Step Can Change Your Life: The Kaizen Way," Robert Maurer argues that big goals are scary:
The more we care about something, the more we dream, the more fear shows up.
Some people get excited by big goals. They jump into action ready to prove to the world they can run a marathon, lose 30 pounds, or write a bestseller book. These people are in the minority. They're the lucky ones.
For most of us, big goals can set us up for failure because they make us fearful, and fear has a paralyzing effect. You might have experienced this as test anxiety:
The more important you believe the test to be, the more you have riding on the outcome, the more fear you feel. And then you find it difficult to concentrate. An answer you might have had down cold the night before seems to have withdrawn itself from your memory bank.
Maurer's approach to dealing with fear, reaching our goals, and making life changes is based on the ancient philosophy of the Tao Te Ching:
The journey of a thousand miles begins with a single step
Maurer's recommendation is to ask ourselves small questions to inspire creativity, and to take small actions to nurture habits and reach our goals. Here's how you could apply that to writing:
Which small step can I take to write more today?
Which tiny step can help me start writing that book?
Which tiny question can my next blog post answer?
Which tiny step can I take to procrastinate less today?
We tend to underestimate how much we can achieve by doing small amounts of work on a regular basis, and by making tiny changes.
How to set your writing goals
Stephen Guise wrote his book "Mini-Habits" by setting himself a target of writing just 50 words a day. He argues that writing 50 words a day sounds like such a stupidly low target, that he could even do it when he was busy, felt tired, or had a thumping headache.
On a good day, Guise often found himself writing way more than 50 words—perhaps 1,000 or 2,000. But his target remained at 50 words. So, even on a bad day, he'd still write.
Targeting 50 words a day may help overcome procrastination, but I struggle a little with the concept of nurturing a daily mini-habit of writing 50 words a day because I'm more productive when I focus on writing for a certain amount of time—even if I don't write every day. To be productive, I need to write more than a few words because I also need time to think. I'm a slow writer.
And when I set myself a target word count, the pressure to perform increases, and I don't get into a flow. I've been most productive as a writer, when I sat down to write for two blocks of 25 minutes before breakfast, at least four times a week. I simply demand from myself I stay focused on writing without getting distracted and without worrying about the result.
Whether your writing goal is time-based or word-based may depend on your writing experience and the type of writing you do.
Stephen King, for instance, is an experienced writer who's been exercising his writing muscles for many years—he knows what to expect from his writing and can set a target of writing 2,000 words a day—this is not a suitable target for beginning writers who may find Guise's goal of 50 words more encouraging.
Jeffrey McDonnell, an assistant professor, couldn't find time to write academic papers until he started his "1-hour work day." McDonnell decided to devote his first hour of the day to academic writing. Academic writing requires deep thinking so a word target is less appropriate than a focus on doing the work.
You can write faster and hit a higher word count if you're communicating ideas you're familiar with, but you'll need more time for thinking and restructuring when you write to learn and discover. Whatever writing goal you set, it's important your goal is doable without inducing fear. Your goal should be to nurture a regular writing habit rather than write that bestselling book.
When writing becomes a habit, it becomes more natural and automatic. You side-step procrastination. You write because you want to write.
And even when writing feels hard, you still enjoy it—like a strenuous workout in the gym.
At the end of your writing workout, you feel content.
PS Thank you to Kathy Keats for inspiring this post.