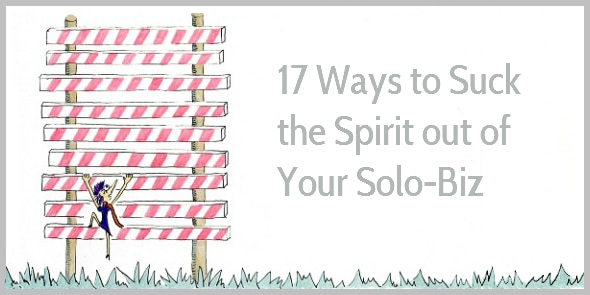 What happened to that feeling of excitement when you started your own biz?
And what about your sense of freedom?
I remember driving to the office on the last day of my corporate career.
I dreaded the day. The speeches. The goodbyes. The tears.
But driving back home?
I felt exhausted, but oddly light. A big smile on my face.
My idea was to take a sabbatical, to take it easy for a year, and discover what I wanted to do.
That sabbatical never happened
I started writing guest posts. I found my first clients. I was swept up by doing the work, and by juggling the many demands facing a one-person biz.
In an office environment, it's easy to blame others for things going wrong. Working too hard? It's surely the fault of my boss. Not happy? It's because a colleague is sabotaging your work.
When you run your own business, you're responsible for everything. From bookkeeping to marketing, from strategy to personal development, from disaster recovery to pep talk. Feeling overwhelmed, getting frustrated or angry about your mistakes?
Want to know how I learned to treasure my freedom and feel more content?
Below follow the 17 mistakes that threatened to suck the spirit out of my business. Avoid these mistakes so you can enjoy your life as solo flyer more.
1. Ignore side-projects
Why make time for a side-project, when your to-do list is already overwhelmingly long?
Research has shown that side-projects can make us happier, healthier, and more productive. Side projects are fun. They allow us to play. To experiment without pressure.
A good side project is a labor of love, giving us a sense of fulfillment. One of my most popular posts last year originated from a side-project—a course on illustrating recipes.
But I need to take my own advice as I've not done a side-project since then, and I know it's wearing me down.
2. Pick up the wrong clients
Ever had a first chat with a client, and felt that you didn't quite click? Perhaps you felt they didn't respect you, or they were insisting on doing things their way.
Whenever I've gone ahead with a not-quite-right client, projects turned out to be full of frustrations.
In the beginning, it's hard to say no to clients, but make it your priority to find out who you love working with and focus on attracting your favorite clients.
3. Not charging what you're worth
How can you charge more?
Sure, more experience, more knowledge or better skills help command higher fees, but this is the key:
Have the guts to increase your prices.
When I decided to increase my prices for each new client, I began to feel a lot happier with my business. It freed up time to improve my skills, to have more time off, and to develop my online courses.
4. Let clients dictate how you work
Working with a client is a two-way relationship. But when you try to fit your work too much around client demands, you can't do your best work.
So tell clients how you want to work. They'll respect you for having a clear process.
5. Forget why you're in business
Getting caught up in vanity metrics?
Yes, me, too. Whether it's chasing more Twitter followers, more web traffic, or more money, we easily get distracted by things that seem to matter to others, but might not matter to us.
Why did you set up your own biz? To become famous? Or to lead a life based on your own values?
6. Let people take advantage
I've always found it hard to say no.
But I've also learned I can't give away my time for free to everyone who asks. I must set my own boundaries. I stopped giving away my time by reviewing websites for free.
7. Let your inner critic spoil your day
When you run your own biz, your insecurities will show up and make a scene.
Understand what's bugging you and find a way to deal with your inner critic. And you know what? Since I wrote this blog post about my inner critic and invited her for a cup of tea, we're getting on fine.
8. Don't prioritize sleep
Sleep is more important than you think. A study showed that sleeping consistently for only 6 hours a night impacts our cognitive abilities as much as staying awake for two whole nights in a row.
Switching off my computer earlier and sleeping more made me more relaxed, productive and happier.
9. Consider time as an endless free resource
How do you want to allocate your available hours? What gives you most energy? And what helps boost your business?
When I started to schedule my work and made clear decisions on what I would NOT do, I learned to work virtually stress-free.
10. Go it all alone
I have such a strong wish to find my own way, to be fiercely independent, that I sometimes forget to ask for help.
11. Forget your performance review
A boss should review your performance at least once a year. She should compliment you on what's gone well, and discuss how you can improve. Together you can discuss your personal development goals for the next year.
As you're your own boss, how do you review your performance? When do you congratulate yourself on your progress? How do you ensure you keep growing?
When I focus too much on my future goals, I forget to celebrate what I've achieved so far.
12. Umming and ahhing
We've all been there.
Should I write an ebook or develop a course? Should I blog more or less often? Should I set up a Facebook account or try Instagram instead? Should I take on my client work?
Running a business means making a lot of decisions.
And making decisions guzzles up a lot of energy and time.
I try to spend less time on toing and froing, so I have more time for doing the work. I revisit decisions less often. I postpone decisions that are not relevant yet. And I try to limit the time for deciding what's next.
13. Comparing yourself to others
Let's be honest … sometimes we feel a pang of jealousy.
How come others seem to achieve so much? With so little effort?
I remind myself that the only useful yardstick is comparing my work this year to my work last year. How have I improved?
14. Race from project to project
When did you last step back to reflect? When did you decide to change course or experiment?
15. Spend time on irrelevant details
You know obsessive perfectionism stops you from making progress, don't you?
While learning how to draw, I discovered my skills improved faster when I drew a lot. Sometimes quantity beats quality.
It's a tough lesson—I've not quite mastered embracing imperfection yet.
16. Don't take breaks
Have you blocked time in your calendar to switch off from work?
I've given myself permission to skip blogging occasionally. Why be religious about blogging every week?
Breaks refuel your energy and reignite your creativity.
17. Delay happiness
During my corporate career, I used to think "After my next promotion, I can start working less and enjoy myself more." When I started working for myself, I thought "Once I have more email subscribers, I can work less and enjoy myself more."
By chasing future goals, I forgot to enjoy the present.
In the last eighteen months, I learned to slow down.
I quit chasing big goals. And I stopped postponing happiness.
I learned to love my work today. To enjoy writing and teaching. To enjoy a walk in the sunshine. Spring flowers. Whatsapping with a faraway friend. Just being me.
What can you do to feel better today?
Reader Interactions