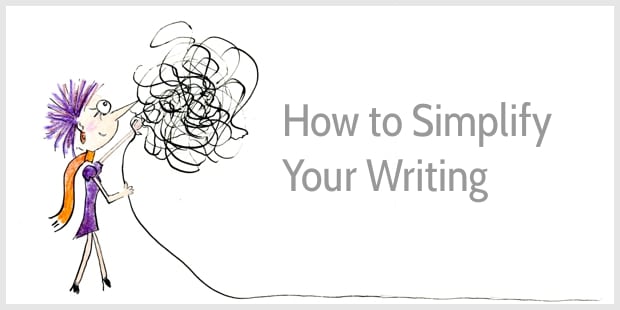 Let me admit it …
I'm an impatient reader.
When a text is confusing or complicated, I quickly get distracted.
I do love learning new things.
But I'm too lazy to decipher a writer's ideas.
I'm sure I'm not alone.
How can writers simplify their writing so they can keep impatient readers like me captivated?
Fuzzy thinking hides in long sentences and in paragraphs
So, to avoid fuzzy writing try this practice:
Compose relatively short sentences
Write one-sentence paragraphs
It's a tough practice …
Each sentence should be accurate and clear, and each sentence should follow the previous sentence logically.
This practice forces you to disentangle your thoughts. There's no hiding.
Sentence by sentence, you lay out your argument.
Shall we look at an example?
Example 1: A help text in simple sentences
Mailchimp offers email marketing software, and the Help section on its website explains the difference between hard and soft bounces.
Below follows part of that explanation—I've changed the paragraphs so each sentence stands on its own and I've numbered the sentences:
(1) When an email cannot be delivered to an email server, it's called a bounce. (…)
(2) We categorize bounces into two types: hard bounces and soft bounces.
(3) A hard bounce indicates a permanent reason an email cannot be delivered.
(4) In most cases, bounced email addresses are cleaned from your audience automatically and immediately.
(5) Cleaned addresses will be excluded from all future campaign sends.
(6) Here are some common reasons an email may hard bounce.
Recipient email address doesn't exist.
Recipient email server has completely blocked delivery.
Each sentence above furthers the explanation on bounces, just one step at a time:
Sentence 1 explains what a bounce is.
Sentence 2 suggests that two types of bounces exist. The writer may have been tempted to jump straight into explaining the difference between the two types of bounces; but that comes later; this sentence only mentions the two categories.
Sentence 3 defines a hard bounce.
Sentence 4 explains what happens with bounced email addresses.
Sentence 5 explains what that means for your future email campaigns.
Sentence 6 explains the two common reasons why hard bounces occur.
Clear, eh?
The explanation is easy to follow because each sentence communicates just one piece of information. And then the next sentence takes that explanation one step further, and so forth.
Readers get exactly the information they need. Nothing more. Nothing less.
This same principle also works for more complicated topics.
Let's have a look …
Example 2: A lawyer's commentary
David Allen Green is a lawyer who commentates on UK law and policy issues.
I enjoy reading his blog because he makes complicated issues—such as Brexit policies and constitutional law—understandable, even to a lay reader like me.
Green consistently writes one-sentence paragraphs; and each sentence is clear and simple. Here's an example from a blog post about animal rights:
Once I did not think animals should have rights.
To the extent I had any view on the subject, my view was that 'animals don't have rights, but humans have responsibilities'.
After all: how could an animal have rights if an animal could not enforce them?
But.
The more I thought about it, the more that view just did not add up.
Lots of humans have rights that have to be enforced on their behalf – minors and the incapacitated, for example.
Even things that do not actually exist in physical form have rights and legal personality – corporations for example.
And so the fact that animals could not enforce their own rights was not a reason to deny them rights.
Then, as I looked at animal welfare law in the United Kingdom – a complex sprawling mess of legislation with arbitrary distinctions between species and various levels of protection (and lack of protection), and with varying degrees of enforcement (and lack of enforcement), it seemed to me that it would be far better if the whole thing was replaced with a single Animals Act (like the Children Act).
And if so, then the basis of the legislation should be that all animals have rights – not just the lucky ones.
Have you noticed how each sentence matters?
How each sentence gives one extra piece of information, expanding the argument?
Despite one long sentence, the text is easy to read and the argument is easy to follow.
David Allen Green explains why he writes in one-sentence paragraphs:
There is a principle in legal drafting known as the 'rule against surplusage'

The more sentences you have in a paragraph, the weaker the proposition

You can end up with long paragraphs which make no point at all

And my one sentence-paragraph style seeks to avoid that
Some people think that using difficult words and complicated sentences is a sign of superior intelligence.
But Green shows that the opposite is true.
By simplifying his writing, he shows his clarity of thinking, and he helps readers follow his thought process. He makes complicated subjects easy to understand, and that's surely a sign of intelligence.
You don't have to publish your work in one-sentence paragraphs, like David Allen Green does. But it's a good practice to help clarify your thinking.
How to disentangle your thinking
Shall we look at the process of turning fuzzy thinking into simple writing?
Here's a fuzzy description of a consultant:
John brings energy to his work fueled by the possibility of what could be paired with an ability to turn ideas into action, notice strengths and potential in others and elevate these characteristics even more.
The first problem with the sentence above is that it has too many ideas. The second problem is that each idea remains abstract. Can you picture John? Can you imagine how an organization would benefit from his work? Nope, me neither.
To disentangle this sentence:
Cut it into parts (one tiny idea per part)
Scrap what's unnecessary
Make what's left over more vivid
So, the first step is to break the sentence up:
John brings energy to his work.
He is fueled by the possibility of what could be.
And he pairs that sense of possibility with an ability to turn ideas into action.
He sees strengths and potential in others.
And he elevates these characteristics even more.
Next, comes the most difficult step: Scrap the sentences that don't matter and communicate the essence of your message succinctly.
It can help to highlight the most important phrases first. I highlight: Energy, a sense of possibility, seeing potential in people, turning ideas into action. With a little bit of playing and rephrasing, I get to the essence of the message in two sentences:
John sees possibility everywhere and potential in everyone.
His energy helps your team turn ideas into action.
Much simpler, right?
But it's still a little abstract, so an example can help make it more vivid:
John sees possibility everywhere and potential in everyone. His energy helps your team turn ideas into action.
For instance, when Covid hit, sales at the Brilliant Retailer slumped. The marketing budget shrunk, and the marketing team felt under pressure and deflated.
Mid 2020, John helped organize 3 online brainstorm sessions. The team came up with low-cost marketing ideas, and sales increased by 7.8% in 2021.
Writing is often a process of subtraction and expansion.
First, pare down writing to its essence.
Next, expand with examples and details to make your message more vivid.
A simple text is almost effortless to read …
And it can feel like the words have just flowed out of the writer onto the paper.
But that's not how writing simply works.
The LOWER the effort to read, the HIGHER the effort of the writer.
Writing clearly and simply is hard work. But you know what's so wonderful about it?
The writing process crystallizes your thinking. Your ideas become sharper, more luminous.
And readers will love how you make them feel smarter.
Happy writing!