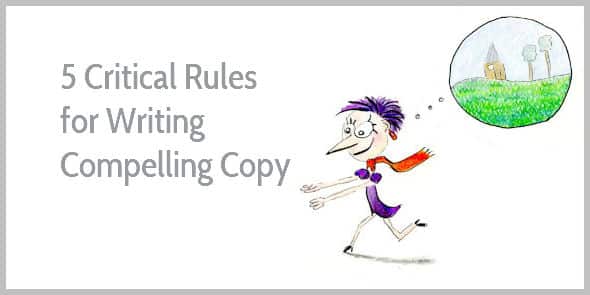 Infuriating, isn't it?
You follow a few blogs about writing.
And diligently read their posts.
You even devoured a few books about copywriting.
But when you try to implement the advice?
You feel overwhelmed.
Where should you start? What's the most important advice?
Today, I've gathered the 5 most important copywriting rules—as taught to us by legendary copywriters.
You may think it's weird that I'm sharing rules from old chaps who've passed away a long time ago.
Hasn't the world changed?
Hasn't our attention span shortened so much that even a goldfish has a longer attention span?
Yep, that's true. The world has changed. Humans have changed.
Instead of watching TV, we're netflixing tonight. We write LOL instead of How funny! Rather than a Rolex, we choose the latest Apple iPhone as a status symbol.
The symbols, the words, and our activities might have changed, but our basic human instincts have remained the same. We're still looking for belonging, comfort, love, freedom from fear.
That's why the most essential copywriting rules haven't changed in the last 100 years. Whether you're writing a sales email, a landing page, or a direct mail ad the basic rules are the same. These rules have withstood the test of times.
Even when you follow only these 5 essential rules, you can turn average content into persuasive copy.
Sound good?
Further reading
The truth about writing your own copy
To write compelling copy, learn how to listen well.
Listen to the phrases your clients are using. Hear what desire, what they're keen to do, what they'd love to have. Understand what they're struggling with, what feels like a time suck to them, what irritates them.
When you truly want to understand your clients, you learn how to listen well and write well. You become more persuasive. You sell more. Without extra effort.
Listen more.
Write less.