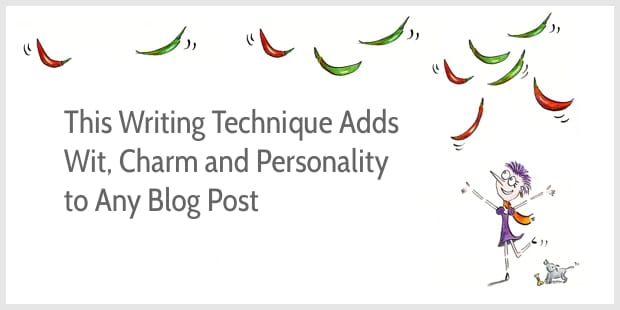 I'm a tad embarrassed.
A client asked me a good question: How can I entertain my blog readers?
But my answer was evasive …
When your writing is helpful to your readers and when you avoid rambling, isn't that enough?
In hindsight, I'm not sure I was right.
In this age of information overload, shouldn't we aim a little higher than helpfulness?
I've written before about writing like a human so we can engage and connect with your readers. But should we also try to make our readers smile?
A couple of weeks ago, I read the Pulitzer-winning novel Less by Andrew Sean Greer, and I was struck by the fun metaphors. Now here is a technique, I thought, we can all use to add a dash of wit to any type of writing, even serious business writing.
Shall I explain?
How to create a fun metaphor
Metaphors compare the known to the unknown, the abstract to the concrete, or dry stuff to more fascinating ideas. For instance: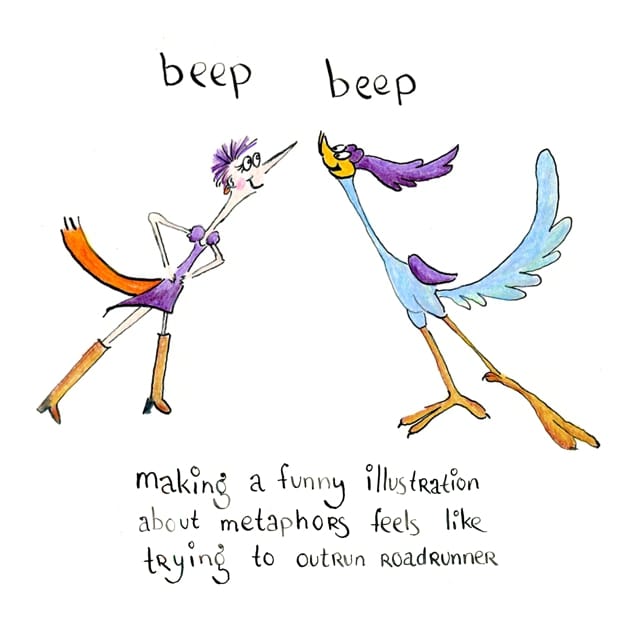 To create a metaphor:
Compare two things at a similar level: an activity to an activity, a thing to a thing, or a person's role to another role
Add specific details to make the metaphor clear and vivid
And to make your metaphor funny, you also have to:
Surprise your reader
Find similarity between two widely different things
Not all metaphors need to be funny. If your aim is to explain a concept, you can simply paint a vivid picture.
In their book Illuminate, for instance, Duarte and Sanchez compare the role of leader to the role of torchbearer, and they compare the future to a formless void:
The future is a formless void,
a blank space waiting to be filled.
And then a Torchbearer envisions a new possibility.

(…)

Some say being a torchbearer is a burden.
Some say it's a blessing.
Either way, those who light the path
are the ones who change the world.
The torchbearer metaphor is not surprising, but the aim of Duarte and Sanchez is to educate, so the metaphor is fine—it makes the abstract concept of leadership concrete.
Examples of fun metaphors
In his book Less, Greer describes how Arthur Less, the protagonist kisses:
He kisses—how do I explain it? Like someone in love. Like he has nothing to lose. Like someone who has just learned a foreign language and can use only the present tense and only the second person. Only now, only you.
Had you ever thought of comparing kissing to speaking a foreign language?
I hadn't.
The comparison comes as a surprise, and at first the metaphor may even seem a little crazy. Its this weirdness of comparing widely differing ideas that makes a metaphor funny.
Greer relates how Arthur Less has little sense of self. In his younger years, he is told he is "without skin." Then comes another metaphor:
By his forties, all he has managed to grow is a gentle sense of himself, akin to the transparent carapace of a soft-shelled crab.
And then comes the end of his forties:
"Strange to be almost fifty, no? I feel like I just understood how to be young."

"Yes! It's like the last day in a foreign country. You finally figure out where to get coffee, and drinks, and a good steak. And then you have to leave. And you won't ever be back."
Wit is a form of creativity—it's discovering a surprising similarity between unrelated things. And to make the unusual similarity clear to your readers, you add details demonstrating the likeness.
A subtler sense of wit
Metaphors don't always pop into your mind easily.
Sometimes, you go out for a walk and, at once a metaphor pops into your mind. Woohoo!
At other times, you rack your brain, and no matter how long you search, no metaphors are to be found.
When metaphors are elusive, personification can come to your rescue. Personification is a kind of metaphor where you compare an abstract concept to a human. It's like breathing life into something lifeless.
For instance, here's how Joe Moran breathes life into the concept of bad sentences:
The sentence just limps and wheezes along to its sad end with a tuneless clank.
And Verlyn Klinkenborg explains the purpose of a good sentence by comparing a sentence with an actor on stage:
One by one, each sentence takes the stage.
It says the very thing it comes into existence to say.
Then it leaves the stage.
It doesn't help the next one up or the previous one down.
It doesn't wave to its friends in the audience
Or pause to be acknowledged or applauded.
It doesn't talk about what it's saying.
It simply says its piece and leaves the stage.
The more life you breathe into the abstract concept, the more interesting the personification becomes.
How to be witty
To be witty and entertaining, you don't need to turn yourself into a stand-up comedian.
You don't even need to tell laugh-out-loud jokes.
In fact, as a blogger, you're better off adding a modest dash of fun to your writing than aiming for laugh-out-loud jokes. As Doug Kessler suggests, "laugh-out-loud-funny is a low-percentage game." It's easy to go wrong, and leave your readers feeling baffled.
So, let's entertain our readers with a dash of wit and a splash of personality instead.
Have fun!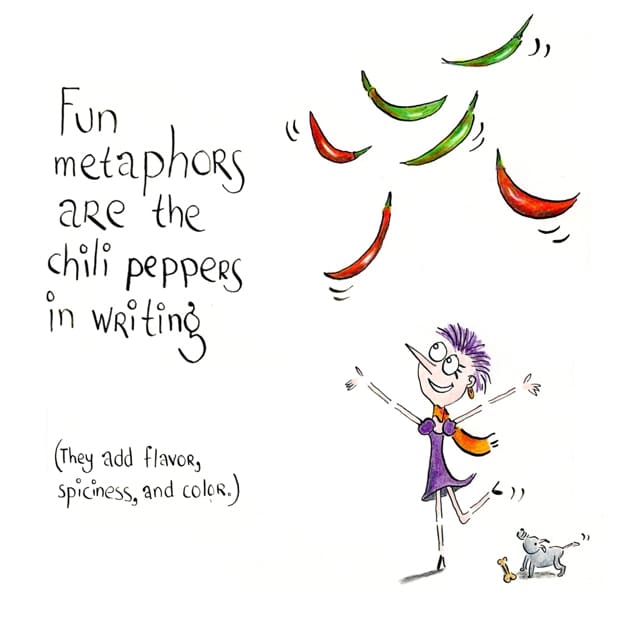 PS Thank you to Anne for inspiring this post.
Books mentioned in this post:
The links below are Amazon affiliate links.