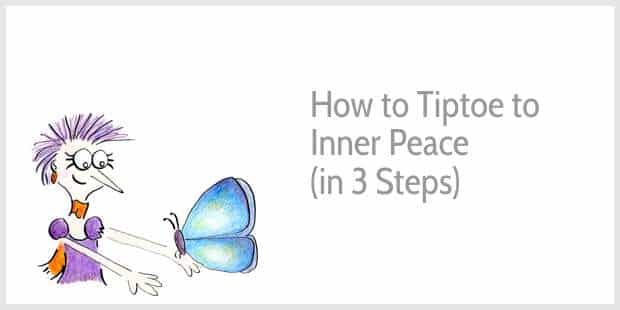 At 3 AM, I'm tossing and turning.
I try to push A.'s hurtful message out of my mind, so I can fall asleep again.
But it doesn't work. My body tenses up, and I'm getting fed up with myself.
Why can't I let go?
Stop thinking about this!
Why does this message hurt me so much?
This way I'll never fall back asleep again!
As I feel the frustration racing through my veins, my mindfulness training kicks in. I realize that pushing my thoughts away only makes the message bounce around more aggressively.
Sound familiar?
A quick experiment
In his excellent book The Antidote: Happiness for People Who Can't Stand Positive Thinking, Oliver Burkeman describes the White Bear Challenge. Are you up for it?
It's simple: try not to think of a white bear for a whole minute. Go ahead, set a stopwatch and see how long you can go without thinking of a white bear. I'll wait here for you.
And?
Don't despair. No one can do this. As Burkeman suggests:
The white bear challenge, after all, seems like a metaphor for much of what goes wrong in life: all too often, the outcome we're seeking to avoid is exactly the one to which we seem magnetically lured.
Of course, it's what happened when I was tossing and turning at 3 AM. A.'s message got stuck in my mind precisely because I resisted it.
The harder we try to let go, the less able we are to let our thoughts or feelings drift away.
How to let go in 3 steps
Mindfulness teaches us a counter-intuitive approach:
Let it come: Instead of trying to push a message away, let it come closer to you—welcome it.
Let it be: Observe your thoughts and notice the sensations that your emotions cause in your body.
Let it go: We can't make thoughts go away and we can't push feelings and emotions away. But we can acknowledge the impermanence of our thoughts and feelings, and let them drift away.
The last step follows naturally when you let your thoughts and feelings be.

So, what happened that night?
I stopped pushing the message away, and I felt it crawling closer to me. I noticed the hurt nestling in my chest, I felt the tension in my lower jaw, I observed my psoas muscle getting prickly.
While I observed the tension in my body, I naturally started to relax. The ugly message drifted away, and I fell back asleep.
Your inner critic can quieten, too
When writing, I used to fight with my inner critic.
And when that didn't work, I tried to ignore her.
Both approaches are exhausting and my inner critic kept turning up, combative and fierce.
So, I learned to get closer to my inner critic. I observed her nasty remarks, such as: you're useless, you're such a sissy, this is going to be a crappy blog post. I could feel my fears vibrating in my body, and I realized my inner critic was a little me who was scared of messing up and making a fool of herself. I learned to be gentle to her and she doesn't distract me so much anymore.
The approach to letting go is the same, no matter whether it's negative self-talk or messages from others that hurt you: Don't fight. Don't ignore. Instead, let it come, let it be, and then let it go.
Of course, getting rid of nasty feelings and thoughts isn't always that easy. Some images and messages come back to haunt us time and again. They've nestled themselves in our body over time.
From a young age, I learned to keep my chin up
I was sickly as a child, but I ignored the pain as much as possible because I was told to be strong.
In an inspirational interview, psychiatrist Bessel van der Kolk calls Western society "astoundingly disembodied and uniquely so."
We may be good at compartmentalizing and locking away our hurt for many years, but our bodies remember, and when we ignore our feelings, we create a disconnect between our body and our mind. Our bodies know, even when our mind refuses to care.
After suffering a traumatic injury, my chin-up approach failed spectacularly. My mind became so disconnected from my body that I felt unsafe in my own skin, and I didn't trust my mind to take care of my body.
Sometimes I'd wake up not feeling my body, as if it didn't exist. At other times, my mind would free itself from the pain, abandoning my body to roam around freely. But that sense of freedom was a scam. I was fooling myself, and creating more havoc in my body.

We all carry hurt from the past in our bodies
Whether small or big, emotional pain stays with us.
Practicing mindfulness meditation helps to acknowledge such hurt and become more compassionate to yourself.
I practice my observation skills, and stop being an eternal analyst. An analyst is preoccupied with Why questions, like: Why do I hurt so much? Why me? Why can't I get over this?
In his book Insight, Tasha Eurich writes that Why questions trigger rumination and a feeling of powerlessness as we dig into the past and wonder why our life turned out in a certain way.
Mindfulness teaches us to focus on the What instead:
What thoughts are coming up in our minds?
What emotions are we experiencing?
What sensations do you feel in your body?
When a Why question is haunting me, a feeling is usually hiding behind it, such as confusion, sadness, or even loneliness. Becoming aware of this feeling helps to let it pass and the importance of understanding the Why shrinks.
As I learn to connect with my emotions and feelings, I can co-exist with my pain, and I can let the tension in my body ease. I can let the past be the past, and be more present with what's happening right now.
Slowly, I become whole and safe again so I can take care of my body and heal.
No life hack exists
Sometimes, I still look for a simple answer, as if a quick fix to health and happiness exists.
But there's only a process.
A process of listening to our bodies, our hearts, our souls. A process of healing.
An invitation to be here, right now. Not in the past. Not in the future. But here, in this moment.
Thank you for reading.
Be gentle with yourself, my friend.
Be kind.

Want to write with more ease and joy, too? Check out the Write It, Don't Fight It course. Get the full details and read reviews here.
Books mentioned in this post:
The links below are Amazon affiliate links.