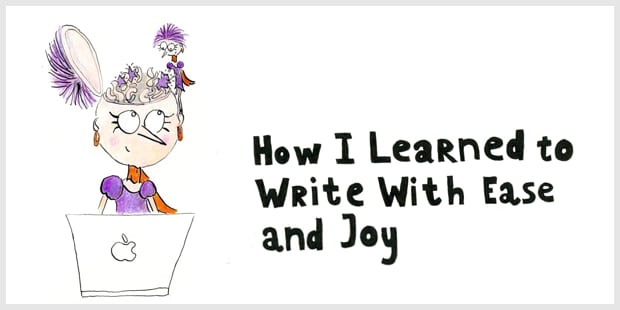 When I started blogging in my early 40s, I was a procrastination champion.
I often hated having to write, and I allowed myself to get distracted by everything—the neighbors' barking dogs, Twitter, email, random thoughts.
Staying focused on writing felt impossible.
I was also awfully slow.
I kept revising my content endlessly, and worried whether I could ever make it good enough. I thought this struggle was normal. Aren't even the best writers tortured geniuses?
I didn't realize how much I was sabotaging my writing.
Shall I tell you how I learned to make writing easier and more joyful?
Writing doesn't need to be a torture
Over the years, I learned several tricks to overcome procrastination.
I chopped up the writing process, and my writing tasks became more doable. I discovered the value of shitty first drafts, so I got less stressed about writing a draft. I learned to trust my process and nurtured the right habits to overcome writer's block.
But the biggest impact on my writing journey?
A more mindful mind.
For years, I discounted the idea of meditation as woo-woo. Practicing mindfulness to overcome my writing fears seemed weird. I even denied I was anxious. I thought writing was just a struggle.
But I had to change my views.
Since a car crash several years ago, I've been struggling with chronic pain, and my Yoga therapist gently encouraged me to try meditation.
Meditation has helped me reduce chronic pain and anxiety. Plus, it has had a surprisingly positive effect on my writing practice.
Mindfulness reduces suffering
Pain triggers many emotions, such as:
Fear: What if this pain indicates another setback?
Worry: What if the pain never goes away?
Stress: What if I'm too tired to get my work done?
Frustration: I can't cope with it anymore!
Mindfulness has helped me become more aware how pain triggers emotions. And when you become more aware, you can stop the trigger. You can detach the emotions from pain and let go.
So, pain becomes just pain. Without the suffering.
When writing feels hard, we can trigger similar emotions:
Fear: What if our writing isn't good enough?
Stress: What if we're wasting time working on this piece of content?
Worry: What if we get critical comments? What if we look stupid?
Frustration: Why can't I write faster?!?
Writing is hard. There's no doubt about that. Communicating ideas with clarity requires deep thinking and hard work.
Mindfulness can't magically untangle messy thinking to formulate our ideas. We still need to think. But mindfulness can help us let go of disruptive thoughts and negative self-talk. It can help us stay more focused.
Think about this: What happens when you hit a difficult point in your writing? Which negative thoughts swirl around in your mind and stop you from thinking clearly?
The power of space
Between stimulus and response there is a space. In that space is our power to choose our response. In our response lies our growth and our freedom.
~ Viktor E. Frankl (From: Man's Search for Meaning)
Mindfulness helps us become more aware of our reactions to events. We learn to observe our thoughts, emotions, and actions. We learn to pause and create a little space to evaluate what's going on. We can choose how to react.
So, when you get stuck with writing, observe yourself:
What action do you take to escape from the challenge? Do you flee to Twitter or Facebook? Start answering emails?
How does your stuckness make you feel? Do you get irritated? Frustrated? Stressed?
How does your body react? Can you feel your jaw muscles get tense? Or your shoulders?
Instead of being swept up in a maelstrom of thoughts, I learned to take a step back, observe, and change my reactions.
Previously, when I got stuck, I would mindlessly fool around on Twitter or answer non-urgent emails, wasting precious time and energy.
Now, I consider why I'm stuck and how to get unstuck. I may let a difficult part of a blog post simmer for a while, and do some editing instead. Or I sketch out my thoughts on paper if my idea still feels messy.
Stop running away
Our natural instinct is to run away from fears and difficult tasks.
I used to run away a lot. I made myself busy so I didn't have to think. But I only let my fears grow, and I made difficult tasks seem even harder.
When you practice meditation, you learn to stop running away. Instead, you get closer to your fears. You may even befriend your fears.
In September 2015, I wrote a post about inviting my inner critic for tea. It was the first time I drew a picture of my inner critic: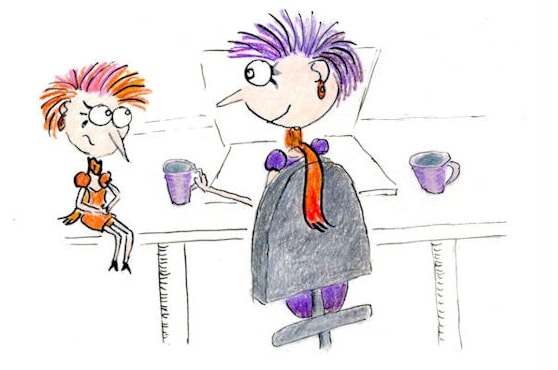 At that time, I wasn't quite friends with my inner critic yet, but I was learning to observe her behavior and find ways to deal with her critical comments. I was getting closer.
After writing that post and drawing that picture, writing became easier. I learned that my inner critic was only telling me that what I was doing mattered to me. She's only trying to keep me safe.
The better I got to know my inner critic, the gentler I became with her (and with myself). Somehow, she's shrunk in size, and I'm almost able to hug her now.
I've not become fearless
Fears are a sign that I'm getting out of my comfort zone. I'm trying something new. I'm writing something that matters to me (like this post).
But my fears don't sabotage me anymore. I acknowledge my fears and keep writing.
In the throes of darkness, fear makes us feel as if magic doesn't exist—but what if it's actually telling us exactly where to find it?
~ Meera Lee Patel (From: My Friend Fear. Finding Magic in the Unknown)
Explore the ripples
Earlier this year, I tried to get back into swimming.
I love swimming and I have dreamed about getting back in the pool since that car crash years ago.
But the swimming was a disaster.
And that failure hit me like a sledgehammer.
For over three years, I kept a brave face. Living with chronic pain and exhaustion felt tough, but I was coping. I was still enjoying my life. I kept hope, and I focused on the positives. I enjoy my daily walks. I'm thankful I can still cycle. I'm grateful I run my own business. I love my work.
But after the swimming experiment, I started having panic attacks. My body was ripping itself apart at its core. I didn't know how to cope anymore. I feared pushing a self-destruct button.
Meditation rescued me.
I learned to think about my emotions as water ripples, created by a small pebble. When my body tailspins out of control and I panic, I can't contemplate the inner ripples—pain and fear. However, emotions at the outlying ripples are easier to contemplate, so I can still stay present. I can examine my stress, I can feel my resistance, and I can slowly let them fade away. It's kind of weird: First you have to get closer before you can let go.
Maybe I needed a breakdown to face my fears, and to ponder what to do with my life.
I've decided to take a step back and to change my annual course schedule. I want to teach shorter, more focused courses, and I want to create more self-study courses. I'm not sure how to do this yet, so I'll use the second half of 2018 to get organized. I won't teach any further courses this year.
I love what I'm doing. Teaching, writing, and drawing are a big part my life. It's who I am.
So, I'll continue doing what I love most, but I'll find a way around my limitations, and listen more to my body, my soul, my heart.
Stop judging yourself harshly
The old Henneke would have said, you're a wimp. Why can't you work more? People love your courses, why change?!? You're crazy.
But becoming more mindful helped me to see how harshly I've always judged myself:
Finding it hard to write? You must be a bad writer.
Procrastinating? You must be lazy.
Worried whether you're good enough? You're such a wimp.
Judging ourselves harshly is unhelpful. We make our suffering worse. So, be present with whatever life throws at you. Non-judgmentally.
As my health is improving and my mind is calming down, I can honestly say: Despite pain and exhaustion, I feel happier than when I was running like crazy on the corporate treadmill.
I enjoy my writing more. I savor the small pleasures of life. I am more at ease with who I am.
I'm learning to be kinder, towards others and myself.
PS
If you're a mindfulness beginner or skeptic like me, I recommend the book "10% Happier"
by Dan Harris. You may also like "I Am Here Now"
by the Mindfulness Project. (Amazon affiliate links)

Reader Interactions