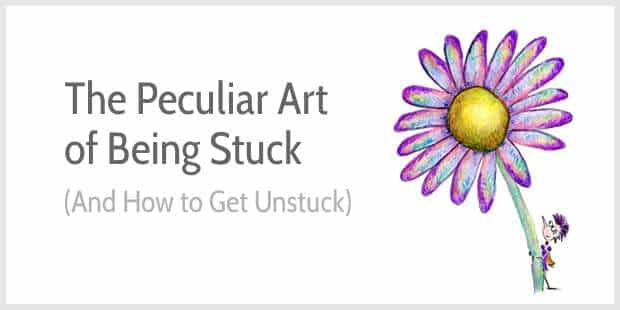 I come from a family of workaholics.
Our default is to chase goals, solve problems, fix wrongs, strive to be better, do more.
We're always on our way to the next destination.
You, too?
Modern technology encourages us to do rather than to be. Even when queuing up at the supermarket, we answer emails. And while waiting for a taxi, we check Twitter or mindlessly scroll through Instagram.
When did you last pause?
And what did you notice when you paused?
Research suggests that many of us feel uncomfortable to be alone with our own thoughts. Some of us rather give ourselves a mild electric shock than sit and do nothing.
Isn't that weird?
Doing is easier than being
Doing gives us a sense of control.
Yet, the ability to be on our own with our thoughts is key to creativity. To solve problems, we have to embrace the discomfort of being stuck.
Andrew Wiles is the mathematician who solved Fermat's Last Theorem. To solve this puzzle he had to get through seven years of stuckness.
We all find [maths] difficult. It's not that [mathematicians are] any different from someone who struggles with maths problems in third grade…. We're just prepared to handle that struggle on a much larger scale. We've built up resistance to those setbacks.
To solve the 400-year old puzzle of Fermat's Last Theorem, Wiles had to be comfortable with stuckness and not let frustrations overpower him.
The stamina to keep staring
Artist Christoph Niemann integrates objects in surprising ways to create his "Sunday Sketches." Here's an example:
Niemann recently described his process:
(…) it's never about a sudden inspired spark. I pick a random object, and then I just stare at it. I look at it from different angles, play with the light (usually just by moving my desk lamp). And I try to open my mind as wide as possible, to see if a peculiar angle reminds me of a familiar shape.

More often than not this yields … nothing.

And when it does, I doubt it's because I have a special gift at making these visual connections. It's because sometimes I have the stamina to keep on staring, when a saner person would do the reasonable thing and get on with their life instead.
As Niemann suggests, he finds creative ideas not because he's more creative but because he's okay with staring at an object; he doesn't give up.
As writers, we face instances of stuckness, too
For instance, one moment we feel excited about an idea for a new post. The next moment we sit down to write and don't seem to be able to formulate our thoughts. Our enthusiasm evaporates, and we feel stuck.
Or perhaps you've written your draft, but the next day your writing does not seem as good as you thought. The idea of revision can be overwhelming and make you feel stuck.
Stuckness is uncomfortable, and finding an escape route is tempting—like catching up on Facebook, scrolling through our Twitter feed, or playing a game of Solitaire or Candy Crush.
But escaping rarely helps solve stuckness
The Navy Seals test their ability to deal with stuckness by "drown-proofing"—their feet are bound together, their hands are tied behind their back, and they're thrown into a 9-foot-deep pool.
Amazingly, the key to their survival is not strength, not endurance, not even their ability to swim. The key is to stop doing and to "just be." Mark Manson describes it like this:
The trick to drown-proofing is to actually let yourself sink to the bottom of the pool. From there, you lightly push yourself off the pool floor and let your momentum carry you back to the surface. Once there, you can grab a quick breath of air and start the whole process over again.
Our human instinct is to fight, to try to untie our strings, to take control, to do.
But sometimes it's better to do nothing and to stay with our fears until a solution shows itself.
At Easter this year, I nearly fell to pieces
At the time, I blamed my breakdown on a failed swimming experiment.
But the truth was that years of chronic pain and fatigue had eroded my resilience. As a doer, I push my boundaries all the time. And when I pushed too far yet again, I crashed and felt like my life was falling apart. What if I'll never get my old energy back? What if this is my kind of life?
I was afraid of losing myself.
For several years, I've practiced mindfulness, and it has helped me deal with my writing frustrations. Instead of escaping, I know how to stay with my stuckness, find a way through, and stick to writing.
This year, my Yoga therapist taught me how to apply the same skills to staying present when my fears, pain, and fatigue seem to overpower me.

As human beings, we don't like being stuck
Busyness feels like a more comfortable option. But sometimes, we have to pause and create inner space so we can come up for air—just like those Navy Seals.
When we sit with our discomfort, we can approach our stuckness with a sense of curiosity. What are we feeling? How is our body reacting?
When we connect with ourselves, we can find a surprising sense of inner calmness, even amidst dark chaos or despair. When we are prepared to listen rather than run away, we can hear the whispers of our heart and listen to the wisdom of our soul.
Doing vs. being
In June of this year, I wrote on my blog:
I love what I'm doing. Teaching, writing, and drawing are a big part my life. It's who I am.
At that time, I felt very strongly about that last short sentence: "It's who I am."
But slowly, I am learning that what I do—or how much or how little I do—doesn't define who I am.
I'm learning to be more comfortable with being—with being fearful, being sad, even with being happy.
I'm learning to just be.
Please take good care of yourself, my friend.
You're precious.