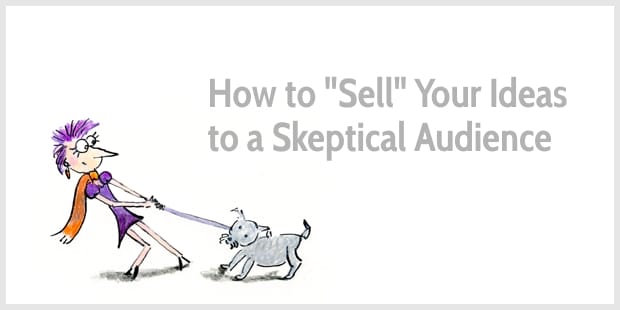 Hector thinks it's infuriating.
He knows he has good ideas. He is damn sure he can help his audience. He has the facts to prove his claims. Not fake facts, not alternative facts, but real facts backed by science.
But still … people aren't listening.
Sometimes he wants to scream. HEY YOU. LISTEN TO ME. I KNOW BETTER.
But he knows it wouldn't work.
So how can he coax skeptical readers to listen and follow his advice?
"Selling" ideas to skeptics may seem a daunting task. But if you really understand your audience, and if you get why they are skeptical, you have a chance to persuade them.
It ain't easy. But it is possible.
Shall I show you how?
1. Understand your readers' reluctance
Last week, I read the book the NYT bestseller "10% Happier" by Dan Harris. The author is an A-type award-winning journalist and news anchor. He reported from war zones, dodged bullets, and got addicted to ecstasy and cocaine.
In 2005, Harris has a panic attack on TV, watched by 5.019 million viewers. He goes on a reluctant journey to find peace in his mind. The book summarizes this journey, and it's a passionate pitch to practice meditation and become more mindful.
Harris writes for an audience who's like his younger self. That's why he understands his audience's skepticism so well:
Until recently, I thought of meditation as the exclusive province of bearded swamis, unwashed hippies, and fans of John Tesh music. Moreover, since I have the attention span of a six-month-old yellow Lab, I figured it was something I could never do anyway. I assumed, given the constant looping, buzzing, and fizzing of my thoughts, that "clearing my mind" wasn't an option.
When readers feel you understand their reluctance, you have a bigger chance of winning them over. So, don't climb on your pedestal. Don't think readers are ignorant. Don't mistake their skepticism for lack of sophistication.
Instead, understand your audience's reluctance, without judging their views, and win them over by engaging them …
2. Connect emotionally
We like to think of ourselves as rational human beings.
But we vote with our hearts. We make emotional decisions, and then justify our decisions with rational arguments.
So, before you reel off the scientific facts proving your points, connect with readers emotionally. Understand their problems, their frustrations, their fears.
Harris explains how competitive his job is:
The mental loop (How many stories have I had on this week? etc.) that began when I first arrived from local news went into hyperdrive, only with an even more personal tinge. It was one thing, back in the day, to be big-footed by a veteran correspondent—but to be beat out by someone my own age, now that stung.
And this competitiveness leads to doom thinking:
I'd collect data points (Weir gets to cover the election of the new pope? Muir is filling in for Cuomo?), and immediately extrapolate to far-reaching conclusions (This means that x or y executive or anchor dislikes me → My career is doomed → I'm going to end up in a flophouse in Duluth).
Most readers aren't news anchors or journalists like Harris. They might not even be as competitive as he is. But even if the specifics of their doom thinking are different, they recognize the pattern and feel understood.
3. Overcome skepticism, every step of the way
You could describe the book "10% Happier" as a memoir—the story of how Harris stopped the chattering voice in his head without losing his edge.
But this book is more than a memoir. It's a how-to, a review of books on meditation, and a report of interviews with a variety of religious leaders and meditation experts. This mix makes it extraordinarily persuasive.
Harris shares his skepticism about the books he reads:
At first, the book struck me as irredeemable poppycock. I was put off by the strained stateliness of Tolle's writing, as well as its nearly indecipherable turgidity. How could Oprah fans stand to drink from a fire hose of jargon like "conditioned mind structures" and "the one indwelling consciousness"? What's more, the guy was stunningly grandiose. He referred to his book as a "transformational device," and promised that, as you read, a "shift takes place within you."
Later on, he reluctantly decides to go on a 10-day retreat:
To a man (or woman), the people I had the courage to admit how I was spending my vacation asked something to the effect of, "How can you go without talking for that long?" Silence, however, is the part that worries me the least. I don't imagine there will be many people at the retreat I'll be dying to chat with. What truly scares me is the pain and boredom of sitting and meditating all day every day for ten straight days. For a guy with a bad back and a chronic inability to sit still, this is definitely a suboptimal holiday.
Harris' ambivalence towards meditation is real, and he doesn't find it easy to conquer this reluctance—just like it's hard for his readers to overcome their skepticism.
4. Don't exaggerate
The principle of persuasiveness is simple:
Sketch a problem
Empathize with your readers' frustrations about this problem
Explain how your ideas help solve this problem
Show how solving this problem makes readers feel better
Overcome objections and nudge readers to take action
In other words, you show readers a route from a miserable or not-so-pleasant place to a sunny destination. It's tempting to make that sunny destination look as perfect as an Instagrammed vacation. But would skeptics believe this perfect image?
Harris is honest when explaining how meditation helps—it doesn't make him completely Zen and problem-free:
I found that rather than rendering me boringly problem-free, mindfulness made me, as an eminent spiritual teacher once said, "a connoisseur of my neuroses." One of the most interesting discoveries of this whole journey was that I didn't need my demons to fuel my drive—and that taming them was a more satisfying exercise than indulging them.
And he describes his wedding day:
My consumption of Buddhist books was paying off. Throughout the weekend, I made a deliberate effort to pause, look around, and savor things while they lasted. There were little moments, like running errands for Bianca—for example, putting her carefully curated gift bags in people's rooms—and actually enjoying it. Or when I babysat my adorable, big-eyed baby niece Campbell in my room while everyone else was out having lunch. She sat on my lap and cooed contentedly while I ate a cheeseburger, trying not to drip ketchup on her head. (…) As soon as I got back home from the honeymoon, though, my penchant for worry reasserted itself—provoked by a conundrum at work that I simply could not figure out how to handle in a Buddhist way.
If you feel dishonest when sketching your ideas, then your words are probably a bit too Instagram-perfect. Try injecting a sense of reality. Reality won't undermine your persuasiveness; it might even enhance it.
How to sell your ideas
From a marketing perspective, it's easier to sell when people already are convinced what solution they need—you only need to explain why your solution suits them best.
But sometimes, we want to do more than that. We want to share our ideas. We want to help more people. We want our words to spread.
So, don't give up on the skeptics.
Instead, understand their concerns and hesitations. Meet them where they are, and show them the way.
With honesty, and kindness.