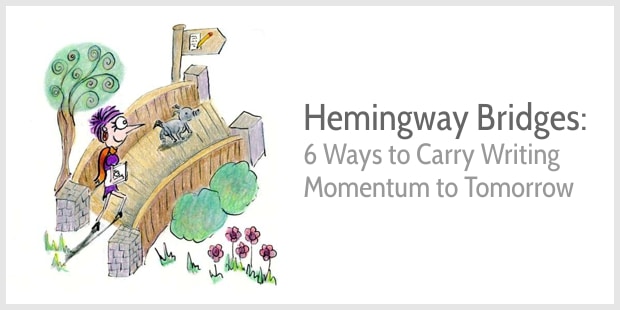 Uhm, yeah …
The most common writing advice is to write daily.
And it's sound advice.
But …
Daily writing is not possible for everyone.
It's never worked for me.
Sometimes I miss a few days; sometimes a few weeks. At best, I write daily-ish.
But I am always (well, almost always) keen to return to writing.
Why?
One thing is that I've learned to enjoy writing, even when the writing process is difficult or messy. I love creating something new, and I love sharing my observations with you.
Also, I build bridges.
Hemingway bridges.
A Hemingway bridge keeps momentum going, reduces procrastination, and even helps me write faster. When I've built a bridge, I'm eager to get back to writing.
Sound too good to be true?
Let me explain …
What is a Hemingway bridge?
The purpose of a bridge is to make it easier to start writing the next day.
In her book The Creative Habit, Twyla Tharp—a dancer and choreographer—describes the concept as follows:
I stop when there's still some energy left in the room and I know where we would have gone if we hadn't stopped. Knowing what comes next is like crocheting: The end of the day knits into the next, and you wind up with a garment that is flexible and strong.
Tharp's idea of building bridges is based on a quote from Hemingway:
The best way is always to stop when you are going good and when you know what will happen next. If you do that every day when you are writing a novel you will never be stuck. That is the most valuable thing I can tell you so try to remember it.
Building bridges is not just useful for novelists; it works for any creative endeavor. Tharp calls it a creative organizational tool, and she describes a nighttime routine of a writer she knows:
Just before he falls asleep, he reads the last few sentences he wrote. Without fail, he wakes up the next morning brimming with ideas, sentences, whole paragraphs for the next portion of the story. He claims he flies out of bed sometimes so he can get all the words down before they disappear. Apparently, filling up with words and ideas before sleep gives his tired brain some useful work to do as it regroups and refreshes itself overnight.
Our brains continue to process and consolidate ideas, even when we seemingly switch off. Barbara Oakley calls this diffuse-mode thinking. In her book A Mind for Numbers, she suggests a two-step approach to problem solving.
First, do some focused thinking. Next, let go—take a shower, go for a walk, ride your bike, draw, paint, or listen to music without words. Or even better: Sleep on it. Even while asleep, our minds consolidate ideas and make fresh connections.
So, there are two aspects of the Hemingway bridge that make it easier to start writing:
Manage your energy—leave some drops of energy to make it easier to carry you towards the next day.
Take breaks—take advantage of diffuse-thinking mode so you can come up with fresh ideas.
Shall we explore?
How I build Hemingway bridges
I build 6 different types of bridges so writing becomes easier.
Plus, the bridges help me write faster and spend less energy on writing.
1. I follow the 90% rule (mostly)
It's tough to stop before I'm empty.
I like squeezing a little more writing out of a day.
Aren't we supposed to give it 110%?
In his book Accidental Genius, Mark Levy describes how Robert Kriegel, a mental coach, trains Olympic athletes.
During a practice run he found his sprinters were tense and tight. Rather than asking them to up their efforts, he requested they run the next practice round at 90%.
The result?
Everyone ran faster the second time.
So, I tell myself it's okay not to give it my all today. I can write at a 90% pace and I can also stop a little early.
Weirdly enough, by going a little slower, I write a little faster.
And by stopping before I'm empty, I can let my enthusiasm carry me towards tomorrow. I've built a Hemingway bridge.
2. I write a blog post in 3 to 5 days
The idea for this blog post on Hemingway bridges had been in my mind for a couple of weeks.
One day, I decided to go for it and I jotted down a rough outline.
The next day, I wrote a first draft but not a final paragraph. I changed the headline.
On the 3rd day, I completely re-wrote the opening, changed the headline again, and edited the post. I also wrote a final paragraph. I felt energetic enough to add the post to WordPress.
I then left the post for a few days before a final editing round.
Each blog post is a little different so I don't follow a strict process. Sometimes, I might edit for 3 consecutive days. Usually, I finish a post the day before publication.
But the basic principle is always to work over multiple days. I let my energy level guide me in how much I write, and I know what I want to work on the next day.
3. I build "non-productive" time into my schedule
I used to think of walking as non-productive time.
But I've learned it helps me get more out of the time I'm at my desk.
So, when my back allows, I walk at least once a day.
Walking and sleeping are my favorite productivity tools.
4. I delay difficult work
Whether I'm working on a blog post, a book, or a course, I always write the easiest parts first.
For instance, I find writing an opening paragraph of a blog post tough, so I skip it. I first write the main body of the post, and once that's done, writing an opening becomes miraculously easier.
But it's not a miracle. It's diffuse-mode thinking at work.
5. I assess stuckness
When I feel stuck with something, I just read what I've written so far.
Often that already brings up some ideas on how to get unstuck.
But if not, I let go.
I work on something else first, and then return to that difficult part later. It always gets easier over time. Thanks to diffuse-mode thinking.
6. I plan for the next day
Usually, in the afternoon, when I've finished work, I write down what I want to work on the next day.
Writing down a plan creates commitment.
It's also a shutting down ritual: I tell myself I can be satisfied with my work. I give myself a pat on my shoulder.
And I may think I'm finished for the day …
But because I know what to work on tomorrow, my brain keeps thinking about what I'll write.
And I often wake up feeling inspired.
How to write consistently
Nurturing a daily writing habit is a great goal.
The more regularly you write, the easier it becomes to maintain a habit.
But daily writing isn't possible for everyone.
So, for me, it's more important to keep a connection to writing.
Even when I'm not writing on a day, it's still in the back of my mind what I'll be writing next.
Building those bridges has been the key to staying productive. I never run out of ideas. I always have a starting point ready for the next post or the next chapter or the next course module.
Happy writing!